Gourmet Buzz: Le Chamarré
It's that time of the year: Christmas on the horizon, days getting shorter, it seems so long since one was lazing on the beach/yacht/ at the villa, smearing on the sun cream, sipping a piña colada. Oh! if only we could get away again. Well you can; and there's no packing (just the Kelly), no traffic jam on the way to the airport. Book yourself in to Le Chamarré and it's instant "we're on vacation" time. Launched just over two years ago by Jerome Bodereau and Antoine Heerah, two disciples of Alain Passard (L'Arpege), the restaurant already has a Michelin *. "We want to create a cuisine that combines terre et mer, a cuisine unlike any other". Oh yeah! That's what they all say when they begin, you're thinking. Well, bien sur, they're not gonna say, "we wanted to rip off Passard's ideas," are they? But they haven't. What you get here is a fascinating combination of the Mediterranean, Atlantic, and Indian Oceans, in a symphony of colours, tastes and perfumes. A lot of it has to do with the fact that Heerah hails from Ile Maurice. "But I've been in France since I was eight," he revealed one evening last week, sweating after the evening service, another house full. He's grinning from ear to ear, wiping his brow. "Yes, of course I had a grandmother who was a great cook, we all do! But what turns me on is to return to Ile Maurice and cook there", he sighs. Back home, Heerah does the ethnic bit, doesn't hold back on the spices, which he needs to do in Paris. He's a George Foreman lookalike and you wouldn't want to mess with him, the pugilist of Paris. But huge Herrah has a heart of gold, his small but perfectly formed team of five (including Bordereau) are as one. That goes for the team in the vibrant and colourful salle. "We're working for a second Michelin star," they all explain, sans complex. As well as the Passard connection ("He showed us the way."), Chamarré's dishes are influenced by Oliver Roellinger, the Brittany genius whose spicy cuisine has earned him 3***. "Apart from that, our cuisine is firmly based on traditional French dishes, with, say, 20% Ile Maurice, which is a fusion of Chinese, Créole and Indian," they explain. So that's why the dishes taste so fragrant and the exotic spices (tamarand, borage, curry, citronelle) don't need fire extinguishers on the beautifully decorated table. There are already house signature dishes, say, "Carpaccio de la Mer," raw bass and langoustine gleaming on a transparent square glass dish, a little mango, a point of ginger and just a jus. Decorating the dish, grains of white caviar (mullet eggs) and red salmon eggs. I'd give two ** to "Poulpe de l'Atlantique," which is literally the entire octopus, tentacles and all served raw with a tiny circle of vindaye confit, mustard, vinegar, garlic and spices. Now there are menus. Les Saveurs de l'Ille: A La Decouverts des Terroirs Franco-Maurician: Premices d'Automne: Or, you can "fait confiance" in the kitchen and they will produce their last minute inspirations, which will probably include the above and the perfect Foie Gras, served cold and natural, accompanied with a hot, spicy, crispy version. Mains include milk-fed veal with a mousseline of cepes, roast Brittany lobster, Venison, and Cochon de Lait, crisped to perfection. Desserts are equally exotic. Go on "fait confiance" in the equipe, who will also help with wines by the bottle or glass. Happy holiday at Chamarré. Le Chamarré13 Boulevard de la Tour Maubourg, 7thT: 01 47 05 50 18Metro: Latour MaubourgLunch from 28€ Dinner from 85€ + A la CarteClosed Sun-Mon Born in Britain and now based in Paris, Margaret Kemp graduated from The Cordon Bleu and spent a year working and watching in the kitchens of top chefs from Sydney, Australia via Bangkok, Hong Kong, California, New York and France. Realising she would never win the coveted 3-Michelin stars, she decided to write about the people who do, the "disciples of Escoffier."
SUBSCRIBE
ALREADY SUBSCRIBED?
BECOME A BONJOUR PARIS MEMBER

Gain full access to our collection of over 5,000 articles and bring the City of Light into your life. Just $60 a year.

Find out why you should become a member here.

Sign in

Fill in your credentials below.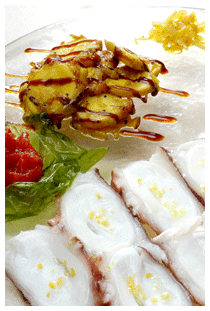 It's that time of the year: Christmas on the horizon, days getting shorter, it seems so long since one was lazing on the beach/yacht/ at the villa, smearing on the sun cream, sipping a piña colada. Oh! if only we could get away again. Well you can; and there's no packing (just the Kelly), no traffic jam on the way to the airport. Book yourself in to Le Chamarré and it's instant "we're on vacation" time.
Launched just over two years ago by Jerome Bodereau and Antoine Heerah, two disciples of Alain Passard (L'Arpege), the restaurant already has a Michelin *. "We want to create a cuisine that combines terre et mer, a cuisine unlike any other". Oh yeah! That's what they all say when they begin, you're thinking. Well, bien sur, they're not gonna say, "we wanted to rip off Passard's ideas," are they? But they haven't. What you get here is a fascinating combination of the Mediterranean, Atlantic, and Indian Oceans, in a symphony of colours, tastes and perfumes.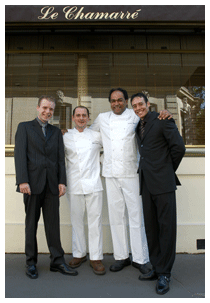 A lot of it has to do with the fact that Heerah hails from Ile Maurice. "But I've been in France since I was eight," he revealed one evening last week, sweating after the evening service, another house full. He's grinning from ear to ear, wiping his brow. "Yes, of course I had a grandmother who was a great cook, we all do! But what turns me on is to return to Ile Maurice and cook there", he sighs. Back home, Heerah does the ethnic bit, doesn't hold back on the spices, which he needs to do in Paris. He's a George Foreman lookalike and you wouldn't want to mess with him, the pugilist of Paris. But huge Herrah has a heart of gold, his small but perfectly formed team of five (including Bordereau) are as one. That goes for the team in the vibrant and colourful salle. "We're working for a second Michelin star," they all explain, sans complex.
As well as the Passard connection ("He showed us the way."), Chamarré's dishes are influenced by Oliver Roellinger, the Brittany genius whose spicy cuisine has earned him 3***. "Apart from that, our cuisine is firmly based on traditional French dishes, with, say, 20% Ile Maurice, which is a fusion of Chinese, Créole and Indian," they explain. So that's why the dishes taste so fragrant and the exotic spices (tamarand, borage, curry, citronelle) don't need fire extinguishers on the beautifully decorated table. There are already house signature dishes, say, "Carpaccio de la Mer," raw bass and langoustine gleaming on a transparent square glass dish, a little mango, a point of ginger and just a jus. Decorating the dish, grains of white caviar (mullet eggs) and red salmon eggs. I'd give two ** to "Poulpe de l'Atlantique," which is literally the entire octopus, tentacles and all served raw with a tiny circle of vindaye confit, mustard, vinegar, garlic and spices.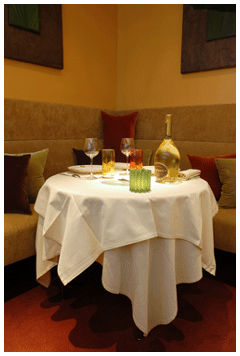 Now there are menus. Les Saveurs de l'Ille: A La Decouverts des Terroirs Franco-Maurician:
Premices d'Automne: Or, you can "fait confiance" in the kitchen and they will produce their last minute inspirations, which will probably include the above and the perfect Foie Gras, served cold and natural, accompanied with a hot, spicy, crispy version. Mains include milk-fed veal with a mousseline of cepes, roast Brittany lobster, Venison, and Cochon de Lait, crisped to perfection.
Desserts are equally exotic. Go on "fait confiance" in the equipe, who will also help with wines by the bottle or glass.
Happy holiday at Chamarré.
Le Chamarré
13 Boulevard de la Tour Maubourg, 7th
T: 01 47 05 50 18
Metro: Latour Maubourg
Lunch from 28€ Dinner from 85€ + A la Carte
Closed Sun-Mon
---

Born in Britain and now based in Paris, Margaret Kemp graduated from The Cordon Bleu and spent a year working and watching in the kitchens of top chefs from Sydney, Australia via Bangkok, Hong Kong, California, New York and France. Realising she would never win the coveted 3-Michelin stars, she decided to write about the people who do, the "disciples of Escoffier."
---
---