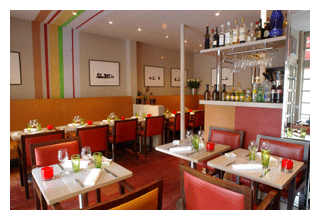 It's a rainy December day and Alice Bardet is doing what she does best: creating light modern dishes at her jewel-box restaurant in Marché Saint Honoré. Bardet is also good at smiling and waving, a bit like QEII, more useful. Turning away punters is not easy; you have to give the right vibes so the lazy buggers will actually get their fingers out and dial to reserve. Bardet could make a how-to-turn-away-punters-with-charm-and-wit video. People leave with the sort of grin reserved for the likes of me who, having reserved well in advance, close the door, satisfied, having booked a return performance for next week!


 

Now by this time you're thinking, the name's familiar. And, alert gastronome that you are, you will have sussed it. Jean Bardet of Tours is her Michelin ** father (Sophie her mother) and Alice was "born in the casseroles". After graduating from Tuft's (Fine Arts), Bardet worked with friends on various projects and then last year decided to open her Point Bar. The concept is simple, good products, some from chez Bardet's Chateau Belmont, where she gathers as much as possible from "the most fragrant potager in the world". A formula at 20€ (with generous baskets of warm pain Poujarin) buys a plat du jour, say, dos de cabillaud, honey and champagne, endive poelées. Dessert (mousse au chocolat de mon enfance, perfect panacotta, crumble aux pommes), a glass of wine and coffee. You can barely get a sarnie for that on the rue Saint Honoré, and these are proper portions. The punters are elegant and often include Papa Bardet. Check out the fun décor and the walls punctuated with originals by André Naggar. Also, a comprehensive wine list, not just any old bistro plonk. Alice is in her own wonderland here, and so will you be. Good luck from all at the BUZZ to a talented young mere.

Point Bar
40 Place du Marché Saint Honoré, 1st
(Metro: Tuileries)
T: 01.42.61.76.28
(Bookmark tireless Tuesdays with Musique Brésilienne: great for making NBF's).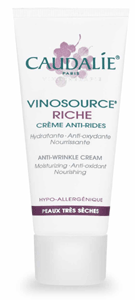 And, talking of rue de Rivoli and grapevines, have you been to L'Espace Bien-Etre Caudalie for the new treatment? It's a must, darling, for dry skins (tell me about it). A facial version of the signature Pulp Friction body massage, all done by a vinothérapeute. "Look at a grape, how smooth its skin is, supple and sparkling," observes Elodie,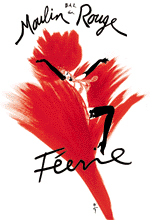 my vinothérapeute, as she cuts fresh juicy grapes in half, gently massages them into my face. Yum, some of it dribbles into my mouth and, as I relax, I'm seeing bottles of Chateau Smith Haut Lafitte. Must get them out for Christmas!

Elodie cleans, gommages, hydrates my face and slaps on a warm polyphenol de pepins de raisin mask. While that's doing its thing, my feet are massaged and I'm finished off with the new Vinosource Riche cream, spritzed with L'Eau de Beauté as I sip tisane de la Vigne rouge with cinnamon. On the way home I go to my favourite Marche des Ternes, buy a huge bunch of grapes; I'm addicted now! Why not try the grape cure, sensational after all the celebrations. Or, better still, check into The Meurice T:01.44.58.10.77 or go to the source Caudalie, Bordeaux. Because you're worth it. And, by the way, the next day I am complemented non-stop for my "bon mine," the ultimate accolade from the ladies who don't lunch! Treatment 120€ Vinosource Riche Cream about 22€.


 

And the Fooding Award for the best wine bar/restaurant goes to Les Papilles, 30 rue Gay-Lussac 5th, T: 01 43 35 20 79 (Metro: RER Luxembourg) Best bistro, Mon Vieil Ami, (69 rue St-Louis-en-L'ille 4th,T: 01 40 46 01 35 (Metro: Pont Marie). Best traiteur/caterer Vivre, (28 rue Pétrelle, 9th, T: 01 42 80 26 10 (Metro: Barbes-Rochechouart). Best interior design goes to Ploum, 20 rue Alibert, 10th,T: 01 42 00 11 90 (Metro: Goncourt) and Fooding d'honneur to Jean-Francois Piège at Les Ambassadeurs. Hotel Crillon, 10 place de la Concorde 8th, T: 01.44.71.16.16 (Metro: Concorde).


 

Change of chef: It has been obvious that things were not hunky dory at Les Crayeres, Reims, where Thierry Voisin took over the pianos when Gérard Boyer decided to retire. Docked a star, there only seemed one solution: bring in a new shiny toque. Didier Elena is your boy, very talented, just back from the US of A where he was Executive Chef at Ducasse's Essex House, also ex-Louis XV. If he does as well at Piege at The Crillon (also ex-Ducasse, the Plaza). They'll be celebrating *** sooner than you can say Prince de Polignac.

If you're in the area it must be worth a detour?
www.relaischateaux.com/crayeres
T: 03.26.82.80.80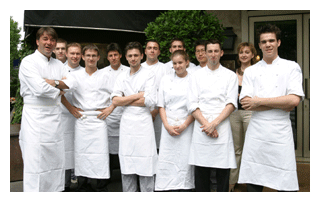 Change of address: The talented Jean-Pierre Vigato (**Michelin) is now cooking his compotes de cèpes et son sabayon de truffe blanche, his charlotte de pommes de terres au caviar, his chocolate soufflés, etc., in a magnificent hotel particulier, with a little help from his friends (Luc Besson). Watch this space.




---
Born in Britain and now based in Paris, Margaret Kemp graduated from The Cordon Bleu and spent a year working and watching in the kitchens of top chefs from Sydney, Australia via Bangkok, Hong Kong, California, New York and France. Realising she would never win the coveted 3-Michelin stars, she decided to write about the people who do, the "disciples of Escoffier."
---
Want to cook like Ducasse? Here's your chance!
Alain Ducasse, the charismatic, innovative and demanding master chef, invites us to enter the prestigious world of French haute gastronomie.

Brilliantly guided by the distinguished author, Jean-François Revel of the Académie Française, we follow this champion of the highest standards in food and its preparation as he creates new recipes, continues his constant search for the finest ingredients, and discovers new techniques and new domains in which to practice his art.

Hervé Amiard's photographs illustrate all four sections of the book, providing the backdrop to this fascinating journey.


---