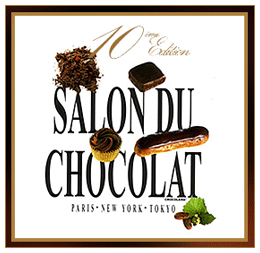 At
the annual European Salon de Chocolat , the air is heady with the dark
stuff. "Chocolate for All: All for Chocolate," is the slogan for the
fair. Think of being let loose, like Charlie in the Chocolate Factory,
to guzzle ganache and pop pralines. Would Christopher Columbus have
recognised his humble bean, pounded, sculpted and creamed beyond his
wildest dreams?
A staggering 94 percent of the French
admit to a chocolate habit. They eat an annual 6.6kg each, not counting
what they tuck away at the Paris Fair. For 5 days 100,000 + chic
chocoholics line up to discover a world of chocolate. The event is
divided into delicious and exotic sections showcasing chocolate from
its birth as a bean in say, Ecuador, via careful fermentation and the
ultimate trip to the world's big chocolate houses. There's even a
Chocolate Fashion Show; supermodels sashay down a runway in
choco-dresses designed by self-confessed chocoholics Sonia Rykiel, Paco
Rabane, Celine and Ungaro. There's always a line for Jacques Bokel's
Erotic Karma Sutra Chocolates. Great Christmas gifts chez Jacques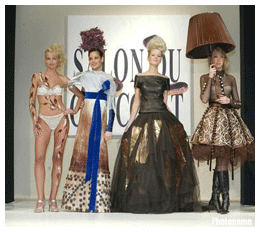 There
are stands displaying choco-flavour slap by Urban Decay and Bobbi
Brown. Perfume for the soir is the chocolate/vanilla/caramel/
patchouli-scented Angel—France's No.1 selling fragrance—by Thierry
Mugler. All the left-overs go to charities such as Carole Bouquet's La
Voix d'enfants.
This year the Park Hyatt Paris-Vendome is
offering choco and fashion aficionados a brilliant idea to satisfy
cravings for both worlds with HAUTE CHOCOLATE, including a superb
designer room (Ed Tuttle's décor is stunning) and the much coveted VIP
stiffie to the Chocolate Fashion Show (October 27th), which opens the
door to an evening of total hedonism. As it's the choc fest's 10th
anniversary, the runway show includes a retrospective of the last
decade's looks, re-created in chocolate! A heart melting experience,
trust me.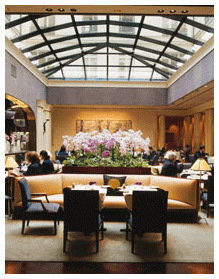 And
don't forget to save room for the complementary Chocolate Breakfast in
the Park Hyatt's Les Orchidées restaurant. Oh, and there's Chocolate
Tea Time, a tasting with the hotel's Executive Pastry Chef, a dinner
for 2 in The Grill and as much chocolate as you can tuck away, swilled
down the the finest wines! Better get into training now.
"Chocolate has a personality. It's a cross
between the weak and the strong, the erotic and the emotional. I love
the colour, which I can never define: a dark red sunset, a black
night," observes Alain Passard, the three-star Michelin chef at Arpege.
So how do you eat chocolate and stay
in shape? Jennifer Wayland Smith, director of The Hotel Hershey Spa,
Pennsylvania thinks it can be done with a few sessions of
Chocolate-therapy. The spa treatment, Chocolate Escape, takes three
hours. So what do you get? A foamy chocolate bath, an exfoliation with
cocoa butter and cereal, then you are painted with chocolate and left
to cook 'til you are done, I suppose you can lick it off, if you're
that way inclined. All this for about $265. Other possibilities on the
menu include a Chocolate Fondue Wrap, rinsed off with Vichy mineral
water; it costs $90. "Chocolate contains caffeine, known to stimulate
circulation, and it definitely can stop cellulite forming," promised
Wayland Smith. At Nuxe Spa, Paris, Aliza Jabes recommends treatments à
la base de cacao.
Meantime back in the kitchen, why not make a warm NUTELLA tart?
THE CRUST:
1 fully baked 22-cm tart shell made from Sweet Tart Dough. Cooled to room temperature.
THE FILLING:
200 grams Nutella
140 grams bittersweet chocolate, preferably Valrhona Noir Gastronomie, finely chopped
200 grams unsalted butter
1 large egg, room temperature, stirred with a fork
3 large egg yolks, room temperature, stirred with a fork
2 tablespoons sugar
140 grams hazelnuts, toasted, skinned, cut into large pieces.
1. Preheat Oven 375F (190C).
2. Spread Nutella evenly over bottom of crust, set aside while you make the ganache.
3.
Melt chocolate and butter in separate bowls either over—not
touching—simmering water or in a microwave. Allow them to cool until
they feel warm to the touch.
4. Using a small whisk or rubber spatula,
stir the egg into the chocolate, stirring gently in ever-widening
circles and taking care not to agitate the mixture—you don't want to
beat air into the ganache. Little by little, stir in the egg yolks,
then the sugar. Finally, still working gently, stir in the warm melted
butter. Pour the ganache over the Nutella in the tart shell. Scatter
the toasted hazelnuts over the top.
5. Bake the tart for 11 minutes—that
should be just enough time to turn the top of the tart dull, like the
top of a cake. The centre of the tart will shimmy if jiggled. Remove
the tart from the oven and slide it onto a rack. Allow to cool for at
least 20 minutes. Yum!
At The Park Hyatt-Vendome "rates
begin at 590€ valid from October 26-29, 2004, with a minimum stay of
two nights, including October 27th the date of the Chocolate Fashion
Show". Want to stay longer? No problem—the rate of the day will apply,
upon availability.
5 rue de la Paix, 1st. (Metro Concorde)
T: 01 58 71 12 34
Salon de Chocolat 28th October-1st November 04.
Porte de Versailles (Hall 5).
Metro: Porte de Versailles.
www.chocoland.com
Chocs Away, folks!
---
Born in Britain and now based in Paris, Margaret Kemp graduated from
The Cordon Bleu and spent a year working and watching in the kitchens
of top chefs from Sydney, Australia via Bangkok, Hong Kong, California,
New York and France. Realising she would never win the coveted
3-Michelin stars, she decided to write about the people who do, the
"disciples of Escoffier."