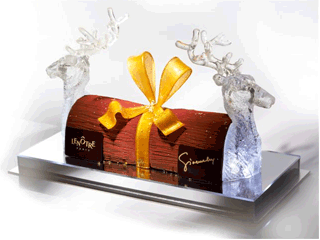 Guy Krenzer Master Chef Patissier chez Lenotre (ex-Negresco, Nice, Ritz, London, Fouquets, Laperouse) MOF (Meilleur Ouvrier de France) artist and creator with a passion for fashion in food, has joined forces with Hubert de Givenchy to create a fabulous limited edition Buche de Noel. Already? Yes, darling it's all a question of organisation n'est pas?
To launch the buche Givenchy and Krenzer invited about 100 close personals. It was top secret hidden, until red frocked-coated huntsmen bugled it in to the first floor dining-room chez Lenotre, Champs Elysees, one crisp September day. Decorated with twin transluscent sugar stag's heads, Givenchy designed it, Krenzer and his dedicated toques made his dream a reality.
"I tasted it daily for three months", said Givenchy patting his six-pack. "Luckily Guy and his team like a challenge. Brightly lit Christmas trees, divinely decorated candle-lit tables, Christmas has always been magic for me, and when Lenotre asked me to design their buche (former buche-mavens are Starck, Lagerfeld and Jean Paul Guerlain) I was surprised and delighted, haute couture meets haute patisserie", he smiles his elegant smile.
The buche/sculpture/cake is sprinkled with 22-carat gold powder, sits on a glass rectangle with a tansluscent stag's head at either end. It's a dark and milk chocolate-roulade, dried fruits spiked with crunchy caramel pieces, moistened with Earl Grey tea. Chocolate comes from Tanzania, Ghana and Sao Tomé. A triumph.
And talking of 22-carat gold, that more or less describes Hubert James Taffin de Givenchy's life. His family were wealthy, he grew up in Beauvais (the Oise region, about an hour from Paris). In Paris he became a disciple of Balenciaga and assistant designer to Schiaparelli and opened his own house in 1952, selling it to LVMH in 1988. He used Audrey Hepburn, his muse for 40 years (remember that black dress in Breakfast at Tiffany's) as "the face" of his first perfume "L'Interdit", Hepburn was the first actress to sell a scent. Now they're all at it.
Since 2005 the dynamic Italian Riccardo Tisci (ex-Saint Martin's) has been Givenchy's creative director. Madonna's world tour couture is by Givenchy/Tisci. Not sure Madge will be eating the buche, even though the tour is "Sticky and Sweet". Her loss!
Dont suppose Madge'll be to much into Sir Hans Sloane either. "Goes straight on the thighs honey!" Sir Hans Sloane is special, in the same way you can create your own perfume (www.editionsdeparfums.com) you can create your own exclusive chocolate in the Hans Sloane Studio where uber-chocolate maker Bill McCarrick will help you craft a limited edition box of chocolates, inspired by your personal taste. He learned his craft in his grandmother's Philadelphia kitchen, baked Donald Trump's 50th birthday cake and is the first UK chef to patent a cake concept. It's a multi-layered chocolate cake featuring indigenous flavours from all over the world, "it's an adventure", he explains
Yes, Sloane Square and Hans Crescent/Place and Street are named after the brilliant physician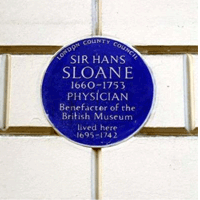 (1660-1753) who had Sir Issac Newton and Smauel Pepys in his Blackberry, and left 50,000 books and 250,000 natural history specimens to science. These became the core of the British Museum. While in Jamaica, Sloane saw babies being fed on a mixture of cocoa beans and mother's milk. Using this idea Sir Hans created a health drink by mixing chocolate with cows milk. The drink was produced by Cadbury until 1885 and was known as "Sir Hans Sloane's Milk Chocolate Drink".
Meanwhile back in the 21st century Bill McCarrick, after heading up production of chocolate, pastry, bakery and petit fours chez Harrod's, winning medals and awards for designing and conching (don't ask) his own chocolate. "In the same way Michelin-star chefs reduce their stock to coax fabulous flavours we refine our chocolate particles to silky substances, once you've tasted a Sir Hans Sloane chocolate, you'll be hooked", says McCarrick.
"My goal is to make the finest chocolates in the world, I want my beans over fermented, that'll give a purer intense flavour and under roasted for a lighter, fresher sensation to bring out the true characteristics and rounded profile of pure cocoa at it's very best".
If you're in Paris October 13th at 14hrs head off to Drouot where Valerie Vrinat is auctioning 300 lots of memorabilia from Taillevent. Souvenirs, souvenirs.
Address Book:
Pavillon Elysee Lenotre,
Café – Comptoir – Ecole – Salons de receptions
10 Avenue des Champs Elysées, 8th
(Metro: Champs Elysees Clemenceau)
Open 7/7
T: 01 42 65 85 10
Order the Givenchy buche 6-8 people from 3 December
Limited Edition – 115€
Order your Christmas Goodies from the on- line menus.
Master Classes
Bespoke Chocolate Creations in hand-crafted box
by Lord Linley – £5,000.
Chocolates available at Liberty's Selfridges,
General Trading Company, London.