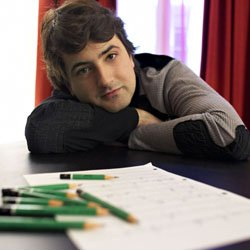 French composer Bruno Mantovani's a lucky man. First he snagged a table at El Bulli which as you know is lucking-out big time. The moment the first dish hit his palate, Mantovani's brain exploded in a way he could only describe as pure music, read seriously avant garde. Not unusual, the 34 year old Mantovani is a talented musician/composer who studied at the Paris Conservatoire and has already worked with the greats.
"I was inspired to create "The Book of Illusions" – Hommage à Ferran Adria by the dishes I tasted in 2007. Music and culinary art are very similar, Ferran composes his menu, I compose my music", he observes.
Mantovani's symphony was commisioned by L'Orchestre de Paris et de l'Ircam-Centre Pompidou as part of the IRCAM contemporary music festival. "Illusions" premiered at Salle Pleyel last week, and Ferran was on stage, croaking something appropriate as he does, looking very emotional. That night there were three chefs on stage: Ferran, Mantovani and the chef d'Orchestre.
During the 29 minutes ofedgy electronic explosions, machine gun stacattos, sounds of sieves, colanders and copper tymphany, it would have been helpful to have titles above the stage. How were we poor con cert-goers to know, apart from the initial "spherification" as explained by Mantovani and Ferran, if we were tasting Gin Fizz, Frites d'ananas lyophilisé, Eponge de Sesame, Risotto de Pamplemousse. Papier effervescent au cassis. Meringue au Schweppes avec fraises lyophilisé. Couteaux aux algues or caviar d'escargots?
Some of Mantovani's themes recall nightmares following a heavy meal, when you've left the Zantac at home. It may be confusing but hey there's no calories, no washing up
Just goes to show you don't know what goes on inside peoples heads when they're molecular-ing out chez Ferran. Remember when Pascal Henry made headlines as, "Mystery man vanishes from El Bulli without paying the cheque?" Bet Mantovani doesn't have to beg for a table at El Bulli!
No deconstructed food at Cafe Pleyel, just delicious lunch Monday to Friday and pre-concert dinners. The café is the concept of food specialist Helene Samuel (www.spoonful.com) book ahead for the concert and a table in cafe. Talented chef David Zuddas -ex-Les Freres Pourcel- is this season's chef-invité. www.david-zuddas.fr Taste the Pleyel burger, there's always a dish of the day: dos de bar, pois blonde de la Planeze, Fricassée de volaille "my way". Salsa de fruits et legumes, tiramisu de legumes, salade de chou chinois. Wines by the glass or, say, Pic Saint-Loup Ermitage 2005 (29€)
252 rue du Faubourg Saint-Honore,
Metro: Ternes –
T: 01 53 75 28 14
Mon-Fri Lunch. Average Spend 25€
From 6.30 pm pre-concert about 30€ + wine
Ends
The speciality at Romantica Caffé is linguine à la crème légère, with sage, flambéd in a giant wheel of parmesan by Stephano Durot the tasty directeur du salle. He does this with sleight of hand, he's a magician, your mouth will be watering, the taste is sublime.
Italian chef Claudio Puglia is at the helm of several "Romanticas" dotted around Paris, each have a faithful clientele who appreciate his home-made pastas and risotti accompanied with toppings such as Poutargue and artichokes: Palourdes à l'huile d'olive, as well as the classics. Begin with warm mozzarella, tomato petals, fricassée de soupions and lentilles or warm Poulpe, white haricots and vintage balsamic. Or just take the linguine flambéd (a steal at 22€). Mains include "La vraie" oreille d'elephant on the bone (a veal chop that gets really crispy after frying and ends up looking like…..) Veal "saltimbocca" style. Grilled mixed fish. Saint Jacques with palourdes and saffran. Daily blackboard specials and sides include grilled polenta, crunchy mixed vegetables. Follow with Gorgonzola and salad or Parmigiano Reggiano with pears. Coffee tiramisu. Lemon and basil sorbet with limoncello to finish. Excellent regional wines, Puglia, the place not the chef, is right on the boot of Italy, if you can't find the time to visit pop into Romantica Caffé for a bit of O Sole Mio.
7 rue Chevalier Saint-George, 8th
Metro: Madeleine
T: 01 42 61 16 80
Lunch formula 29-39€
A La Carte about 50€ + wine
Open 7/7
In London and can't get Wimbledon tickets?