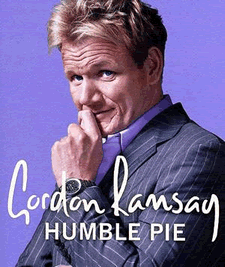 So, Gordon Ramsay seems all set to take on the French for his next culinary venture, he'll be setting up shop at the Trianon Palace, Versailles. Does this mean he'll be the first Brit super-chef to have three Michelins in London& Paris? www.gordonramsay.com  More in our next.
Wonder if Gordon ever flies Singapore Airlines? Seems like they have excellent in-flight wine cellars in the sky, all chefs like a nice glass of red. They're featuring the superb Cos d'Estournel 1982 in first class, between Singapore and Sydney, on the inaugural flight of the A380 25 October, check, there still may be a seat next to me, wonder if the bouquet changes at 35,000 feet? Gordon? 60% Cabernet Sauvignan 40% Merlot, aromas of spice, cedar and minerals, it's a BUZZ favourite, as is the Chateau, which looks like a Maharajah's palace in the middle of St. Estephe. If you can't make the Singapore flight, get yourself off to visit Cos….because you're worth it.
While he's in the city Gordon would love Les Princes, primo because it's full of beautiful Princesses, with long blonde/brunette hair, tight For All Mankinds and Porsche's parked outside (by the car-jockey, bien sur darling). Second, it's within swearing distance of Park des Princes, you know, where they play all those silly ball games, and he did once play for Glasgow Rangers, alert readers know.
Chef Ramsay would approve the décor, the wide sunny terrace, and he'd probably even like Elvis the chef, although Elvis would never know. Buzz really likes Elvis Politopoulos, not only for his blue suede shoes, but also for his talent.
He'll start you off with a slice of home-made foie gras on gingerbread, or a sashimi of tuna and salmon or sautéed shrimp with thyme and soy salad. He'll do a nice basket of raw vegetables for the ladies who don't, or they can have a selection of starters in small portions. Then he'll rare cook tuna with a sesame crust, sit it on a bed of marinated fennel or he'll do duck breast kebabs with citronella and sautéed veg, tartar of beef, mini-hamburgers with French fries, Club sandwich, even omelettes.
After that, patissier Franck Pouillet, the patissier takes over with a stunning selection of desserts such as "After-Eight" Iced Pineapple, Tiramisu with strawberries and limoncello Lemon Tarts, Dacquoise. It's all good, fit for a Princess.
Alert readers will know that La Ferme Saint Simon is changing, still the clientele of Ministers, supermodels and TV celebs with their drivers waiting patiently outside, but, the delightful owners Francis Vandenhende and his TV presenter wife Denise Fabre have sold to Dario Dondelli. You're going to love Dario's warm Italian welcome and the excellent cuisine by Xavier Caussade (ex-Maison de Danemark) and Jerome Casca on the pudds, both young and passionate.
The style is very English country manor (punctuated with paintings by Arcimboldo who is at The Musée de Luxembourg until January (www.artknowledgenews.com)  with a private salle for discreet Princesses. On the menu the Princess will love crunchy barely cooked fresh vegetables, with olive oil and lemon. The Prince will take the Dublin Bay Langoustine, une verrine de blanc-manger of crab on the side. Excellent scallops, roasted with lemon, a frothy bouillon of fennel for HRH, and he'll take the Sautéed veal kidneys, with polenta, watercress and roast potatoes or grouse, venison or other game that chef has on as a special. They'll drink a Nuit Saint Georges Chopin Gessaume 2002 (46€). And finish with La Poire Belle Heléne en macaron and Rhubarb crumble, just like they make at the chateau. Royale!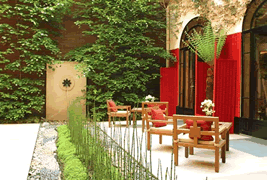 As is the excellent news that Michel Troigros is doing Sunday lunch at L'Hotel Hospes Lancaster (just been bought by the Spanish Group Hospes darling). The very elegant "Les Dejeuners du Dimanche" begin with Oeufs Vapeur Meurette, Crémeaux de poivrons et gingembre, yogurt and lime, a little Canelloni de chevre frais with olive oil. Mains include Quasi de veau with fricassee de cépes and baby new potatoes. Or take the sea-bass, slow-cooked at low temperature, comes with an emulsion of Jerusalem artichokes, drizzled with l'huile d'Argan, and also a touch of pumpkin risotto. Cheese is from Marie-Anne Cantin and Paris Brest or Parfait citron, gelee d'agrumes, for dessert. Say no more, to celebrate they're offering glass of champagne. See you there.
Bon Appetit.
Restaurant "La Table du Lancaster",
7 rue de Berri, (M: George V)
T: 01 40 76 40 76
Sunday Lunch 85€
La Ferme Saint Simon,
6 rue Saint Simon, 7th (M:rue de Bac)
T: 01 45 48 35 74
Menu du Marché – 36€
Lunch 29.50 with a glass of wine + A La Carte
Les Princes,
6 place du docteur paul Michaux, 16th
(M: Porte de Saint Cloud)
Open 7/7
Valet Parking
Sunday Brunch 11-4pm 38€
Average Spend 42€ + wine