At The Four Seasons George V, Paris not much sign of the credit crunch this week. The lobby, majestic with Jeff Leatham's brilliant placing of orchids and dusty pink roses, is serene, bellboys try to look as if they're not rushing to deliver designer carrier bags to rooms/suites. They look like moving parcels.
Look in at the bar, buzzing, and the gallery where "ladies who lunch", meet friends, lovers, shrinks, nibble neatly on exquisite club sandwiches, sip flutes of Laurent Perrier Grand Siecle. And, if they sit a little too long, there's the tempting tea-trolley to consider.
In the Salon de l'Horloge, the anti-chamber to Le Cinq restaurant, the phone rings. "No, not to-day, but we have a table tomorrow", and to the passer-by, "just wondered if you have a table, now, for three?" the answer is a polite. "I'm sorry sir, we're full". Let's hope God doesn't say that to Eric Briffard when he finally ascends to heaven.
Briffard, is not your super-star, media chef. But a quiet, thoughtful man from Auxerre, when you taste his cuisine you'll get it, and him. Trained by Robuchon, at Jamin, the precision has rubbed off, he's MOF. But he's also done time chez marvellous Marc Meneau, Le Plaza Athenée, Japan (where he met the Mrs) and won great reviews at his previous gig, L' Elysée Vernet www.hotelvernet.com (Sunday Brunch 35€). Since September, Briffard replaced Philippe Legendre at Le Cinq (don't know darling, think Legendre wants to spend quality time with his family). "Don't come too soon, we want to get it right", begged Eric Beaumard, the lovely Director du Salle.
So, figuring by December all would be well, there would be game on the menu, lunch was served. You know what? Even if the food was nul, that dining room is so gorgeous you could make do with a bacon butty.
If good King George V (1865-1936) was still here he'd give Briffard a knighthood on the spot. It would be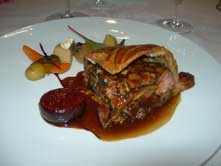 for his Pithiviers de Perdreau (partridge) gris, canard colvert, grouse, sensuously touched with chestnut honey, autumn fruits and armagnac jus. The bounty of the game moors, lightly cooked under a fragrant pastry crust. (see photo)
There's 50,000 bottles in the cellars, so ask sommelier Thierry Harmon (ex-assistant to Enrico Bernardo, yes, he's the one who's now Mister Il Vino) to run down and pick something. He needs the exercise and you need something spectacular to go with your Pithiviers.
Well for heavens sake BUZZ what else is there?
Starters could be Cancale crab salad, they've done the work, taken it out of the shell and mixed it with a yellow wine cream and paper thin slice of daikon radish, a touch of herbs. Saint Jacques with Aquitaine Caviar or Brittany Ormeaux (abalone) with chicken broth, ginger and watercress. Langoustine golden-browned with rosemary, hazlenuts, reinette apples. Light bright starters, that won't spoil the main.
Which could be a thick slice of wild turbot with coquillages, granny smith jus, wasabi, Noirmoutier potatoes with seaweed. Blue lobster, hare jus, chanterelle mushrooms, steamed cabbage with ginger. John Dory en papilotte, lemon grass and fresh curcuma. Wow!
The lunch menu (85€) changes according to Eric's whims and the market. game, Teriyaki grilled pork, cepes, pak-choi cabbage and ginger. Correze veal chop en cocotte, Alcaparas capers, Jerusalem artichoke chips and blanquette of vegetables with aromatic black Tricastin truffles. Or Ris de Veau, browned with licorice, mashed chestnuts and Bordeaux cepes. Wild Venison, Lamb from Lozere and don't forget the Pithiviers.
Cheeses are wheeled in with due respect, from Quatrehomme, and the choice of warm breads – irresistible darling diet tomorrow, especially as they bring it warm with olive oil when you arrive. If you're staying, go to the spa – if not grab the Hermes Rolls Royce Phantom and get Higgins to take you to the Bois de Boulogne where you can jog it off.
Desserts? Fabrice Lecleir joined the George V team in 2001, is now chef Patissier (he's 33). With a team of 12 (104 in total in the kitchen, but that includes banqueting and all the other stuff necessary in a Palace). Le Baba au Rhum for 2 is epic. Comes with carpaccio of pineapple, coriander, and spicy rum toddy. Or, ice creams and sorbets, Hazlenut Success with light meringue, vanilla Bourbon ice cream. Coffee and then they wheel out the sweetie cart, there's little boxes so you can take them with you to nosh in the Rolls Phantom. Service adorable.
Eric Briffard at Le Cinq,
Four Seasons Hotel George V, Paris
31 avenue George V (Metro George V)
T: 01 49 52 71 54
Lunch 85€ + wine
Menus at 135€-210€
Open 7/7
Did you see? With the launch of 2009 Michelin HK & Macao Guide, Robuchon now has 24 Michelins. Can you believe 227 stars? Tokyo's the starriest city in the world! Coming up next Robo launches L'Atelier, Taipei. And if you're passing Annecy-le-Vieux, Marc Veyrat's Cozna Vera means "authentic cuisine") epicerie, restaurant, take-away is doing 100% organic pot-au-feu, blanquette, boeuf bourguignon, hamburgers etc. Eat in or takeaway in glass bocals. From 8-10€.