Antoine Westerman is the ***Michelin super-chef/owner of Buerehiesel, Strasbourg, in the Alsace region. Westerman's regional signature dishes, for which the detour is highly recommended by the red guide, include: Schniederspaetle et cuisse de grenouilles poelees au cerfeuil. Poularde de Bresse cuite entière comme un baeckeoffa (15Dec-15march, hurry up then). Tartares de huitres et crème iodée au Riesling.  You've got the picture, rather heavy and boring dishes. But, you pays your money and you takes your choice; it's the terroir of Alsace darling and Westerman is a lovely man.  
According to GaultMillau (who give it 18/20) now that the son also rises, and Eric Westerman is in the kitchen, there's a more modern feel and, G&M say at weekends the joint is jumping with young foodies on a "pilgrimage of pleasure". Well as you know, last year, Westerman took over Mon Vieil Ami, on Ile Saint Louis, Paris, where the neo-Alsatian based cuisine is as bright and modern as the décor. "You see, I'm not really an old Alsatian fogey", it seems to say as you enter the high-ceilinged black and white dining room. Figaro calls it "System Senderens". 
There's no stopping Westerman, what is it with him? Middle-age menopause or what?
"Chef, why have you now set about transforming Drouant, one of the most historic addresses in the city? "Since Mon Vieil Ami has been such a success I have been looking for another place, and when Groupe Elior asked me to look at Drouant I smelled a challenge in this iconic location.
So, Westerman took a look at Drouant and saw that it was good. After all the original owner, Charles Drouant was an Alsatian born and bred, probably even a distant relative. Quel coincidence! And the old boy had a great clientele, Renoir, Rodin Pissarro.  
Drouant stands elegant and imposing on the angle of Place Gaillon, there's even room to park illegally if the voiturier is off parking a stray Bentley. And it's so handy for the Opera Garnier, theatres, shops and, you can sometimes even spot Depardieu and Bouquet in their respective canteens opposite.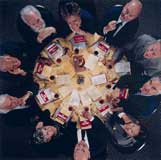 Drouant! Drouant! I can hear you saying, why do I know that name? Because, darling it's the home, since 1914 of Prix Goncourt, France's most pretigious literary award. Prix Goncourt, awarded annually in November, was created by diarist and historian, Edmond de Goncourt. His will requested the founding of the Academie Goncourt, a panel of 10 judges who are themselves writers. To-day they lunch or dine regularly in the Salon Goncourt on the first floor, their names engraved on the chairs, solid silver cutlery etc. "La cuisine is excellent", remarked Robert Sabatier, a former member. "Is this what's known as "la cuisine des Prix Litteraires?" 
From the prize fund set up through the sale of Goncourt's estate, each of the 10 jurors initially received an annual income of 6000 francs and the award money to the writer was 5000. Illustrious winners include Simone de Beauvoir, Proust, Andre Makine, Marguerite Duras, Andre Malraux and, in 2005,François Weyergans for Three Days with my Mother (we could have all written that one, n'est pas?). 
Fast forward to to-day. Westerman calls in uber-decorator Pascal Desprez (who al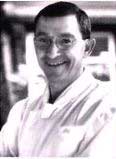 so did MVA) to make the best of the volumes, the harmonies, the stunning Ruhlman staircase and the marine inspired ceiling, which apparently turned Cocteau on a treat. Now you can see the names of the Goncourtians printed in black ink outside. It's gorgeous.  
It's achingly posh, and Edmonde Charles-Roux is Madame Président. Her jury (for life) consists of Francois Nourissier, Daniel Boulanger, Robert Sabatier, François Mallet-Joris, Didier Decoin, Jorge Semprun, Michel Tournier, Bernard Pivot & Francoise Chandernagor. 
Either book in the restaurant, the bar (with literary cocktails composed by Benjamin the Barman) or in one of the private salons: For 2 in the Salon Colette: 10 in Ravel: 22 in Rodin: and you never know if you go often enough they may name a salon after you. 
So what about the food?
Excellent.  Antony Clemot, who was in Strasbourg, and at Mon Viel Ami, interprets Westerman's concept, with a nod and a wink to Alsace, but revised and lightened up. As in the hors d'oeuvres (25€). Served in 4 white porcelain dishes to share or scoff yourself. Vegetable with beetroot à la grecque etc. Fish, with terrine of raie. St. Jacques crue. Coquillages and sardines crus. Or, Les Classiques with leek vinaigrette. Gelée of lapin with hazelnuts, duck terrine, and Oeuf Mayo. Mains (30€) include heavy duty Goncourtesque Rognons, Gigots, chicken and pork. All grilled or
roasted, no fat, just the taste of the product. Fish is seasonal Saint-Jacques, Rouget Barbet, Daurade, Cod, comes with a little porcelain cocotte of vegetables. From the list of "exceptional products of the moment" try Cote de Boeuf de Simenthal (it had a happy life did this boeuf, was massaged daily). Desserts (12€) are by four, as are cheeses. Plat du Jour, at lunch, changes daily. If it's Tuesday it'll be L'Osso bucco with pates fraiches at 20€ so you can eat cheap here if you want. Add a glass of Reisling and then take coffee in the Cigar lounge, surrounded by retro black and white Harcourt photos. Sit in the modern splendour of a fabulous maison and sigh, "ah those were the days".  
Drouant,
16-18 Place Gaillon, 2nd (Metro: Opera)
T: 01 42 65 15 16.
(With wi-fi) Open 7/7 
Mon Vieil Ami,
68 rue Saint Louis en l'Ille 4th (Metro:
T: 01 40 46 01 35