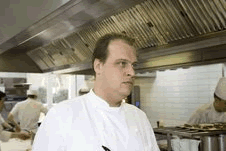 Don't you just love foodie films? Babette's Feast, Chocolat, Who is Killing the Great Chefs of Europe, Eat, Drink, Man Woman, Fast Food Nation. And now the Cannes opener, "My Blueberry Nights" which, by the time you read this, may have won La Palme D'Or. Terrific debut performance from jazz diva Norah Jones, not to mention the delicious Jude Law, Rachel Weisz, Nathalie Portman and David Straithairn. The film marks Wong Kar Wai's first English language feature, Jude Law's character is the owner of a NYC café. Each night he saves a piece of pie for Ms Jones, which just happens to be Blueberry. Mmmm 
Monaco born chef Didier Elena likes Blueberry Pie, got the taste for it in NYC where he opened Alain Ducasse at The Essex House. "That was a scary time of my life", he admits. I arrived in NYC with my wife and two children, I could barely speak English. The first time I tried to order beef on the telephone something really strange arrived!" It was tough, we got  vicious press at first, but it settled down after a while".  
Quite a change of lifestyle then, coming back to France, after four years, to the green and pleasant splendour of Reims and Chateau Les Crayeres? "There are times when I think I'm crazy, but I really wanted my children to grow up in France", he admits. 
"Monsieur Ducasse wanted me to come to here. After Monsieur and Madame Boyer retired Les Crayeres lost a Michelin star, they want it back now, and I'm their main man!" Elena has collaborated with Alain Ducasse for most of his culinary career, beginning at Louis XV, Monaco, also Il Cortile, Relais du Parc, Bar Et Boeuf, Monaco and Malongo Café, Paris. Then there's the tomes for Editions Alain Ducasse such as "Grand Livre de Cuisine", Flavours of France. 
So how do you describe your technique? "Call it rectangular, I try to use bold flavours and rich/poor products, but I try never to forget my culinary humour! Say, I'll do a steak and chips salad or a seafood platter. I don't stack or make circles I make rectangles of ingredients, two or three products to each dish. There's the main ingredient and the garnish, but each have the same importance and create a fusion of flavours. I like to set up a complex game of relationships with my ingredients and I'm researching what really makes up the region's identity and, of course, it's champagnes and vintage wines".  
Chateau Les Crayeres, in the midst of all the Champagne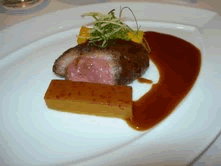 houses, was built in 1904 by the Marquis and Marquise de Polignac of Champagne Pommery. In 1979, the estate and its' buildings, the vineyards and various houses were sold to Xavier Gardinier and his group.
They decided to transform the chateau into a luxurious hotel showcasing the region's champagnes. The interior design was created by a promising young talent, Pierre Yves Rochon. 
Meanwhile, across town Gérard Boyer and his father Gaston won their third Michelin star at La Chaumiere restaurant. Just after that Xavier Gardinier offered the magnificent pile, Les Crayeres, to chef Gérard Boyer and his wife Elyane, who took over in 1983. The three stars stayed until the Boyers retired, three years ago. 
To-day Gardinier is still a family group, with the three Gardinier sons in control, the group is organised around a holding company GEPAG which owns an orange plantation in Florida: Chateau Phélan Segur, Cru Bourgeois Exceptional (2003 ranking) at Saint Estephe, Bordeaux and Chateau Les Crayeres, covering 7 hectares of parkland, with twenty rooms and suites, overlooking parkland as far as the eye can see, recently given a complete makeover by none other than – Pierre Yves Rochon!  
So save us a slice of rectangular blueberry pie and a glass of chilled Pommery, Didier, we'll be back to taste your innovative creations. Because you're worth it. 
Chateau les Crayeres,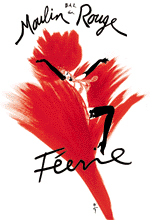 64 boulevard Henry Vasnier,
Reims, France
T: 03 26 82 80 80
Lunch – Mon-Fri 65€ + wine
A La Carte 135€-155€
World and French wines from 29€-458€
Coming soon -TGV from Gare de l'Est – 45 minutes.