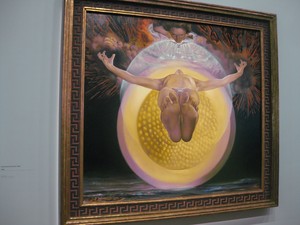 The Salvador Dali retrospective now showing at the Centre Georges Pompidou, the largest such exhibit of the artist since the 1979 Paris exhibit presided over by the artist himself, is unusual in more than that one respect. One exciting aspect is the emphasis on film – not only films made by him (including the disturbing Un Chien Andalou made in collaboration with Bunuel) but also seemingly thousands of feet of film of the self proclaimed genius being interviewed or presiding over happenings in Europe and New York.
In one such film, Dali is shown in white tights and dramatic costumery bouncing light footedly around the inside of a giant translucent plastic balloon, painting its interior walls with a man sized brush – while young fans lean against the outside of the balloon peering in at his antics. Finally, he signs the balloon wall with a flourish.
In another, he tears a curtain to disclose a model behind it. He paints her mouth with the same black paint with which he was decorating the curtain.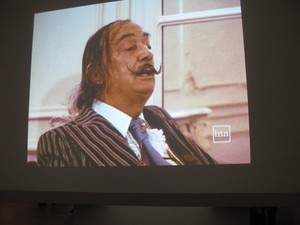 In yet another, he speaks from a small tv sized screen while wearing a jacket decorated with real liqueur glasses – the original of which (Aphrodisiac Dinner Jacket) hangs in a case behind the screen.
The 1928 surrealist Un Chien Andalou, Bunuel's first film, is playing just as you enter the exhibit. It is worth the 15 minutes. According to Roger Ebert – writing for the Chicago Sun Times in 2000 – this film, an "ancestor of the works of John Cassavetes and today's independent digital movies", started when Bunuel visited Dali and told him of a dream where a cloud sliced through the moon like a razor blade through an eye, Dali countered with his own dream about a hand crawling with ants, and Dali said "And what if we started right there and made a film?". Indeed, both of these scenes are in the film, as well as a character dragging a piano, dead donkeys and priests with ropes towards a woman backing away from his advances and other truly strange sequences . According to Ebert, nothing in this film was "intended to make sense" but it is nevertheless the "most famous short film ever made," described by Ebert as "a tonic – disturbing, frustrating, maddening" but "alive and not mummified by convention."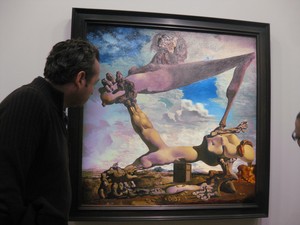 Another film exhibit is about halfway through the giant exhibit – where on a small screen, you can not only see Gregory Peck's delusional Dali infused dream sequence in Hitchcock's 1945 Spellbound, but also watch an animated film done by Walt Disney Studios in collaboration with Dali – yes, Walt and Salvador, an unlikely couple. In that cartoon, the typical Disney idealized young woman finds her beautiful man only after soaring through and fighting against Dali creatures, body parts, and landscapes. Mexican music is in the background as the man metamorphosizes from a stone sculpture to human form, and the woman searches for love through surrealist landscapes. The film's storyboards were made by Dali and Disney cartoonist John Hench during 8 months between 1945 and 1946, but not actually completed or shown to the public until it was released in 2003 in New York. Fascinating!
The exhibit has over 200 works, including not only the films and installations, but also sculptures (not as many as you can find at the tiny Espace Dali in Montmarte) and a huge selection of his paintings from the vast landscape of his career. I found the larger surrealist works particularly interesting since only by standing in front of the full size canvas can you appreciate the sometimes hundreds of minute details that went into these works. Each segment could be a painting on its own. One example is 1929's The Great Masturbator, which combines, among other things, a self portrait head, a giant grasshopper, a Catalan coast rock shape, and swarming ants.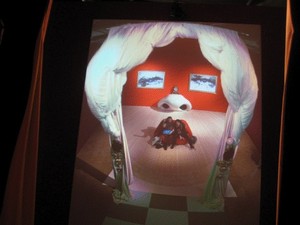 Towards the end of the exhibition, the guest can sit on a May West red lips couch in front of a giant plastic nose , aim her camera towards May's hair across the room and take a photo of herself sitting in May's mouth which has through the magic of mirrors moved back onto the actresses face.
The exhibit will be at the Pompidou until March 25, 2013 – every day of the week except for Tuesdays, and does not close until 11:00 at night. Because of the long lines, I recommend visiting in the morning for a few hours – and then returning after 7:00 PM when the lines have disappeared. During my afternoon visit, I stayed until the 11:00 PM closing, and still feel I may have missed some things.