Memories of childhood picnics? Soggy sandwiches, gritty chicken pies, too much ice cream, tummy aches, followed by a good game of cricket on the beach/village green. On the patio of the Hotel de Crillon, Jean-Francois Piège transforms his picnic memories into sophisticated chic-choc picnics, not unlike the ones we remember, but revised and corrected as you would expect from the newly super-slim super-chef.
PicNic Chic has five courses. You sit at tables, set with beautiful china, shaded from the elements with parasols. From wicker hampers you are offered, fougasse drizzled with Tuscan olive oil and herbs to set the taste buds tingling. Batons of Salmon with green sauce stick out from china vases. In a pot, ballottine of organic chicken and truffles. Chaud froid of lobster, macedoine. Divine oeuf en gelée with toast soldiers (why do French eggstaste so much better? Answers on a postcard please.) Sandwich of foie gras and, to finish feather light Charlotte aux fraises.
PicNic Choc kicks off with Thon/Savora en sushi – then you better believe this, not a tube of toothpaste but Piege's spin thereon. Sardine/La Vache qui rit in a tube. "Take it home at your own risk", he warns. "You may end up brushing your teeth with it!" Hmm not a bad idea. Mr Colgate please note.
Then Oeuf mimosa, cold scrambled eggs in pots with cubes of sausage, large round radishes. Granité gaspacho/avocado. A little roast chicken/Boursin and to finish Petit Lu/nutella/raspberries. The kids will love their own menu, which ends with ice cream cones. Drink by the glass, Cotes de Rhone Rosé (8€) or by the bottle, a crisp white 2006 Saint Joseph "Mairlant" from Francois Villard 76€. Vive le picnic au Crillon.
See you there.
Jacques Gantié is based in the South of France, where he's a top journalist for Nice Matin. His annual Guide Gantié is welcomed by the French, English and Americans, there's two versions, buy both or just the English.
Everything you need is there, 800 restaurant listings, rated with none, one, two, three or four olive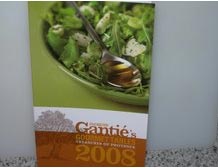 branches. The man's thin as a pin, tests most of the addresses himself. This is his 16th edition and includes a useful dictionary of food items. Frere Jacques shares his address book of butchers, bakers and candlestick makers. A joy to read, even if you're not planning a trip south this summer. And, if you are, and you're on a tight budget – A Selection of Rooms such as the delightful Un Ange Passe at La Colle sur Loup www.unangepasse.fr is just what you're looking for.
Le Bar a Huitres just launched, in place of Goldenberg's Kosher, place des Ternes. Jean-Paul Chedal, who also launched Bars A Huitres, Montparrnasse, Saint-Germain and Bastille, is excited about his new project. "I'm an innkeeper at heart", he confessed one day last week. The decor, by Jacques Garcia, is pleasing, the walls punctuated with prints of guess what? Chedel is a wine buff, so his carte des vins has some interesting wines and champagnes. Try the Ultra Brut from Maison Jacquart, perfect with a plate of juicy oysters, tartare of tuna, a few pink shrimps (note the Villeroy & Bosch china) . "I make sure our seafood, fish and oysters come direct from the sea to the oyster bars every day", he assures BUZZ.
In the kitchen Stephane Devy: front of house there's a tempting banc of oysters, and chef "ecailler" Andre Tronscoff, prepares everything for you to eat sur place or take home. He fearlessly nets your lobster from the aquarium, presents the poor little bugger at table, and next time you see Lionel he's pink as a baby's bum, surrounded with fresh veg and sauce beurre blanc.
How come when homard is 58€ a kilo in rue de Bellefeuille, Chedal, whose attention to every little detail is impressive, does a generous three-course "Menu Homard Bleu" for 43€? Note, Blue Lobster is only in season until October, so hurry along. Amazing! cheaper to eat at Le Bar than at home, and no dishes darling.
There's also excellent fish soup and Aoili of fresh cod, Saint Pierre, rock red mullet and langoustine. Line caught tuna, sea bass, sardines are cooked as you like, say, a la plancha, steamed, grilled. Delicious! Good pudds and coupes, including "le tout cafe", coffee dessert with Chantilly, coffee ice-cream and an espresso. A magnificent strawberry tart (see photos) Book the terrace, it fills up fast.
Two to watch, L'Itineraire and L'Arome. Both picked up prestigious prizes at young rising stars, Champagne Jacquart Presentation Grand Prix Paris-Ile de France 2008 this week. At L'Itinerarire, Sylvain Sendra and his adorable wife (ex-Temps au Temps/the world) realise their dream, having met at Ecole Hotelier Lyon. (menus 29-34€) you can't afford not to. 5 rue de Ponthieu 5th. Shut Sun-Mon. Metro: Maubert-Mutualite T: 01 46 33 60 11.
And Eric Marten's L'Arome with ex-Royal Monceau chef Thomas Bouillault. 3 rue Saint-Philippe de Roule, 8th (Metro: Saint Philippe de Roule) T : 01 42 63 48 18. Lunch 33€ Dinner around 50€.
Address Book:
Jacques Gantié's Gourmet Tables 2008
Editions ROM – 22€
Patio de Crillon
Hotel de Crillon,
10 place de la Concorde, 8th (Metro: Concorde)
T: 01 44 71 15 25
Picnic at Lunch only 7/7 from 12 noon until 5pm.
55€-45€ For children 25€
Bar until 21h – Open August
Le Bar à Huitres,
69 avenue de Wagram, 17th (Metro: Ternes)
T: 01 43 80 63 54
3 course "Menu Homard Bleu" 43€
Menu "Haute Mer" 20-25€
Children's Menu 14€.50
A La Carte +
Plateaux of Sea-Food 33.50-99€50
And take away service.- Open August