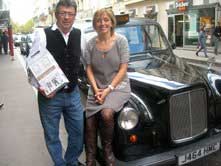 If you're looking for a gift (Thanksgiving/Birthday/Christmas) you need La Maison Constant cookery books. It's a no-brainer as you probably lunch/dine chez Constant at least once a week. If not why not? Four cookery books, one for each of his maisons, packed in a gorgeous "town-house" box with stunning photos by uber-snapper Clay McLachlan. "The idea of putting the books in a house came because we now have four on rue Saint Dominique", explained Christian Constant on a warm autumn day last week (see photo). Regulars are calling it "rue Constant!"
Book well ahead for Les Cocottes, where chef Philippe Cadeau creates soothing dishes in Staub casseroles (spot Monsieur Staub, often there, looking proud of his pots). Le Violon d'Ingres, Constant's Brasserie Chic, features Stephane Schmidt at the piano, but CC always with his finger on the tiller in each maison.
Go fishing with chef Sebastien Grave for some incredible poisson (not expensive) at the cosy Fables de la Fontaine and, from breakfast to dinner, Café Constant stars the talented Eduardo Jacinto revising and correcting Madame Irene's (the original owner) delicious bistro plats. And shhhh… rumour has it that "Les Marmites" launches before long. The genuine London "taxi-fumeur" parked in front of Violon, is for clients, like CC who appreciate a nice cigar, "call it a mobile fumoir", he grins. The guy's a marvel, the marvel from Montauban.
La Maison Constant,
Mango 29.80€
www.lesrestaurantsdeconstant.com
Don't think that just because it's Petrossian there's only caviar on the menu. Arman Petrossian spends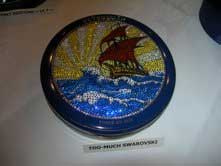 every waking hour testing and dreaming up new products of the finest quality you really won't see elsewhere Yablok, (pomegranate juice, a glass before breakfast, bon pour la santé and the heart) Sorbet au Caviar, chocolates, truffles, fabulous foie gras, you name it. And hampers and gift packs to die for (see photo)
A knight in shining armour where protecting sturgeon is concerned, this winter Monsieur P suggests Beluga, Ossetra and Sevruga wild caviars. And seven exciting farmed caviars, each with its' own unique flavour, from China, Germany, France, Bulgaria, USA (Transmontanus) and Israel. Find them all in the boutique, a good idea to visit before lunch. Or have a snack in the boutique and reserve for dinner upstairs at Le 144. Rougui Dia's exciting ideas include "Le Menu Noir et Blanc" but you can eat lunch for 35€, see if you like the place. Guarantee you will. Dinner from 45€ or A La Carte. Look honey you get what you pay for. But this is a maison where you can get hooked on the charm of the place and the amazing quality of the noble products.
If you're looking for a place to spend New Year's Eve, Le 144 has a dinner planned.
Call 01 44 11 32 32 for details. And watch out for "Petrossian by Petrossian" a twice yearly style magazine, in the boutique at the end of October. See you there.www.petrossian.fr or English version www.petrossian.co.uk
Petrossian,
18 Boulevard de Latour-Maubourg, 7th
(Metro: Ecole Militaire)
T: 01 44 11 32 22
Valet Parking.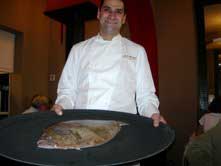 Thomas Boullault (ex-George V, Robuchon & Royal Monceau) and, in the salle, Eric Martins (ex-Ghislaine Arabian, Guy Savoy, Lucas Carton) transformed L'Arome during the summer. They are so proud of their gleaming open kitchen. Boullault's style and passion haven't changed, he's ecstatic with his new pianos. BUZZ heard they're up for a * in the 2009 Michelin France. Absolutely possible when you see what's coming out of the new kitchen, best book now to avoid the rush.
Big accents on "Iberico Pata Negra", Spanish Ham, served with tomato bruschetta for starters, or Tarte de legumes de chez Joel Thiebault (the green-fingered veg-maven www.joelthibault.free.fr) . Lunchtime: Starter, Main or dessert is 29€ (no wonder it's packed) or 3-courses 36€. Dinner can be A La Carte – Menu L'Arome 59€ or Menu Sensation 72€ Add a bottle, glass or carafe which'll cost between 12-49€ (Saint-Joseph white "L'Elouede" 49€) or a fruity Morgon Beaujolais Naturel 8€ 17€ or 33€.
But what about the mains?
The menu changes all the time, think, tender veal chop with lime blossom, peach and rosemary juice. Light and bright, perfectly cooked, well it should be you've got a new piano Thomas! Rabbit, rubbed with pepper, casseroled, served with pommes de terre Samba and crispy Bellota-Bellota chorizo. There's brilliant brill, roasted with Mexican tarragon, surrounded with he sells sea-shells on the sea shore, and juicy potatoes. It's all good and mops up a treat with Poujauran's pain.
And the desserts?
There's always seasonal cheese, pudds are by young patissier Arnaud Besnard. Pear tart topped with walnut crumble and bay leaf ice-cream. Or Besnard's signature, Rocher fondant au bitter chocolate, with liquorice notes. Goes well with a glass of Muscat de Rivesaltes amber-Domaine des Millevignes 1997.
On the back of the menu, several quotes: "There are three important things in life, the first is to eat: the other two, I have not yet found". Charles de Secondal de Montesquieu.
L'Arome,
3 rue Saint Philippe de Roule 8th
(Metro : Saint Philippe de Roule)
T : 01 42 25 55 98