"Les Anglais ne mange pas le lapin!", sniffs Jean-Claude Ribaut, of Le Monde, passing my table at Citrus Etoile. "They do if it's cooked by Gilles Epie", I sniff back. But, I suppose there are all those lingering taboos about Bugs Bunny and bunny boiling Sharon Stone mistresses that make it a rather difficult dish for some. Anyway, Epie's roast stuffed rabbit leg in black olive crust with lemon confit, black and white grapes, is EPIC Epie. The contrast of flavours is superb, the dish forms part of his Menu First Anniversary to celebrate, yes, one year since Citrus Etoile transformed from Les Bouchons de Francois Clerc into a hip/chic canteen, think LA in Paris. Think crossing new frontiers in gastronomy, "there is no cream or butter in my cuisine", he explains. "I use a lot of steam, and with this pure and simple way of cooking you only use the finest products". In case you haven't followed Epie's brilliant career, or wonder what happened when his Paris Michelin * Miravel restaurant closed. The lively lad left for California where, at L'Orangerie restaurant, as head chef, he decided to go and have a look out front at celebs wiping the plates round with his delicious cuisine. "It was a coup-de-foudre", he says of his meeting with Elizabeth, the beautiful Elite model and photographer, now Madame Epié. That night Richard Gere left the restaurant alone! "And we've been together ever since, for eleven years", they grin. California influenced Epie's style of cuisine because, "I was cooking for people who love to eat, but hate to put on weight. It's the size 0 generation which is California's aspirational body shape", he reckons. "There is a vast industry of thin over there, skinny isn't just a trend: it's the culture now." So Epie's evolution in the kitchen became a take on Japanese, Korean, Chinese and Mexican dishes, plus he learned to speak English, with a very sexy accent. Without going into too much personal detail, Epié hatched a dynasty (4 gorgeous kids) along the way. "I wanted my children to know that they are French, so we came back to Paris, his eldest son just become apprenticed to Alain Ducasse, (seen dining at Citrus last week, schhhhhhhh). Epie tried a couple of canteens on his return, which he enjoyed but didn't feel he'd "come home to". Last
year, with Elizabeth, Citrus Etoile launched and has been playing to packed houses ever since. The bold contemporary décor, with a back drop of modern art exhibitions combines with the culinary fusion of Epie's French/ California dishes to wow a mixed crowd of gastronauts, top politicians, movie stars and supermodels. They call him the "Americain Frenchy", impressed he cooked for the likes of Gregory Peck and other Hollywood royals. Elizabeth's welcome has become a signature of Citrus. Admire her working the room in tandem with Director Jacques Duludet who has some great wines to discuss with you.  Say, the white Menetou Loire Salon Blanc from David Girard (30€) and the red Borgeuil Les Perrieres 2004 from Jacky Blot (30€). The menu has plenty of surprises and people cross Paris to eat salmon cru mariné with warm potatoes and chunks of "just from the oven" black bread, or Millefeuille of Beetroot and Goat's cheese. A recent lunch included warm whole porcini mushrooms in a smooth velouté of egg yolk, soy sauce and a touch of lime. If you pass on the rabbit I enjoyed so much, there's Grilled John Dory with bay leaves tucked under the skin or roast lamb in a walnut crust and celery root purée. A cheese board from Dubois was not ignored, great excuse to eat some more black bread. Dark chocolate soufflé and ice cream, Baby Lemons stuffed with lemon cream and blasted on top with caramel, or, thanks for the memory of Hollywood: Coconut Ice Cream Donut. It's all good, Epie's cuisine is the way forward, uncomplicated, light, impeccable service. "A tiny point of garlic and the rabbit would have been total perfection", mumbled Ribaut on his way back to work. No way! Citrus Etoile, Gilles & Elizabeth Epié, 6 rue Arsene Houssaye, 8th (Metro: Etoile) T: 01 42 89 15 51 www.citrusetoile.com Shut Saturday lunch & Sunday 1st Anniversary Menu 39€ + wine A la carte average spend 60€ + wine VALET PARKING WITH A SMILE  
SUBSCRIBE
ALREADY SUBSCRIBED?
BECOME A BONJOUR PARIS MEMBER

Gain full access to our collection of over 5,000 articles and bring the City of Light into your life. Just $60 a year.

Find out why you should become a member here.

Sign in

Fill in your credentials below.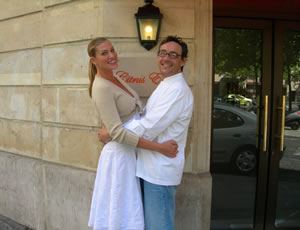 "Les Anglais ne mange pas le lapin!", sniffs Jean-Claude Ribaut, of Le Monde, passing my table at Citrus Etoile. "They do if it's cooked by Gilles Epie", I sniff back. But, I suppose there are all those lingering taboos about Bugs Bunny and bunny boiling Sharon Stone mistresses that make it a rather difficult dish for some.
Anyway, Epie's roast stuffed rabbit leg in black olive crust with lemon confit, black and white grapes, is EPIC Epie. The contrast of flavours is superb, the dish forms part of his Menu First Anniversary to celebrate, yes, one year since Citrus Etoile transformed from Les Bouchons de Francois Clerc into a hip/chic canteen, think LA in Paris. Think crossing new frontiers in gastronomy, "there is no cream or butter in my cuisine", he explains. "I use a lot of steam, and with this pure and simple way of cooking you only use the finest products".
In case you haven't followed Epie's brilliant career, or wonder what happened when his Paris Michelin * Miravel restaurant closed. The lively lad left for California where, at L'Orangerie restaurant, as head chef, he decided to go and have a look out front at celebs wiping the plates round with his delicious cuisine. "It was a coup-de-foudre", he says of his meeting with Elizabeth, the beautiful Elite model and photographer, now Madame Epié. That night Richard Gere left the restaurant alone! "And we've been together ever since, for eleven years", they grin.
California influenced Epie's style of cuisine because, "I was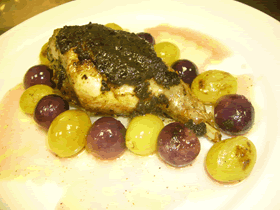 cooking for people who love to eat, but hate to put on weight. It's the size 0 generation which is California's aspirational body shape", he reckons. "There is a vast industry of thin over there, skinny isn't just a trend: it's the culture now." So Epie's evolution in the kitchen became a take on Japanese, Korean, Chinese and Mexican dishes, plus he learned to speak English, with a very sexy accent. Without going into too much personal detail, Epié hatched a dynasty (4 gorgeous kids) along the way. "I wanted my children to know that they are French, so we came back to Paris, his eldest son just become apprenticed to Alain Ducasse, (seen dining at Citrus last week, schhhhhhhh).
Epie tried a couple of canteens on his return, which he enjoyed but didn't feel he'd "come home to". Last

year, with Elizabeth, Citrus Etoile launched and has been playing to packed houses ever since. The bold contemporary décor, with a back drop of modern art exhibitions combines with the culinary fusion of Epie's French/ California dishes to wow a mixed crowd of gastronauts, top politicians, movie stars and supermodels. They call him the "Americain Frenchy", impressed he cooked for the likes of Gregory Peck and other Hollywood royals.
Elizabeth's welcome has become a signature of Citrus. Admire her working the room in tandem with Director Jacques Duludet who has some great wines to discuss with you.  Say, the white Menetou Loire Salon Blanc from David Girard (30€) and the red Borgeuil Les Perrieres 2004 from Jacky Blot (30€).
The menu has plenty of surprises and people cross Paris to eat salmon cru mariné with warm potatoes and chunks of "just from the oven" black bread, or Millefeuille of Beetroot and Goat's cheese. A recent lunch included warm whole porcini mushrooms in a smooth velouté of egg yolk, soy sauce and a touch of lime. If you pass on the rabbit I enjoyed so much, there's Grilled John Dory with bay leaves tucked under the skin or roast lamb in a walnut crust and celery root purée. A cheese board from Dubois was not ignored, great excuse to eat some more black bread. Dark chocolate soufflé and ice cream, Baby Lemons stuffed with lemon cream and blasted on top with caramel, or, thanks for the memory of Hollywood: Coconut Ice Cream Donut.
It's all good, Epie's cuisine is the way forward, uncomplicated, light, impeccable service. "A tiny point of garlic and the rabbit would have been total perfection", mumbled Ribaut on his way back to work. No way!
Citrus Etoile,
Gilles & Elizabeth Epié,
6 rue Arsene Houssaye, 8th (Metro: Etoile)
T: 01 42 89 15 51
www.citrusetoile.com
Shut Saturday lunch & Sunday
1st Anniversary Menu 39€ + wine
A la carte average spend 60€ + wine
VALET PARKING WITH A SMILE
 
---
---