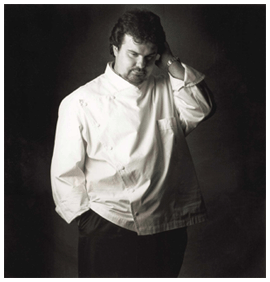 Just as Galliano & Co. select different fabrics and themes for their runway shows, über-patissier Pierre Hermé (aka the Dior of desserts) creates a story using different ingredients for his twice-annual collection. This time, the accent is on chocolate.
Don't panic: your favourite macaroons, desserts, gateaux are still available at his bijou of a boutique on rue Bonaparte. Fear not for your Cherry on the Cake; after all, PH always maintains that his favourite food is his next dessert. It's just that the prestigious Guide des Croqueurs de Chocolat 2004 awarded Hermé the accolade of 4 tablets and Japanese (he's big in Japan) journal Nikkei ranked him highly. So, "I decided to go further and discover the fun side of chocolate, the fantasy, as in the batons that are Absolument Chocolat," Hermé explained as he launched the collection. His team were sporting white Pierre Hermé baseball caps, PH was in his signature black, there was electricity in the air.
What an afternoon. The location was Kong, that achingly trendy restaurant, created by Laurent Taieb, decorated by Starck, "a collision of modern and ancient Japan, on top of the LVMH owned Samaritaine building. The previous week Sex & the City were there; Carrie & Co. should have waited for the chocofest PH gave a few close personals, by way of introduction. Or maybe they chose PH's desserts, a selection of which appear on Kong's menu, fresh every day.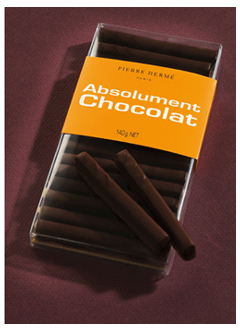 Absolument Chocolate mini-batons are absolute winners. Choose from Mogador, milk chocolate with subtle passion fruit undertones, or Mathilda with lemon zests. Then there's Noir Intense ganache, or Sensations, crunchy praline with minute pieces of classic crêpes dentelles. These are to keep in the Kelly, to nosh whenever there's a traffic jam/stressful moment, a gourmet snack in your sac. "So many people buy chocolate as gifts, I want you to keep these for yourself," he reasoned, eating and tasting as if he's never seen them before. PH also notes the chocolate evolution that has occurred in France. "Consumption is up and people are eating it all day long," he says. Certainly PH has no problem eating chocolate at breakfast, lunch and dinner, preferring bitter, dark chocolate in the morning and sweeter stuff later in the day.
"Chocolate is an ingredient that takes no prisoners, complex and sensitive; to use it successfully you have to master the art of temperature and science," PH explains. It's a huge collection because, "there's a million and one ways of exploring and creating chocolate," and dear reader, I think we did it all on that frosty winter afternoon.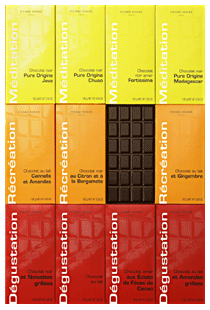 Check out the tablets: Degustation (classic chocolate), Récreation (delicate) and Meditation (full flavoured) bars all come in a variety of flavours. "Think of them as happy families," suggests PH, offering a glass of Montilla Morilles Don Pedro Ximenez. Of the 14 different praline bonbons, sitting in divine designer boxes, who could resist the journey through Azur, Barbade, Lou, Ouvre-Toi, Caraquillo, Makassar, Balthazar, Mathilda, Mogador, Margaret (only joking), Intense, Chloé, Sensations, Almera. All are available now, at the boutique. Get there early and avoid the line–or better still call, and order on: 01 43 54 47 77
Pierre Hermé
72 rue Bonaparte, 6th (Metro: Saint Sulpice)
Bars from 5€.60
Bonbons: 5 different box sizes from 9€
Absolument Chocolat (the batons) 10€ 20
Kong
1 rue du Pont Neuf, 1st. (Metro Pont Neuf/Chatelet)
T: 01 40 39 09 00
---

Born in Britain and now based in Paris, Margaret Kemp graduated from The Cordon Bleu and spent a year working and watching in the kitchens of top chefs from Sydney, Australia via Bangkok, Hong Kong, California, New York and France. Realising she would never win the coveted 3-Michelin stars, she decided to write about the people who do, the "disciples of Escoffier."