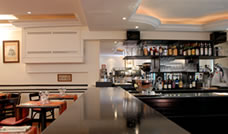 You've paid the summer holiday, want to eat out, chic et pas cher. But where? With your pre-vacation wallet in mind Alain Carrère (disciple of Christian Constant) and Fred launched Le Petit Pamphlet. The original Pamphlet still plays to packed houses, "we're crazy we love this business, and our clients", say Alain and Fred. They called it Pamphlet because they hate politicians, explaining that in the 18th century a "pamphlet" was a journalistic tract condemning some aspect of French politics. Nevertheless   some politicos are punters at Pamphlet; they know a good deal n'est pas?
Front of house is a neo-bistro with warm colours, the welcome from Fred royal, he offers plates of fat olives, tapas, excellent jambon de Serrano and a glass of gaspacho and, Fred's got 20 wines at 20€ waiting to be tasted. Cotes de Provence 2003 Domaine de Puits Mouret, bold Spanish Rioja Osoti 2004 (bio) etc.  
Stéphane Chevalier, in PP's tiny kitchen, says they are concentrating on a short menu, with Southern flavours. Five starters at 9€. Three mains at 15€, plus daily special, the menu changes weekly. 5 desserts at 7€, you do the math, cheaper than having a chef at home. Don't miss Tarte fine de pommes de terre, saumon mariné and caviar de hareng. Salade fraicheur de legumes et pamplemousse, with fresh crab, excellent. Then Roast duck with olive polenta, cherries and pistachio, or risotto with squid and parmesan, persillade de calamars. Cheeses from the Cévennes drizzled with olive oil or desserts including Tulipe et ses glaces de mon enfance. Carambar ice cream, ah! memories of childhood.
Talking of Christian Constant (see above), he's transformed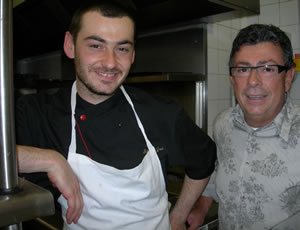 Fables de la Fontaine, handed over the fishing rod to two faithful disciples, still keeps interfering, well it was his baby tiddler wasn't it, you can't blame the boy.  Out go the fishmonger tiles and relics of Popeye the Sailor Man on the walls; in comes sophisticated dark wood décor, 

a bar to chill at if you have to wait for a table, which you will if you haven't booked, dear. David Bottreau, new owner, manages the dining-room with practised dexterity (he was next door at Le Violon d'Ingres). As was Sebastian Grave, the other new owner, a young talent who's worked for the greats, even helped launch Joel Robuchon's Macao, China canteen while cheffing with him.
As always the dishes are divine, only the freshest fish and sea-food. Langoustine mayo. 6 Oysters Special No. 4. Carpaccio of tuna, olive oil (about 12€). Look no further than Gaspacho aux grosses crevettes followed by Pavé de lieu, fricassee d'asperges with parmesan (22€). Wines are by glass, carafe and bottle. Chinon Couly Dutheil matches the menu at 28€ (the bottle). A fabulous address for fish, Constant says he's changing Le Violon d'Ingres' concept and décor soon. Tune in here for further details. "Etre constant un jour, c'est etre constant toujours", says Monsieur Bottreau as we polish off a spectacular riz au lait with chantilly and fresh mango (8€).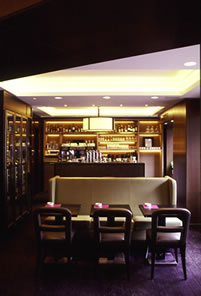 I'm not saying Le Café de l'Alma is bargain of the year, but it is a modern brasserie where the first thing you really really want is a glass of freshly made carrot orange and apple juice. "We're not trying to revolutionise the culinary world, just to serve light and excellent dishes", says very professional owner Jacques Boudon. This man is in love with restaurants, he must be, owns not only Alma (reminds me of Alma Cogan, a fab 50's icon, think Dusty Springfield with dark hair. "She sings like Marilyn Monroe looks", was the slogan) but also La Fontaine de Mars, directed by Christiane, the missus (01 47 05 46 44) and L'Auvergne Gourmande (01 47 05 60 79).
Boudon took over Alma from his parents when they retired, in 2000. Out went the "tabac" in came chic sleek décor by Francois Champsur. A nice terrace, an upstairs dining room with big glass oval table d'hote. Lots of TV and media people, who seem to spend more time at Alma than in their offices. That's what comes of being open from breakfast to bed-time. And what about the location, location, location, must be worth millions? Corner of rue de l'Université and Avenue Rapp, a stone's throw from the brand new Jean Nouvel designed, Musée de Quai Branly, dedicated to arts and civilisations from Africa, Asia, Oceana and the Americas.
Museum visiting definitely gives you an appetite, so after browsing over there, treat yourself to a slap-up lunch or dinner chez Alma.
He's lovely Boudon, greets his regulars with a cheery, "there's always a table for you". They may start with 3 oeufs bio au plat, parmesan, riquette et champignons de Paris. The ladies will nibble a Caesar salad et poulet snacké, riz perfume, and definitely get a plate of Jambon Noir Pata Negra Recebo. And where's the beef? Tartars of, carpaccio comme a Venise and gorgeous mixed grill with canard, boeuf, agneau, sauce béarnaise, tomate au pistou and chips. As you would expect there's an interesting world wine list.  Available by glass, about 8€ (Haut Médoc Moulin de la Lagune) or carafe 24€. If you want a bottle try the Chateau la Verrerie 2001. Cotes de Luberon (35). Some desserts are made for Alma by Aoki. The tarte citron is epic, ladies who lunch will go for Fromage blanc 0% lightly whipped (ohhhh! naughty) quelques framboises. Cool. Just like Alma, the Marilyn Monroe of restaurants. Don't miss, Marilyn La Dernière Séance Bert Stern, Musée Maillol, 61 rue Grenelle 7th. www.museemaillol.com  29th June-30th October.
Address Book:
Le Petit Pamphlet,
15 rue Saint-Gilles, 3rd (Metro: Chemin Vert),
T: 01 42 71 22 21
Shut Sat lunch. Sunday and Monday lunch
Les Fables de la Fontaine,
131 rue Saint-Dominique, 7th (Metro: Ecole Militaire),
T: 01 44 18 37 55
Shut Sunday
Le Café de l'Alma,
5 avenue Rapp, 7th (Metro: Alma-Marceau, Pont de l'Alma)
T: 01 45 51 56 74
Open 7/7 Valet parking
And also:
Le 21 (return of Paul Minchelli)
21 rue Mazarine, 6th (Metro: Odeon)
T: 01 46 33 76 90
Shut Sat-Sun
Beauvilliers, great lunch 35€ rush there now.
52 rue Lamarck 18th (Metro: Jules Joffrin)
T: 01 42 55 05 42
www.abeauvilliers.com