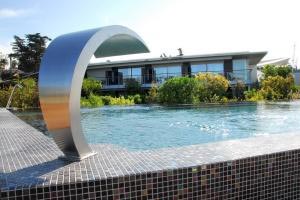 September is a beautiful month on the Riviera, mellow and warm, there's plenty of choice but why not head off like Hemingway, Scott and Zelda to Cap d'Antibes. The Picasso Museum, Port Vauban, Europe's largest yacht marina, with heliport. The Old Town and pretty Provencal Market, bordered with boulangeries, cafes, restaurants and boutiques. Stroll the Ramparts, tan on the beaches, swim in crystal clear bays, water-ski: invented here in the 1930's.
But where shall we stay?
The just launched Cap d'Antibes Beach Hotel and Spa is picture-perfect darling.
A bit of background:
It takes guts to build a brand new hotel in these straightened times, but not if your name is Ferrante with a proven riviera and european reputation in the hotel/restaurant business and a big bank account. And how cool is it when your base is two fishermen's huts (Maison des Pêcheurs) located, on the water's edge, between two mythical Cap d'Antibes ports (Gallice and Croūton). The fab Ferrantes bought the abandoned fisherman's huts in 2003 and invested 3.5 million euros renovating the site, creating a restaurant featuring the  daily catch from Port du Croūton.
By 2008 the Ferrantes decided the site, with fine sandy beach, nestling between Port Gallice (where Madoff's $7 million gin-palace is for sale) and Port des Croutons, with outstanding panoramic views from the Lérins Islands to the Estérel Massif, was the perfect location for a 27 room- and- suite boutique hotel, infinity pool and Omnisens spa.
Décor & Design: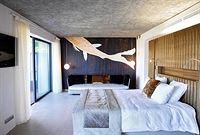 Architect Gerard Vollenweider proposed a sensuous low slung building, read ocean liner/acquarium attitude  and Sybille de Margerie created the interior and exterior design themes, calling in Paris-based plastician Thierry Bisch to decorate walls and ceilings with digital marine murals (See photo) and Aude Cayotte for the majestic sail installations. Shiny fabrics are reminiscent of iridiscent fish scales, floors are sandstone, furniture inspired by the 100 year olive trees that punctuate the property.
Ms de Margerie (a Taittenger, born and raised in hotels) insists on sleeping in all her rooms before any clients get to lay their heads. Her next project is the Mandarin Oriental, Paris, previous successes include Aswan, Egypt. Marrakech, Tel-Aviv, working with the incredilbly precise Bernard Arnault on The Cheval Blanc, Courchevel, Tom Ford, Naomi Campbell and Stella McCartney's favourite ski lodge. "There's an unbelievable evolution in hotel rooms, bigger bathrooms, the way people live has changed and my team and I must project what will be happening in, say, 2011. True luxury for me is a separate loo", smiles the beautiful Ms de Margerie.
The Omnisens Spa?
With four cabins and sensorial pool what's not to like? Omnisens was created in 2004 by former nurse/psychologist Joëlle Guillemot. Her innovative spa concept is aimed at a target clientele looking for relaxation as an antidote to city life. Massages for couples with grapefruit, orange, bergamot, ylang-ylang and rosewood. Or just relax solo with Grand Soin Nature, manicure, pedicure. "Learn to listen to your body, soothe your spirit", advises Guillemot.
What about the food?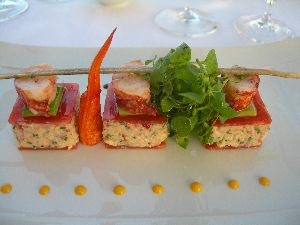 Continuing the success of Les Pêcheurs restaurant, which occupies a scenic position with fabulous sea views, the Ferrantes asked talented Michelin- star chef Nicolas Sale (ex-Lucas Carton, Pierre Gagnaire, George V, Hotel Meurice) to create menus for the restaurant and hip "Le Cap" brasserie, located on the private beach. Sale's dishes are artchitectural and original. Les Pecheurs continues to present huge platters of freshly caught local turbot, sea-bass, dorade royale, pageot, chapon, denti, baudroie, barbue and sole at dinner, which Sale interprets as in, "Fraicheur de crab and blue lobster, avocado with a fine geometric line of mango aciduleé". Filets of Mediterranean rouget are grilled à la plancha with courgette flowers, basil and field mushrooms. The boy loves beef, so try his Simmenthal with pommes rattes au jus, tomates confites au bois sucré, sweet onions and pink ginger. Pastry chef Marc Janodet's desserts are the perfect complement to Sale's creations. Sphere "tout chocolat" and fresh fruit compositions. "The feeling when you're in the restaurant is of being on board ship, I will take you on a fascinating culinary cruise", promises Sale.
It took just seven months and 8 million euros to get Cap d'Antibes Beach Hotel up and running, this is the Cap's first and only contemporary-chic boutique hotel and spa. To be taken without moderation, because you're worth it.
The damage:
Rooms from 390€
10 Boulevard Maréchal Juin,
Cap d'Antibes France
T: 04 92 93 13 30