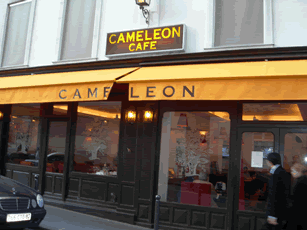 This is a scoop, Cameleon, Jean-Paul Arabian's hip bar/lounge/bistro, open since September, is Lebey's Bistro of the Year 2007. He knows a thing or two does old Claude author of trillions of useful guides, he invented the Club des Crocquers de Chocolat and CACH, Club des Amateurs de Cigars de Havana (maybe he knows where Fidel is hiding?). It's not always easy to agree with pro-gastonauts, sometimes they don't agree with themselves. But, Cameleon is the best thing on the contemporary bistro scene for a long time.
It reflects Montparnasse as it probably was, but is revised and corrected for to-day, which can only be a good thing. BP President, Karen Fawcett, in Washington for family reasons, told BUZZ: "Victor and I discovered Cameleon our first week in Paris. It was an institution  …same chef and staff forever, eating there was akin to eating chez nous, we loved the place, and, it didn't cost a fortune".
Madame Fawcett cannot imagine that this is for the good, but it is dear, it is, for the following reason: Jean Paul Arabian, who has given the old institution a face-lift.
This man is probably one of the most experienced restaurateurs in the biz, the French call it "savoir-faire".  "45 years", he sighs. I started at The Palm Beach Casino restaurant, Cannes, went on to Louis Outhier's, L'Oasis, La Napoule, then Maxim's, opened my own place in Lille, got married, then came to Paris, with my wife Ghislaine Arabian, and two children, we both worked at Ledoyen. Then came the big "D", too many egos clashing: so I set up Pierre au Palais Royale, then came the opportunity to buy the bankrupt and run-down Cameleon. I have to say I'm happier now than I've ever been. At last this Armenian-Greek feels at home in his charming French bistro!"
Cameleon is a picture-perfect neighbourhood place where you can eat all day if you want to. From 8am there's hot pain Kayser/Poujauran, fresh Bordier beurre, jams, and the buzz of conviviality. JP and architect Albert Bali have sympathetically restored the bric-a-brac crumbling interior. "To make it spiritual, sensual and warm, crimson velvet banquettes, dark wood chairs and tables, the old zinc shined up a treat, stunning restored ceiling mouldings and chandeliers. Even a plasma TV! And the clientele, lots of celebs, and everyone treated like a celeb by JP, the staff and Margaux, his exquisite daughter.
In the open kitchen three very watchable chefs sign the card, led by the talented David Angelot (ex-Ledoyen, Amboisie and Passard).  "He does onion soup, but not the classic "Maxim's" that I adore and so does Charles Aznavour", sniffs JP. Angelot's onion soup is rib-sticking –stand- your- spoon- up- in- it, topped with  Poujouran toast spread with melted Cantal. Pure nectar.
The dishes are bistrot dishes taken to a new level. I suppose that's why they're getting rave reviews and the Lebey award and the Figaroscope "Meilleur Come-Back 2006".
"We change the menu daily", says JP. So, if you can resist the onion soup you might be tempted by Tataki de thon rouge with herbs. Friture de Calamars, parsley frit and sauce tartare. Just'One filet of rouget with warm brandade de morue. Escargot petite gris, herb butter and mushrooms.
There's a plat du jour on the blackboard. "Tendrons de veau" Karen's favourite from the old days, with the "best purée in the world – a least a pound of butter", she recalls.
For mains a handsome chunk of skate left on the bone, fried in butter, surrounded with buttery croutons and served on a huge pile of fresh spinach. Vegetarians will go for "Presque tous les legumes de saison tiedes, legere vinaigrette with olive oil and parsley. Carnivores for the Onglet "Boeuf Francais" or Foie de Veau with a gratin of macaroni and parmesan.
Take the tarte fine aux pommes with vanilla ice cream for pudd. Or tiramisu with chestnuts. Oeuf en neige, crème anglaise, pralines roses. There's also Valrhona chocolate tart, sorbet cacao. Pain perdu with roasted pinepapple and sabayon a la Blanche de Namur.
"We thought long and hard about the menu, and the wines. Give us time and we'll be even better", promises JP, who showed Michelin the door recently. "After 45 years I've had it with the stars", this is chez moi, for me and my friends".
Wines start at 3€ for a glass of white Chateau Roquefort Bordeaux 2005 or a red Morgon Marcel Lapierre (6€). A bottle of La Fleur Leroy 2004 will cost you 23€ or, if you're feeling flush, take the Condrieu La Doriane 2000 Guigal (250€).
Come back soon Karen and celebrate the fabulous comeback of Cameleon.
Because you're worth it.
JP and the team are waiting at:
6 rue de Chevreuse, 6th (Metro: Vavin)
Average Spend 40€ + wine
T: 01 43 27 43 27
Shut Sunday
Open from 8am til late.