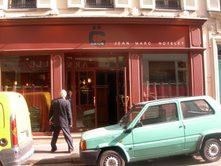 "Jean Marc Notelet, at Caius, is the nearest thing you'll get to Olivier Roellinger without the schlep to Cancale", advised a BP foodie. Notelet used to have that little place opposite Guy Savoy on rue Troyon, even Savoy was impressed. "Try it sometime", said Savoy. By the time I wanted to, Notelet had a note on the door. "Moved to rue d'Armaille in the 17th".
When he got there something incredible happened, his neighbour popped in to say hello, and that put Notelet on a new trail, not only spices but the addition of essences created by his neighbour the nose, Blaise Mautin. Not any old nez but the creator of fragrant perfumes, candles, lotions and potions for luxury clients such as Park Hyatt Vendome, where everyone snags the freebies – "for my daughter!"
A bespoke Mautin fragrance costs €16,000 for two crystal bottles, which doesn't bother Blaise's crunch-free international clientele, the Russian pop star who ordered 500 bottles for her wedding, the French film icon, the Hollywood director who loved the fragrance Mautin created for his wife, so he ordered another for his daughter, a third for his helicopter!
They flock to Chez Mautin to gather one of the last true luxuries. And risk rejection, but only, says Mautin, "if I know the client will never, never be happy, or if they want to use my creations commercially. I don't want my products sold "on the high-street", out of respect for my clients, it's an exclusive club." Mautin, whose family own Nain Bleu www.aunainbleu.com the rich people's Toys r'Us says he was inspired to create perfumes in the toyshop. "Watching people choose toys for and with their their grand-children I thought, what better way to create a magical memory than a perfume. The next day I enrolled at a perfume school. It's pure magic".
But what about Chef Notelet? Inspired by Mautin, exploring the world of perfume and using it in his dishes, his cuisine almost defies classification. Blaise brings to the table his sensory experience. Notelet creates a recipe around it. "It's an alchemy of gourmandise and passion", they explain.
Notelet ex- pupil of Meneau and Boyer says, "not knowing what to cook gets me out of bed in the morning". His dishes, on the blackboard daily, include Gateau of Foie Gras "Pina Colada". Cappucino de coques/clams, whipped celery root. "I hate copies of anyone's work", he sighs. "That's not what I do, cooking's not difficult, anyone can learn if they want". He makes delicious beef cheeks on a bed of celeriac. "Easy", he insists. "Slow cooking is the best cooking". Club Sandwich de Kippers au Tsao-Ko with notes of dried tomatoes and mushrooms. Confit of rabbit in hay, game in season. The fragrance is mind-blowing..
In their just published "Le Cuisinier et le Parfumeur", Notelet and Blaise set out to illustrate their concept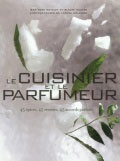 45 Epices. 45 recettes. 45 accords parfaits. "It's not a cookery book", insists Notelet. Working with uber-photographer Carrie Solomon (www.carriesolomon.fr ) all is revealed. At present in French, BUZZ will let you know when it's coming in English.
Notelet and Blaise are two people you need to get to know. Meetings with remarkable men, they'll change your life, this is an exciting bistro for neo bistro-afficiandoes.
And if you like it hot, want to buy the spices www.goumanyat.com is where Notelet and Blaise head for their saffron from Jean Thiercelin, a sixth generation spice-boy.. Not so much a spice emporium, more a spice museum, spend an afternoon sniffing in the "sniffing bar" and take home Himalayan rock salt, crystallised mimosa, Tahitian vanilla, rosemary syrup. "Spices have had a bad press", says Thiercelin who travels the world tracking down unusual varieties. "There's 5 million years of history in that Tonka bean".
Caius,
6, rue Armaille, 17th (Metro: Charles de Gaulle Etoile)
T : 01 42 27 19 29
Closed Sat Lunch-Sun
Lunch 23€ – Blackboard about 39€
Seasonal Themed dinners about 60€
Wines by the glass about 8€
Chateau Beaucaillou (St. Julien) 2003 80€
Burgundy Grand Cru Carton Charlemagne 2003 85€
Blaise Mautin,
12 rue Armaille, 17th
T : 01 44 96 70 91
www.blaise-Mautin.com
Goumanyat
3 rue Charles-Francois Dupuis 3rd.
T : 01 44 78 96 74
Le Cuisinier et Le Parfumeur,
Une Rencontre Autour des Sens
Editions Minerva (45€)