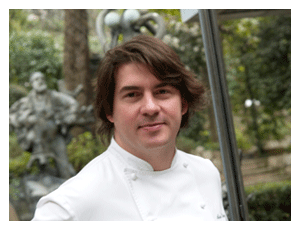 There's no doubt about it, there never was: spring on the Riviera is where it's at. Sunshine, blue skies, the 57th Cannes Film Festival (May 12th-23rd). Brad Pitt, Tom Hanks, Billy Bob Thornton, Uma Thurman, Charlize Theron, Antonio Banderas (& Melanie), Angelina Jolie, all heading for the
Moulin de Mougmeins — the rustic olive mill, transformed to 3-star splendour by Roger and Denise Vergé, to try out the new chef/ owner, Alain Llorca, until recently at Le Chantecler, Nice. "With the retirement of Monsieur Vergé I have tried to keep the soul of the Moulin alive, adding my own personal touches," explains Llorca. "It's not finished yet," he insists, but the Moulin is packed, the walls covered with memorabilia of, say, Danny Kaye (who cooked alongside Vergé) Sammy Davis Junior, Bocuse, Liz Taylor. It's restaurant as museum, with a modern spin—as in the huge Louis XV chandeliers sprayed white! As in his contemporary cuisine: La Ronde des Tapas "Millesimee," Llorca's signature, a perfect way to discover his original spin on a traditional Spanish custom. 12 dishes, including Sushi de Paella and Foie Gras chaud tartiné de mango chutney (150€). Superb desserts by Jean-Michel Llorca. Weekday lunch 48€, or 58€ with wine and coffee.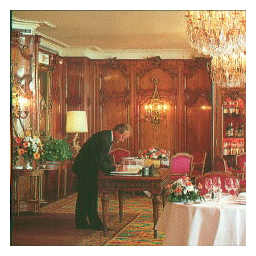 So who's at Le Chantecler now? The brilliant Michel del Burgo (ex-Taillevent, Michel Guérard, Ducasse, The Bristol). Try his innovative "Menu Plaisir" to understand there's an exciting revolution taking place in Nice; served only at lunch, it's 45€, or 55€ including wine & coffee. Dinner, where jackets are required and cell-phones banned, costs 90-130€ + wine. Patrick Millerau is one of the region's top sommeliers; he'll find something you've never tasted before to match del Burgo's warm lasagne of sweet-and-sour scampi and turnip, flavoured with orange skin and rosemary. Spit-roasted pigeon with grains and dried fruits "pastilla" style, spiked with a sharp apricot sauce. Pudds are served with humour "au chocolat," as in Symphonie After-Eight served as a parfait with cappuccino ice cream.
In the heart of old Nice, nudging Cours Saleya market, the hotel Beau Rivage has always had an "old lady with a poodle" image. Not any more! Newly renovated by architect Jean-Michel Wilmotte, it is now a chic boutique hotel. Celebrity spot (Elton John etc, Francis Ford Coppola, Andie McDowell) at the Plage Beau Rivage beach restaurant while enjoying loup en croute de sel, risotto de saint-jacques, tapenade or—in Le Bar—cocktails foie gras, tartares and grills. 12€ starters: 20€ mains: 12€ desserts.
On the Promenade des Anglais, Nice, check out the renovated Palais de la Méditeranée, that mythical, listed Art Deco palace, constructed in 1929 to house the Riviera's first casino. Expect high-tech in the 188 rooms and 12 suites, indoor and outdoor pools, and state-of-the-art fitness areas. The Casino is once again up and running, attracting high-rollers and the jet-set. Bruno Sohn is Executive Chef of "Le Padouk" gastro resto with terrace. "Something for everyone," promises Sohn, who spices up his Mediterranean cooking with inspirations from time spent in Hong Kong. Lunch: Entrees 13€ Mains 21€ Desserts 6€ Menu 60€ Lunch + Dinner + A la carte
Joel Robuchon is not only in Paris (see below), he's also consulting at the transformed Hotel Metropole Monte-Carlo, where the new Jacques Garcia-designed restaurant (Garcia's re-done the whole hotel, opening in June), is the talk of the town. Working with Robuchon is Christopher Cussac (ex-La Reserve, Beaulieu, Troisgros, Jamin, everywhere!). "The dishes are inspired by the whole of the Mediterranean—Spain, Italy, North Africa, Morocco. The menu a reflection of my personal taste and local products," explains Cussac.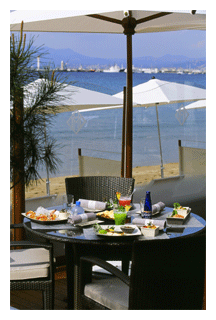 The Martinez, ze palatial Palace Hotel on La Croisette, Cannes, is where the restaurant La Palme D'Or overlooks the blue Med with dynamic duo, Christian Willer and Christian Sinicropi, at the pianos. Their exciting news is Zplage, the Martinez's beach-bar-bathing complex, located right opposite the hotel, focused on healthy eating, with phytotherapy/herbal/organic cocktails and sensational salads and grills—all this complementing treatments in the Martinez's Givenchy spa. "The beach-bar serves dishes, cooked in an outdoor clay oven, to nourish mind, spirit and body," explain the two Christians. It's so chic; this season gastronomic beach eating is the new black. Lunch 35€ + A la carte
"The" restaurant to have a reservation at during the Monaco Grand Prix (23rd May) is Le Grand Large on top of the Port Palace Hotel. Chef Francois Pillard's spring ideas showcase dishes such as vegetable risotto, agneau de lait and Cote de boeuf Charolais. His signature dish is Saint-Jacques with Paimpol coco-beans and confit of Menton lemons, the prelude to fresh fruit ice-creams and sorbets. Dinner menu degustation is 80€, the wine list excellent and vegetarians most welcome. (Lunch Menu 35€ + A la Carte)
Also facing the sea is Le Carré Restaurant at Le Meridien Beach Plaza, Monaco, where buffets are the spring theme, created by chef Bernard Cuq. Each weekday service has a different theme showcasing the colours and flavours of the Mediterranean region. Tues: Couscous & Tajine; Thurs: Kefta; Sunday: Paella. On the terrace of La Pergola, Monsieur Cuq creates Mediterranean dishes A La Carte. Lunch 32€; dinner 42€ including wine and mineral water.
New toque on the block at La Reserve, Beaulieu, is Olivier Brulard, replacing Christopher Cussac (see above). Replacing Cussac at La Reserve? Arnaud Donkele (ex-Laserre, Paris). Phew!
Spectacular architectural renovations and the addition of a spa at The Grand Hotel, Cap Ferrat. Eat on the shady terrace (poolside at Club Dauphin) or in the Hotel restaurant. New dishes by the talented Jean Claude Guillon (celebrating "still crazy after" 30 years at the Grand Hotel) include: Morilles farcies de foie gras, sauce aux truffes; Le Pigeonneau de Haut Var en deux cuissons and soufflé chaud au fenouil confit; glace a l'anis étoilé. Menu 73€ Lunch 54€: Club Dauphin from 76€ + A la Carte.
Just inland, certainly worth the schlep, is Jacques Chibois' Bastide Saint Antoine, Grasse, located in a picture-perfect olive grove, the air fragrant with aromatic herbs. Chibois' concept, "Aromes & Fragrances," includes a trip to a local perfume factory. You'll learn how a fragrance is created, and make your own to take home, along with a diploma. (2 people 662€ one night with breakfast)
Yves Camdeborde (him of the "bistrot-gastro" La Regalade, Paris; once second to Christian Constant at The Crillon; also with stints at The Ritz & La Tour d'Argent) has hung up his coppers to dedicate himself to his new project. Seems big Yves wants to spend more time with his two sprogs and "They made me an offer…" So where is it then? Well, Yves ain't telling, but it's going to be opening around September; a pension de famille in the Paris area, one assumes. There will be an open kitchen, "so I get to see that there is a world outside," he told BUZZ. Madame C will look after the hotel side of things; think twenty rooms. And think of booking soon: "Lunch will be open to the public, evenings for hotel guests only." Watch this space, all you Cambodians.
By the time you read this, La Table de Joel Robuchon should be in business. It's taken the place of Seize au Seize, which was formerly feisty Ghislaine Arabian's canteen. Rumour has it that GA's back, having been banned from cheffing for two years, for reasons totally dumb and stupid. Good luck, Ghislaine. 16 avenue Bugeaud, 16th
Metro: Victor Hugo. T: 01 56 28 16 16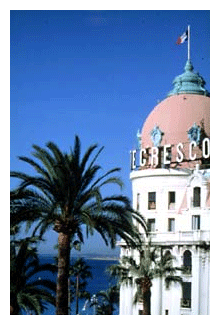 Address Book:
Le Moulin de Mougins, Alain Llorca
Notre Dame de Vie – F-06250 Mougins
T: 04 93 75 78 24
Le Chantecler
Hotel Negresco
37 Promenade des Anglais, Nice
T: 04 93 16 64 00
Hotel Martinez, Z-Plage & La Palme D'Or
73 La Croisette, Cannes.
T: 04 92 98 73 00
Hotel Metropole Monte-Carlo, Joel Robuchon
4 avenue de la Madonne, Monaco
T: +377 93 15 15 15
Le Grand Large at The Port Palace
7 avenue JF Kennedy, Monaco
T: +377 97 97 9000
Grand Hotel du Cap Ferrat
Boulevard General de Gaulle, Cap Ferrat
T: 04 93 76 50 50
Hotel Beau Rivage
24 rue St-Francois-de-Paule, Nice
T: 04 92 47 82 82
Le Padouk
Palais de la Méditerranée
Promenade des Anglais, Nice
T: 04 92 14 76 00
La Pergola & Le Carré
Le Méridien Beach Plaza
22 avenue Princess Grace, Monaco
T: 00 377 93 30 98 80
La Reserve de Beaulieu
Boulevard Mar. Leclerc, Beaulieu
T: 04 93 01 00 01
Bastide St-Antoine, Jacques Chibois
48 avenue Henri Dunant, (quartier St. Antoine), Grasse
T: 04 93 70 94 94
---

Born in Britain and now based in Paris, Margaret Kemp graduated from The Cordon Bleu and spent a year working and watching in the kitchens of top chefs from Sydney, Australia via Bangkok, Hong Kong, California, New York and France. Realising she would never win the coveted 3-Michelin stars, she decided to write about the people who do, the "disciples of Escoffier."