Christophe Leroy, arguably the hippest chef and party thrower in Saint Tropez, has set up a Table du Marché in Marrakech. One knows that when it gets a bit chilly in St. Tro, ze beautiful pipole head off on the road to Morrocco and their chic designer riads. Now there's a new address to keep them happy as sandboys. Leroy promises "cuisine Francaise inspired by the colours and ingredients of Morocco". Located in the new Hotel L'Hivernage, complete with spa, pas cher du tout 85 rooms and suites from 160€. Leroy promises a menu at 25€. You can't afford not to go… Reservations via
e-hotel.com
Superchefs Yannick Alleno, of the Hotel Meurice, and Eric Frechon, of The Bristol, Paris, mopped up the prestigious gastronomique Pudlo-Paris prize recently. At the same time, the talented Michel Trama of Loges de L'Aubergade, Puymirol (Lot-et-Garonne, near Agen where those juicy prunes come from), is voted Chef of the Year by his confreres throughout France. Although I'm not quite sure how this works, chefs are supposed to be in their kitchens, fidele au post, at all times. Unless their name is Ducasse, right? Le Pudlo, now in its 15th year, is a guide that everyone trusts, written with total devotion by journo and gastronome Gilles Pudlowski. Many French rely on Pudlo and his simple 1, 2 or 3 plate ratings rather than Michelin. Promoted to 2 plates are The Crillon, where Jean-Francoise Piege (ex-Plaza Athenée) is creating sensations at Les Ambassadeurs, and La Table de Joel Robuchon, ze dernière adresse parisienne du Maître Robo. For Pudlo France you'll have to wait until February, but the lad himself is very positive about the new style of cuisine hitting our plates/palates. "Une épidémie positive de bistros gastronomiques," he explains. The pro-chef's monthly bible/magazine Le Chef, which organises this bash, is happy to welcome Trama (who notched up his *** in Michelin 2004). He follows in the footsteps of Philippe Legendre of restaurant le Cinq (hôtel George V à Paris). For The Chef's Editor in Chief, Georges Golan, Trama is an "homme de paradoxes" who has known great success and great frustration. He waited 20 years for his third Michelin * and ranks with Guy Savoy, Michel Bras, Alain Durournier (who still waits in the wings for his 3rd), Marc Veyrat, and Pierre Gagnaire "as one of the acteurs du bouleversement de la haute gastronomie française". For Trama it's not only him getting the laurels: "It's my wife and the whole equipe who are honoured," he says. He also says that the guides are invaluable, putting the bums on the velvet seats. But punters don't only come for the food, in his opinion. They want not only superb cuisine, but also atmosphere and décor. "Everything must be in harmony," insists Trama. The sommelier de l'année, voted by his fellow winos, is Pascal Leonetti of l'Auberge de l'Ill, Illhaeusern (***Michelin). Hailing from Corsica, he left the sunshine for the damp Alsace to learn his craft by the side of Serge Dubs, Meilleurs sommelier du monde. Not a bad career move then. The Meurice228 rue de Rivoli, 1st (Metro: Tuileries)T: 01 44 58 10 55 The Bristol112 rue du Faubourg St. Honore, 8th (Metro: Champs Elyées-Clemenceau)T: 01 53 43 43 00 Les Ambassadeurs (The Crillon)10 place de la Concorde, 8th (Metro: Concorde)T: 01 44 71 16 16 Michel Trama, Les Loges de l'Aubergade52 rue Royal, 47270, PuymirolT: 05 53 95 31 46 (Paris 656 kms)Auberge de L'Ill, IllhausernT: 03 89 71 89 00 Meanwhile back in Paris… if you're on the left bank and don't want to get ripped off with a bit of leather-backed ham and salad, pop into Paul (obviously you know the owners–the Holder family, who created Paul in 1889–also own Ladurée). Apart from a dazzling array of pastries and breads, there's silver service in the back, with low-fat dishes on the Menu Equilibre, 14.50€ (created by Paul's in-house dietician; follow up by calling and discussing your allergies on 0 800 27 86 00). Or not worried about the cholesterol count? Try Le Menu Gourmand, 14.50€. Both include drinks, tea or coffee. Children eat for 6.70€ and there's a dazzling choice of à la carte and those sumptuous desserts and divine Chocolat/Café Liégois, Dame Blanche. Pure bliss during a day's serious shopping. And what shall we eat tonight? Fill up your panier at the Marché de Buci right outside Paul's gingerbread house. 77, Rue de Seine, 7th (Metro: Saint Germain des Pres)T: 01 55 42 02 23 Other spots around town–see
www.paul.fr
Born in Britain and now based in Paris, Margaret Kemp graduated from The Cordon Bleu and spent a year working and watching in the kitchens of top chefs from Sydney, Australia via Bangkok, Hong Kong, California, New York and France. Realising she would never win the coveted 3-Michelin stars, she decided to write about the people who do, the "disciples of Escoffier."
SUBSCRIBE
ALREADY SUBSCRIBED?
BECOME A BONJOUR PARIS MEMBER

Gain full access to our collection of over 5,000 articles and bring the City of Light into your life. Just $60 a year.

Find out why you should become a member here.

Sign in

Fill in your credentials below.
Christophe Leroy, arguably the hippest chef and party thrower in Saint Tropez, has set up a Table du Marché in Marrakech. One knows that when it gets a bit chilly in St. Tro, ze beautiful pipole head off on the road to Morrocco and their chic designer riads. Now there's a new address to keep them happy as sandboys. Leroy promises "cuisine Francaise inspired by the colours and ingredients of Morocco". Located in the new Hotel L'Hivernage, complete with spa, pas cher du tout 85 rooms and suites from 160€. Leroy promises a menu at 25€. You can't afford not to go… Reservations via
e-hotel.com
Superchefs Yannick Alleno, of the Hotel Meurice, and Eric Frechon, of The Bristol, Paris, mopped up the prestigious gastronomique Pudlo-Paris prize recently. At the same time, the talented Michel Trama of Loges de L'Aubergade, Puymirol (Lot-et-Garonne, near Agen where those juicy prunes come from), is voted Chef of the Year by his confreres throughout France. Although I'm not quite sure how this works, chefs are supposed to be in their kitchens, fidele au post, at all times. Unless their name is Ducasse, right?
Le Pudlo, now in its 15th year, is a guide that everyone trusts, written with total devotion by journo and gastronome Gilles Pudlowski. Many French rely on Pudlo and his simple 1, 2 or 3 plate ratings rather than Michelin.
Promoted to 2 plates are The Crillon, where Jean-Francoise Piege (ex-Plaza Athenée) is creating sensations at Les Ambassadeurs, and La Table de Joel Robuchon, ze dernière adresse parisienne du Maître Robo.
For Pudlo France you'll have to wait until February, but the lad himself is very positive about the new style of cuisine hitting our plates/palates. "Une épidémie positive de bistros gastronomiques," he explains.
The pro-chef's monthly bible/magazine Le Chef, which organises this bash, is happy to welcome Trama (who notched up his *** in Michelin 2004). He follows in the footsteps of Philippe Legendre of restaurant le Cinq (hôtel George V à Paris).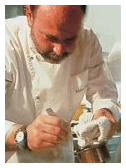 For The Chef's Editor in Chief, Georges Golan, Trama is an "homme de paradoxes" who has known great success and great frustration. He waited 20 years for his third Michelin * and ranks with Guy Savoy, Michel Bras, Alain Durournier (who still waits in the wings for his 3rd), Marc Veyrat, and Pierre Gagnaire "as one of the acteurs du bouleversement de la haute gastronomie française". For Trama it's not only him getting the laurels: "It's my wife and the whole equipe who are honoured," he says. He also says that the guides are invaluable, putting the bums on the velvet seats. But punters don't only come for the food, in his opinion. They want not only superb cuisine, but also atmosphere and décor. "Everything must be in harmony," insists Trama.
The sommelier de l'année, voted by his fellow winos, is Pascal Leonetti of l'Auberge de l'Ill, Illhaeusern (***Michelin). Hailing from Corsica, he left the sunshine for the damp Alsace to learn his craft by the side of Serge Dubs, Meilleurs sommelier du monde. Not a bad career move then.
The Meurice
228 rue de Rivoli, 1st (Metro: Tuileries)
T: 01 44 58 10 55
The Bristol
112 rue du Faubourg St. Honore, 8th (Metro: Champs Elyées-Clemenceau)
T: 01 53 43 43 00
Les Ambassadeurs (The Crillon)
10 place de la Concorde, 8th (Metro: Concorde)
T: 01 44 71 16 16
Michel Trama, Les Loges de l'Aubergade
52 rue Royal, 47270, Puymirol
T: 05 53 95 31 46 (Paris 656 kms)
Auberge de L'Ill, Illhausern
T: 03 89 71 89 00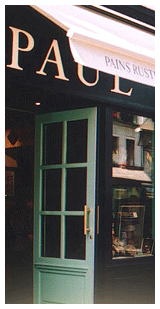 Meanwhile back in Paris… if you're on the left bank and don't want to get ripped off with a bit of leather-backed ham and salad, pop into Paul (obviously you know the owners–the Holder family, who created Paul in 1889–also own Ladurée). Apart from a dazzling array of pastries and breads, there's silver service in the back, with low-fat dishes on the Menu Equilibre, 14.50€ (created by Paul's in-house dietician; follow up by calling and discussing your allergies on 0 800 27 86 00). Or not worried about the cholesterol count? Try Le Menu Gourmand, 14.50€. Both include drinks, tea or coffee. Children eat for 6.70€ and there's a dazzling choice of à la carte and those sumptuous desserts and divine Chocolat/Café Liégois, Dame Blanche. Pure bliss during a day's serious shopping. And what shall we eat tonight? Fill up your panier at the Marché de Buci right outside Paul's gingerbread house.
77, Rue de Seine, 7th (Metro: Saint Germain des Pres)
T: 01 55 42 02 23
---

Born in Britain and now based in Paris, Margaret Kemp graduated from The Cordon Bleu and spent a year working and watching in the kitchens of top chefs from Sydney, Australia via Bangkok, Hong Kong, California, New York and France. Realising she would never win the coveted 3-Michelin stars, she decided to write about the people who do, the "disciples of Escoffier."
---
---