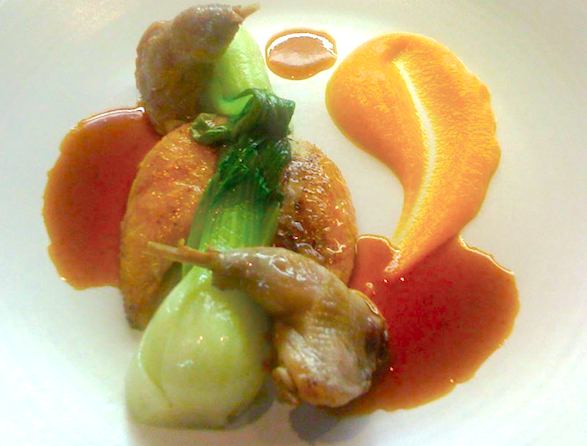 Perdix rouge, les suprême rôtis, les cuisses confites, mousseline de patates douces et choux pack choy
FL-Restaurant, Paris 7th
On a tiny side street near the avenue Rapp end of rue Saint Dominique, Chef Nicolas Valanchon recently launched FL-Restaurant with a nod and a wink to the nearby Eiffel Tower (FL—get it?). The tiny 25-seat space was formerly Aux Marmites d'Agnès.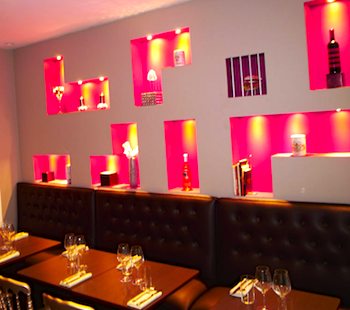 "I am from Amiens, Picardy, and my dream has always been to head a bistro showcasing the bounty of my region, but revised and corrected, lightened and brightened," he explained.
Since he opened, Valanchon's attracted a steady clientèle of Left Bank regulars, curious to taste the likes of La Ficelle Picarde comme un millefeuille; Warm mackerel on a sable Rollot, crème de semoule de chou-fleur; Caudière de poissons au cidre et légumes d'automne, Picardy cheeses and the apple dessert, Rabotte Picarde version FL.
The excellent wine list (with glasses from 4€) is by Valenchon's friend, Chef Commelier Nicolas Loubert. They worked together at Le Drouant, Paris. Valanchon's also worn the whites at The Westminster, Le Touquet, Le George V and with Tony Bilson at his eponymous Sydney, Australia restaurant.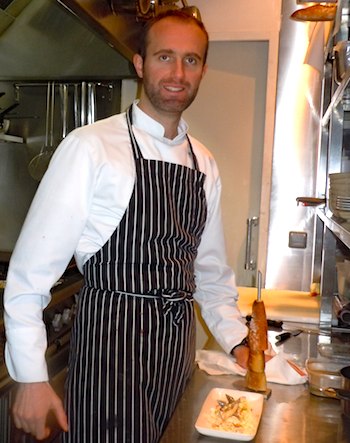 Chef works alone in a tiny stainless steel kitchen, where the menu changes daily according to the market and that's why "le tout Rive Gauche" are heading there.
Tamara works the room, is enchanted with FL, knows all the dishes and their history. None of the "Oh, I'll just check with chef," from our Tammy.
"I use Picardy products when I can," chef says, such as organic endives from Adrien Bled, market-gardener at Frenchencourt. Rollot fermier and local seasonal cheeses are from François Defossé at Guiscard.
I recommend Champagne Météyer Père & Fils located on the "Champagne Road" in the heart of the Marne Valley. The Cuvée Prestige is 11€ a glass or 54€ a bottle chez FL.
Valanchon is also an inventor: warm bread comes skewered to his "Pikape", a stainless steel spike that won him a silver medal at the Concours Lépine, Foire de Paris, 2011. You'll want to pop Pikape into the Birkin but it's too long, so ask to buy one for 25€.
The focal point of FL is a "soft" Eiffel Tower mural located next to the tiny kitchen and seems to be decorated with pots and pans. This chef not only has talent, but a droll sense of humour.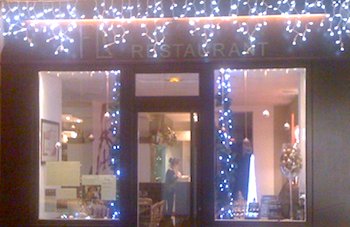 See you there.
Tél: 01 4551 0604
Métro: École Militaire  1 bis, rue Augereau, Paris 7th
Open: lunch Tuesday through Saturday 12-3pm and dinner Monday through Saturday 7-10pm
Lunch – Starter-Main or Main-Dessert 16€
3 courses 20€
A La Carte 25-40€ + wine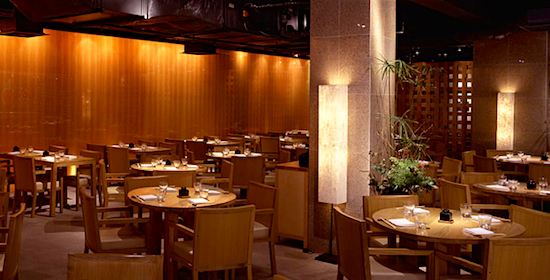 Zuma Restaurant in London
If you're in London book ahead for Zuma, a big restaurant in a small street close to Harrods and Topshop.
"It's quiet now," said "the Ashton" leading us through the minimal Zen space of stone, granite and rough woods created by Noriyoshi Muramatsu of top Japanese design company Super Potato.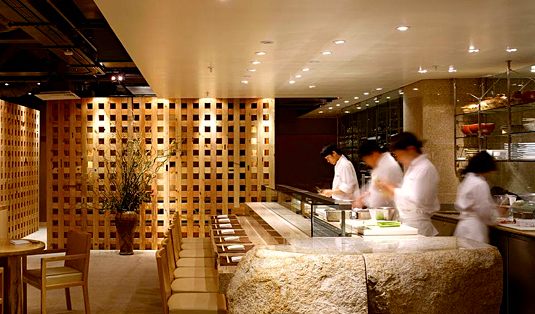 Inspired by the four elements, Earth, Fire, Water and Air, Zuma was launched in 2002 by Chef Rainer Becker, influenced by his time spent in Japan. Zuma became an instant hit and led to branches in Hong Kong, Istanbul, Dubai, Miami, Bangkok and Beirut. That probably is Heston in the corner; Michel Roux, Guy Ritchie or even shouty Gordon go there, too. The adorable staff become new best friends, needed to decipher the dishes prepared in three key areas: the sushi bar, the main kitchen and the Robata wood-fired grill based on those used by Japanese fishermen. Try the Grilled King Crab with ponzu lime butter. It's all orchestrated by Head Chef Li Soon who began his culinary career in Malaysia at age 4 and "never wanted to do anything else."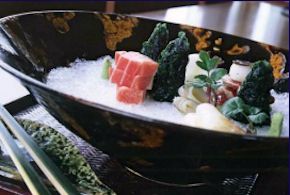 The Tasting Menu (£96) gives a delicious idea of the contemporary Japanese Izakaya, where everything comes to the table continuously throughout your meal. Otherwise there's vegetarian sushi and tempura for the ladies who do. Wagyu beef tartare with black truffles, sashimi, maki rolls, small dishes and salads include Zuma salad with asparagus, tomatoes and barley miso dressing. Salmon and tuna tartare with Osetra caviar and chilled homemade tofu with condiments. Recent additions to the menu include: braised abalone with sake, soy, konbu, wakame and dashi. Yellowtail sashimi with soy dashi, shallot and crispy garlic. Desserts are fun, just take a look at video on youtube.
The world wine card is intelligently listed by grape varieties, say, a unique Barboursville Viognier 2009 from Virginia, USA at £50 or £12 a glass. There's also a Sake Sommelier to advise on 40 different types including: Biwa no Choju, brewed exclusively for Zuma from the waters of Lake Biwa in Shiga prefecture. The lake's natural mineral water was made legendary in Japan by the last Shogun, Tokugawa Yoshiro, who, in the 15th century, created the rules that govern Japanese cooking styles and tea ceremonies today.
Zuma's a great place to go if you're alone in London. It's like you're in a movie. Two seconds inside the door, head for the bar, ignore Hugh Grant, Kelly Brook and Beyonce, and it's, "Hello, what do you do? would you like a drink?" And, by the way, Zuma's nothing to do with Jacob Zuma, President of South Africa. He didn't even pop in when he was last in town! His loss.
5 Raphael Street, London SW1 1DL (Knightsbridge)
T: 020 7584 1010
Open 7/7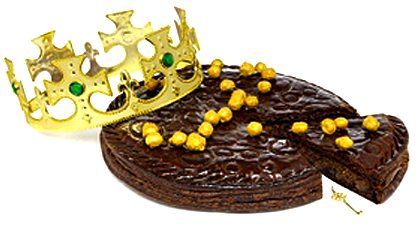 Tiffany + Co Galettes des Reines promotion at Le Meurice, Paris 1st
Camille Lesecq, the young and talented chef pâtissier at Le Meurice says his Galette des Reine 2012 is "an authentic galette whose chocolate flaky pastry is filled with frangipane sprinkled with chopped hazelnuts, topped with whole hazelnuts." Pop in for tea-time at Le Dali and you could leave with a gold Tiffany + Co. charm key, several of which have been hidden inside some of the galettes.
"Most people concentrate on les galettes des rois, but we prefer to spoil the ladies," admits Lesecq.
Restaurant Le Dali at Le Meurice
Tél: 01 44 58 10 44 Reservations
228, rue de Rivoli, Paris 1st
Galettes des Reines and Tiffany promotion exclusively at Restaurant Le Dali from January 2 through 22
Open 12 noon – 11pm 14€
MICHELIN Guide Hong Kong & Macau 2012: Restaurants & Hotels
[

in English]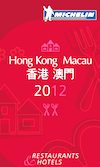 BonjourParis readers will find it exciting that Chef Michel del Burgo achieved his goal: three Michelin stars at L'Atelier de Joël Robuchon, Hong Kong and Robuchon a Galera, Macau, which also received three stars. Both restaurants feature contemporary French cuisine.
Del Burgo left France when Robuchon challenged him to lift his HK addresses to the triple-star galaxy. You'll remember del Burgo from Taillevent, The Bristol, Paris, and the Negresco, Nice, L'Orangerie, Paris, which he took over from actor Jean-Claude Brialy, Chez Adrienne, a stint in Moscow.
"A brlliant itinerant chef with an incredible curiosity," says Le Figaro's François Simon.
"Hong Kong is a very exciting city, it suits my personality," said Del Burgo, over the moon at his long-awaited and much-deserved stars.
HK and Macau have five three-star restaurants, 13 two-stars and 51 one-star restaurants and this year's edition has 69 new entries. It's worth the splurge if only to discover the "simple shop" noodle bars like Loaf On and One Dim Sum with Michelin stars, making them the best meal deals in the world!
Michelin Hong Kong Macau 2012
Available in January 2012 at Amazon.com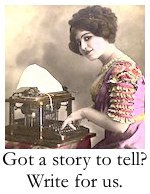 À la semaine prochaine!

Margaret Kemp is a Cordon Bleu graduate who spent a year traveling the world, working and watching in the kitchens of top chefs from Sydney, Australia via Bangkok, Hong Kong, California, New York and France. She reports for BonjourParis on the latest European trends, restaurants and hot spots. Please click on her name to see her weekly stories dating back to 2003 . . . et merci, Margaret.
Merci

, les abonnés

premium

,

nous vous apprécions

.
Would you like to submit a story or share a tip with our readers? Send us your stories & ideas.
Check out the brand new Kindle Fire, Patricia Wells' latest "Simply Truffles" and a classic by Zola
Premium members: have you claimed your 15% OpenSkies discount code?

Save 15% on business-class international flights between Paris and New York on OpenSkies, the airline for Smart Flyers.
To request your discount code valid for up to 4 in your travel party, please click here for promotion details.
Hurry! Offer ends soon!

Must book before December 31
, 2011 for travel that ends by March 31, 2012.
Thank you for using our link to Amazon.com…your purchases support our site.