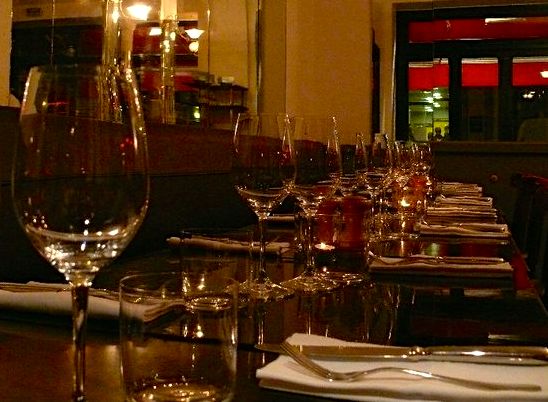 Le Pantruche, Paris 9th
Picture a long road just behind Le Moulin Rouge, rue Victor Massé, the road you came to Paris to walk along. At No. 12, a plaque celebrating the former "Cabaret Le Chat Rouge." Lots of boutiques selling guitars, to bring out your inner Eric Clapton. Victor Massé, after whom the rue is named, wrote operas, made his mark and is buried in Montmartre Cemetary, just above his eponymous street.
There's been a lot of activity around No. 3 since Franck Baranger opened Le Pantruche a year ago, bringing an energy to the Paris 9th that was missing. Franck Baranger is not the new Rose—he's the new Baranger, with a clean, zesty style that will leave you reeling with joy.
He's Parisian-born and bred. His Dad was a Chief Inspector of Police in the Paris 9th and can tell a tale or two of fear and loathing in the 9th, but that's for another time.
Why did you call it Le Pantruche?
"It's Paris argot (slang) for "Parisien", caractériel, amusant et surtout epicurien. And, as we're all from Paris it seemed obvious, no?" Yes.
Who are the others?
"In the kitchen with me are Germain, my second, and Suvash, the Bangladeshi dishwasher, who's learning to cook. In the salle there's Edouard Bobin and Thomas."
Why did you decide on a culinary career?
"I was nul at school. My friend was working in a restaurant and suggested I join him."
"So I went along to the Hotel Nikko and was immediately smitten by the action and energy in the kitchen. Jacques Senechal was head chef; I was really lucky and learned so much from him. He'd been chef at La Tour d'Argent, among other top restaurants. Then he suggested I go to help Christian Constant, who was just launching Violon d'Ingres, where he won first one and then two Michelin stars. I continued with Monsieur Constant at Les Cocottes, did a stint with Eric Frechon, then decided it's now or never. And here we are."
What was here before?
"It was La Mosca Libre, an Italian. We've kept the 1930s décor, but renewed everything, even the floor, which may look as if it's been here forever but we worked hard to get that look. We've done most of the work ourselves, the banquettes, the retro-mirrors, the zinc bar where we seat up to six when we're busy."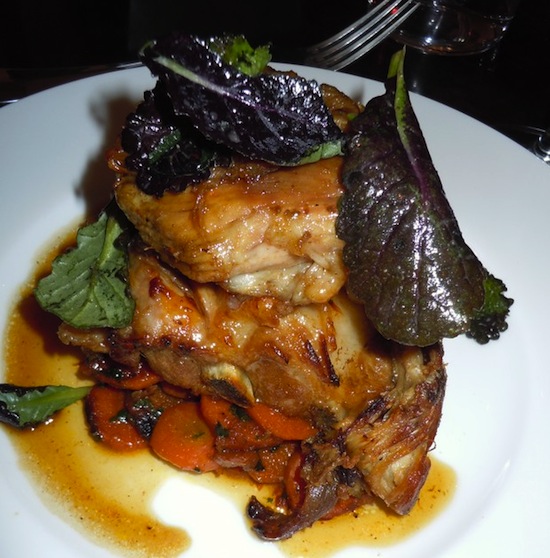 What are your signature dishes?
"Well, obviously they change with the seasons and the products. We've had a lot of success with the tartare of oysters, crème de laitue. Le côte de porc, fricassée de pommes grenailles et jus à l'ancienne (see photo above). Noix de St. Jacques poêlés, mousseline de patates douce. Pavé de cabillaud au tandoori et embeurré de choux vert au citron confit. Pain Poujauran. Soufflé au Grand Marnier, caramel au beurre salé. La Mousse au chocolat, petits financiers. I've created a new dessert: an Apple Macaron which I'll match with Fêves de Tonka ice cream. I receive the beans and we make our own ice cream, we've got a Pacojet."
And what about the wines?
"By the glass or bottle. I want to showcase young winemakers, so there's Domaine de Barroubie 2009 (26€) or by the glass (6€). From the Languedoc Pic St. Loup Le Gamin 2008 (26€ & 6€) and Château Ninon, Bordeaux 2008 (18€). They're all marked on blackboards, so are the menus. All the wines are easy to drink, good pairings with the food I'm cooking. This is just the beginning for us; we're very excited."
It's been an exciting first year for Chef and his fans who pack the house nightly—do make reservations if your heart is set on Le Pantruche.
We're hoping for even more excitement in early March when Michelin makes its big announcements—Le Pantruche deserves recognition if only for their superb Soufflé Grand Marnier!
Tél: 01 48 78 55 60  Reservations highly recommended
3, rue Victor Massé, Paris 9th
Métro: Pigalle or Notre Dame de Lorette
Open: Lunch Monday through Friday 12-2:30pm and Dinner Monday through Friday 7-10:30pm
Shut: Sat-Sun
Lunch Formula 19€
A La Carte 32€ + wine

Margaret Kemp is a Cordon Bleu graduate who spent a year traveling the world, working and watching in the kitchens of top chefs from Sydney, Australia via Bangkok, Hong Kong, California, New York and France. She reports for BonjourParis on the latest European trends, restaurants and hot spots. Please click on her name to see her weekly stories dating back to 2003 . . . et merci, Margaret.
You are reading an excerpt from PREMIUM CONTENT sent first to Premium Members who read our Sunday BUZZ column for the latest top chef news, restaurant openings, trends and happenings in Paris, London, Nice, Cannes, New York and other international destinations. If you're a culinary traveler, please consider an annual Premium Membership with exclusive content and members-only benefits.
NEW:
Subscribe for free
to our weekly newsletters with subscriber-only stories.
Thank you for using our link to Amazon.com…your purchases support our free site.