BUZZ: Domaine du Mont d'Arbois, Megeve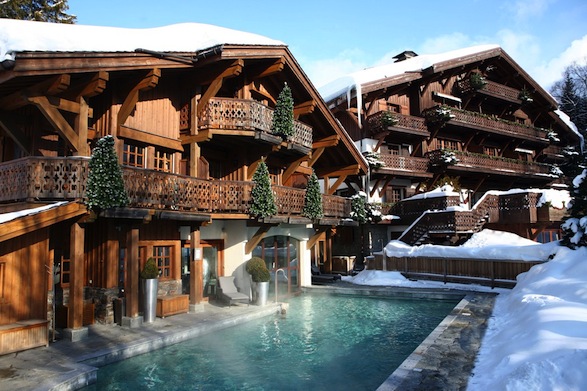 The Chalet du Mont d'Arbois. Photo ©Jorg Brockman
Remember Downhill Racer, the 1969 movie starring Robert Redford… and the scene in Charade where Audrey Hepburn's character met Cary Grant's character? Both movies were filmed in Megève, located just 30 minutes from the Geneva Airport, in the shadow of the majestic Mont-Blanc considered by many ski afficionadoes the most exciting resort in the world because the ski area that brings out their inner downhill racer.
It all began in the 1920s when the Baroness Maurice de Rothschild, also known as Baroness Noémie, realised the fabulous tourist potential of Megève. The Baroness, looking for a change of resort, as you do, felt St. Moritz had become rather boring. Her ski coach, Trey Smith, took her to Megève and she fell in love with the magnificent panoramas from the Mont d'Arbois plateau, overlooking the charming village.
The Baroness met with local craftsmen, explained her project and la Domaine du Mont d'Arbois took shape. Traditional architecture ensured that each part of the domaine would blend seamlessly into the alpine setting, and the resort quickly became a favorite of royals, captains of industry, movie stars, and big spenders from the worlds of business and finance. Wonder what the Baroness would make of the outdoor jacuzzi?
Not only a ski resort, but also the first golf course, the earliest ski lifts and the altiport were built under Baroness Noémie's guiding hand. The award-winning resort, open year round, has gone from strength to strength. Still owned by the Rothschilds, all of the family's successive members have left their mark. Ariane de Rothschild, who actively takes part in developing the resort, renovated Chalet Noémie's five suites and ten rooms. She oversaw the latest addition to the Domaine's estate, the construction of Chalet Alice's 6 rooms and suites, which include two massage rooms and a hammam.
On the doorstep there are 450 km of ski runs, 107 lift systems, 43km of cross-country pistes, 200 luxury designer boutiques and 91 excellent restaurants. Megève village is buzzing . . .  think Saint-Tropez with snow, fabulous shopping at Hermès, Moncler, Allard.
"The Chalet du Mont d'Arbois is the jewel in the crown of Relais & Châteaux establishments, it represents the love and dedication of three generations of the Rothschild family," says Philippe Standaert, directeur général.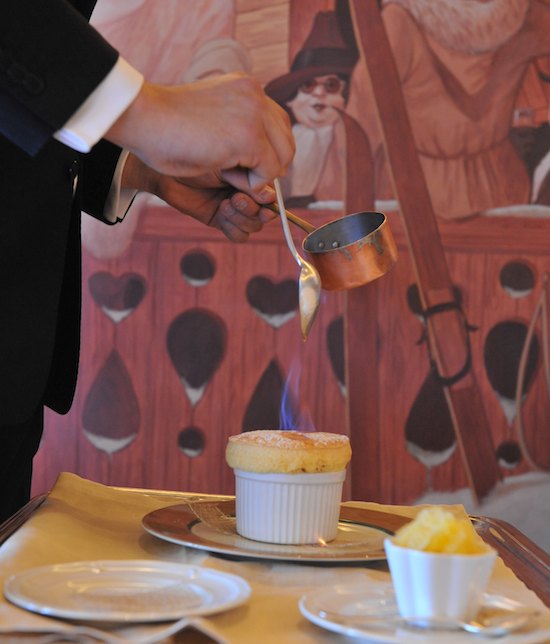 Mont d'Arbois soufflé. Photo ©Sandrine Alouf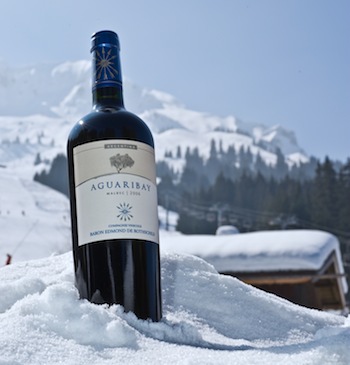 "The Chalet is balanced by the more family-oriented layout and services of the Ferme du Golf, but each upholds alpine traditions. The regional furniture and fresco-painted lift and walls . . . the attention to detail is legendary—look at the monogrammed chest, a chandelier made from deer horn, the collection of family canes and pipes in Chalet Alice. All the objects tell the story of Mont d'Arbois," he adds.
The Domaine has five different restaurants, headed by talented chef Olivier Bardoux, showcasing the best local and seasonal produce, in the rich Savoyard culinary tradition. The cheese menu has the only "label fermier" AOC Meaux brie, made at the Rothschild-owned Domaine des Trente Arpents farm in Seine et Marne, 40 kilometers from Paris. And, obviously, an integral part of this very epicurean lifestyle is reflected in the outstanding wine list, which puts vintages from La Compagnie Vinicole Edmond de Rothschild in pride of place.
Along the road, La Ferme du Golf du Mont d'Arbois is a family chalet located by the ski lifts in winter, on the golf course in summer. A lot of after-ski/golf action takes place around the pool table in the main lounge, which is used as the children's dining room in the evenings. There they are looked after (read "spoiled rotten") by an enthusiastic team of minders. This season, with the opening of the Chalet des Enfants, they even have their own Private Club reserved for children under the age of twelve. And, to add to the excitement, the spa will offer them "junior treatments."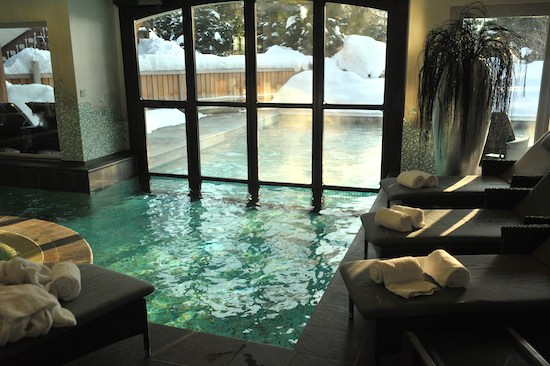 Domaine du Mont d'Arbois indoor and outdoor pools. Photo ©Sandrine Alouf
The whole family "spas-out" together around the heated indoor-outdoor pool. There are also a sauna, jacuzzi, hammam and Swedish bath, after which you roll in the snow! Spa manager Chantal Buthod says, "Crystal treatments are the latest innovation. They allow a customised and targeted approach; bespoke treatments act directly on the main organs of the body through energy lines, invigorating the body and stimulating the senses."
Sensory stimulation treatments are based on the philosophy of energy, with Snow Crystal, Wood Crystal, Solar Crystal, Earth Crystal and Metallic Crystal. The "Skier Programme" irons out fatigue after a hard day of alpine sports. Fragrant products are by Anne Semonin and Kérastase using aromatherapy and essential oils. Add aqua-gym, as well as revitalizing programs that can be combined with calorie-counted healthy menus. How about a body sculpting session or a sports coach to motivate, to help you get your mojo back?
"I waited for you in Megève," says David (Robert Redford) in the film Downhill Racer.
Frankly, my dear, I don't blame him.
Relais & Châteaux
447, chemin de la Rocaille, 74120 Megève, France
By the route Edmond de Rothschild
Open from July through mid-September and mid-December through mid-April
23 rooms and 1 suite from €295/1044 double
Breakfast €28
Le Restaurant 1920
Tél + 33 4 50 21 25 03
Menu €45 à la carte €70/130
Chalet de Noémie
Open mid-July through mid September and mid-December through mid-April
5 suites
Doubles from €1050/4200
Breakfast €28
Chalet Alice
Open mid July-mid September & mid december-mid April
7 rooms doubles from 509/1600€ + breakfast 28€
La Ferme du Golf at Chalet Mont d'Arbois
More useful information:
Megève Official Tourist Information
Don't miss Joseph Socquet's farm, la Ferme de Joseph
Tél: +33 4 50 9301 83
199, rue Charles Feige
Get the right gear from Allard
English-speaking Jo Le Taxi  toutes destinations
Tél: +33 6 09 420 500 e:mail [email protected] or

Margaret Kemp is a Cordon Bleu graduate who spent a year traveling the world, working and watching in the kitchens of top chefs from Sydney, Australia via Bangkok, Hong Kong, California, New York and France. She reports for BonjourParis on the latest European trends, restaurants and hot spots. Please click on her name to see her weekly stories dating back to 2003 . . . et merci, Margaret.
Merci

, les abonnés

premium

,

nous vous apprécions

.
BonjourParis has been a leading online France travel and French lifestyle site since 1995.
Top 100 France-themed books & more: Readers' Favorites.
Not every France guide covers Mont Blanc but these do….and check the hot-selling new Kindle Fire:
Thank you for using our link to Amazon.com…your purchases support our site.
Leave a reply
Your email address will not be published. Required fields are marked *