There's no denying they don't know what to do next to attract attention to themselves in the wonderful world of cuisine. What with Vache Qui Rit cheese and a pear being touted as the latest miracle diet in the USA, apparently there's a waiting list, just like for the Kelly and the Birkin. And then that nice nutritional nutter in the UK, Heston Blumenthal, giving the world not only snail porridge mousse, bacon and egg ice cream, but also insisting that hearing is the "forgotten sense" in eating! Blumenthal says sounds add to customers' gastronomic appreciation of his food (The Fat Duck, Bray, UK. T: 00 44 (1) 628 580 378). With this in mind, Blumenthal is giving out headphones with the amuse bouche, so diners can hear the relayed noises of their chomping carrot crunching. "It is very intense. You are made sharply aware of what is going on in your mouth and your head", explains Chris Young, Food Research Manager (what kind of a job title is that?) at the Fat Duck. Seems this is no flash in the pan; Blumenthal has spent more than 18 months developing the technology with a sound engineer and a professor of experimental psychology at Oxford. Hmmm. In Paris, Guy Savoy has re-launched Chiberta, the classic (and way too expensive, hope you're lowering the prices, chef?) canteen just off the Champs Elysées. Décor is by Jean-Michel Wilmotte and the concept is diner bar, cocottes lutées with no gras, private dining room. Read: the works.3, rue Arsene-Houssaye, 8thT:01 53 53 42 00 Meanwhile, days are shorter and the sun less fierce in the South of France, come September. Here's an address that only locals know about… and you, darling. Jean-Pierre and Carol Bure created Côté Mougins, their hip'n'handsome terracotta restaurant/bar lounge last year. "Chic and relaxed atmosphere, superb Mediterranean cuisine using local products, and a warm welcome is our aim," the Bures explain. "When you tell people Mougins, they think of the old village. There's a lot more to Mougins than that," says Jean-Pierre. Côté Mougins is located minutes from Mougins Village, just after Carrefour de la Blanchisserie, and if you ever tried, without success, to park in the village, you'll appreciate the huge car park! From the parking, stroll through gardens fragrant with wild herbs and flowers, shady with palms. "The Podium" area features teak tables set in alcoves with parasols for complete privacy. Romantic lighting comes from giant candles and house/lounge music floats through the starry night. The interior, with cooler weather in mind, has high ceilings and room for 70, the lounge areas have comfy sofas and plump cushions, there's a long bar, the better to mix your cocktails. Try "Sex on the Beach," a champagne-based homage to Jean-Pierre's Cannes venture, the Plage de l'Evasion! Study the wine list, with many available by the glass. Of course there are Bordeaux, Burgundys and Provence, at interesting prices. But don't ignore the world wines. A Golan Gamla Chardonnay from Israel (35€), a Lebanese Massaya Classic Bekaa Valley (35€). "If the client doesn't approve, we change it immediately," promises Jean-Pierre. And if you're worried about the draconian French drink'n'drive laws (one measly glass) then you can take home your plonk in a doggy-bag. Excellent service is organised by Pierre Brillon (you'll remember him from Plage d'Evasion, Ledoyen, Paris, a real pro). In the white-tiled kitchens, chef Fabrice Lefevre creates the weekly changing four-course Menu Découverte at 42€, or eat à la carte, just one dish if you like. Difficult to decide, mais oui, it's all so delicious. Marinade de Chair de Crabe with nice Nice courgettes (the only ones worth eating) and coriander, paired with avocado mousse. Roast lobster, with pasta and baby vegetables, or a succulent saddle of stuffed lamb with panisse (chickpea) chips, olives and aubergines with cumin—no sauce, just natural jus. At lunch it's wise to book for the Menu Affaire, 3 dishes 25€ or plat du jour at 16€. Delicious desserts, by patissier Jerome Bellanger, are irresistible and include authentic Café Liegoise, Peche Melba, Panna Cotta with wood strawberries. Raspberry millefeuilles, whipped cream and a wicked Lingot de Chocolat au Coeur de Crème Brûlée. And not a headphone in sight—just a little house music and the crik-crik-crik of the crickets. Côté Mougins2308 Avenue Maréchal Juin, 06250, MouginsT: 04 93 45 25 96F: 04 92 18 03 36
www.cotemougins.com
e:mail
[email protected]
Closed Sat lunch & Sunday Born in Britain and now based in Paris, Margaret Kemp graduated from The Cordon Bleu and spent a year working and watching in the kitchens of top chefs from Sydney, Australia via Bangkok, Hong Kong, California, New York and France. Realising she would never win the coveted 3-Michelin stars, she decided to write about the people who do, the "disciples of Escoffier."
SUBSCRIBE
ALREADY SUBSCRIBED?
BECOME A BONJOUR PARIS MEMBER

Gain full access to our collection of over 5,000 articles and bring the City of Light into your life. Just $60 a year.

Find out why you should become a member here.

Sign in

Fill in your credentials below.
There's no denying they don't know what to do next to attract attention to themselves in the wonderful world of cuisine. What with Vache Qui Rit cheese and a pear being touted as the latest miracle diet in the USA, apparently there's a waiting list, just like for the Kelly and the Birkin. And then that nice nutritional nutter in the UK, Heston Blumenthal, giving the world not only snail porridge mousse, bacon and egg ice cream, but also insisting that hearing is the "forgotten sense" in eating!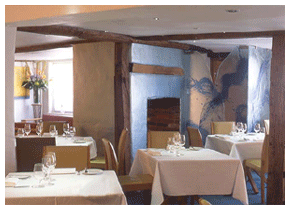 Blumenthal says sounds add to customers' gastronomic appreciation of his food (The Fat Duck, Bray, UK. T: 00 44 (1) 628 580 378). With this in mind, Blumenthal is giving out headphones with the amuse bouche, so diners can hear the relayed noises of their chomping carrot crunching. "It is very intense. You are made sharply aware of what is going on in your mouth and your head", explains Chris Young, Food Research Manager (what kind of a job title is that?) at the Fat Duck. Seems this is no flash in the pan; Blumenthal has spent more than 18 months developing the technology with a sound engineer and a professor of experimental psychology at Oxford. Hmmm.




In Paris, Guy Savoy has re-launched Chiberta, the classic (and way too expensive, hope you're lowering the prices, chef?) canteen just off the Champs Elysées. Décor is by Jean-Michel Wilmotte and the concept is diner bar, cocottes lutées with no gras, private dining room. Read: the works.
3, rue Arsene-Houssaye, 8th
T:01 53 53 42 00




Meanwhile, days are shorter and the sun less fierce in the South of France, come September. Here's an address that only locals know about… and you, darling.




Jean-Pierre and Carol Bure created Côté Mougins, their hip'n'handsome terracotta restaurant/bar lounge last year. "Chic and relaxed atmosphere, superb Mediterranean cuisine using local products, and a warm welcome is our aim," the Bures explain.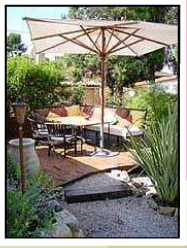 "When you tell people Mougins, they think of the old village. There's a lot more to Mougins than that," says Jean-Pierre. Côté Mougins is located minutes from Mougins Village, just after Carrefour de la Blanchisserie, and if you ever tried, without success, to park in the village, you'll appreciate the huge car park!




From the parking, stroll through gardens fragrant with wild herbs and flowers, shady with palms. "The Podium" area features teak tables set in alcoves with parasols for complete privacy. Romantic lighting comes from giant candles and house/lounge music floats through the starry night.




The interior, with cooler weather in mind, has high ceilings and room for 70, the lounge areas have comfy sofas and plump cushions, there's a long bar, the better to mix your cocktails. Try "Sex on the Beach," a champagne-based homage to Jean-Pierre's Cannes venture, the Plage de l'Evasion!




Study the wine list, with many available by the glass. Of course there are Bordeaux, Burgundys and Provence, at interesting prices. But don't ignore the world wines. A Golan Gamla Chardonnay from Israel (35€), a Lebanese Massaya Classic Bekaa Valley (35€). "If the client doesn't approve, we change it immediately," promises Jean-Pierre. And if you're worried about the draconian French drink'n'drive laws (one measly glass) then you can take home your plonk in a doggy-bag.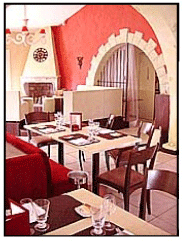 Excellent service is organised by Pierre Brillon (you'll remember him from Plage d'Evasion, Ledoyen, Paris, a real pro). In the white-tiled kitchens, chef Fabrice Lefevre creates the weekly changing four-course Menu Découverte at 42€, or eat à la carte, just one dish if you like. Difficult to decide, mais oui, it's all so delicious. Marinade de Chair de Crabe with nice Nice courgettes (the only ones worth eating) and coriander, paired with avocado mousse. Roast lobster, with pasta and baby vegetables, or a succulent saddle of stuffed lamb with panisse (chickpea) chips, olives and aubergines with cumin—no sauce, just natural jus. At lunch it's wise to book for the Menu Affaire, 3 dishes 25€ or plat du jour at 16€.




Delicious desserts, by patissier Jerome Bellanger, are irresistible and include authentic Café Liegoise, Peche Melba, Panna Cotta with wood strawberries. Raspberry millefeuilles, whipped cream and a wicked Lingot de Chocolat au Coeur de Crème Brûlée.




And not a headphone in sight—just a little house music and the crik-crik-crik of the crickets.









---

Born in Britain and now based in Paris, Margaret Kemp graduated from The Cordon Bleu and spent a year working and watching in the kitchens of top chefs from Sydney, Australia via Bangkok, Hong Kong, California, New York and France. Realising she would never win the coveted 3-Michelin stars, she decided to write about the people who do, the "disciples of Escoffier."
---
---