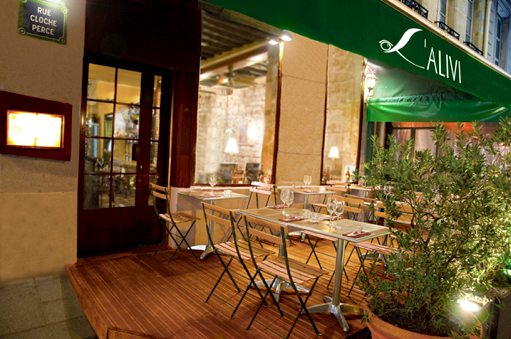 RESTAURANT CORSE L'ALIVI, PARIS 4TH
L'Alivi is Corsican for olive trees, or so I'm told by Julien, who immediately sussed me as a stranger in town when I entered Alivi. He can talk, he's from Corse, the Isle of Beauty, as was Napoleon Bonaparte, born 1769 in the family's posh ancestral pile, Casa Buonaparte, Ajaccio, one year after Corsica was transferred to France by the Republic of Genoa.
Anyway, the welcome's warm as the maquis in summer. You're in Paris, chez Alivi, but you're really in Ajaccio, wooden tables and chairs, a zinc bar. L'Alivi's been here for 15 years, why haven't I found it before?
Pete Doherty, Beatrice Dalle, Joey Starr, Guy Bedos . . . they all know about it. Even Anne Sinclair (hope she didn't tell him indoors about it, what a waste). Napoleon would have schlepped Josephine here; she would have loved Alivi.
Julien will bring a tasty dish of charcuterie, direct from la belle île. Leave him to sort the wine: he knows everything and lives on a vineyard in Corsica.
"Nous faisons les vignes," he explains. Seems "we run round the vineyards to keep in shape," in his part of Corse, he tells me, offering a glass of Cap Corse Mettei. "En apéro," he winks.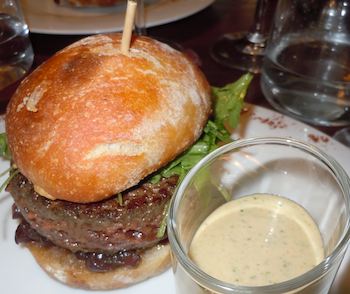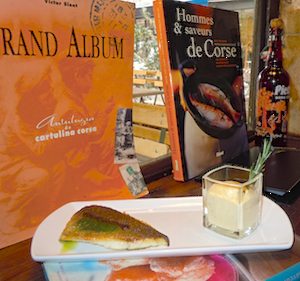 Start the serious drinking with the astringent Capitoro blanc cuvée Louis Bianchetti 2008 (€47). The citrus notes go down a treat with the Croustillant de Brebis, ewe's cheese in paper-thin flaky pastry with herbs, a drizzle of olive oil. Fragrant aromas of rosemary and thyme fill the air . . . gorgeous.
"Chef only uses fresh products," reads the menu. Chef, you can leave that bit out, just one nibble tells all: Creamy Risotto Coppa et Champignons. Perfectly seasoned Corsican Burger Maison, with freshly ground beef, sweet onions, but, darling do remember to ask for it well done, otherwise it almost walks in on its own. Antoine Arena's red Cuvée Carco 2009 (42€) is perfect with the burger.
Filet de loup with Polenta and Rosemary: excellent. Three perfectly ripe Corsican cheeses, homemade jam and warm bread from the corner bakery. If you've room for dessert it's Cheesecake aux Canistrelli, "made with Philadelphia cheese, revised and corrected by the chef," explains Julien.
Attention to detail is acute here; the food's made with passion. They should open a booking office for la belle île right next door. Until they do, step out of Alivi into the nearest travel agent. Or, why bother, just book here again before you leave. There's room for a pool on the roof, n'est-ce pas?
Saveriu Cacciari is at:
27, rue du roi de Sicile, Paris 4th
Métro: Hôtel de Ville/St. Paul
Tél: 01 48 87 90 20
Open 7/7 Lunch & Dinner
Starter & Main or Main/Dessert 29€
3 courses 34€
And when you do get to Ajaccio, Le Cabanon Bleu is your resto for fish.
4, boulevard Danielle-Casanova, Ajaccio
Tél: 04 95 22 55 90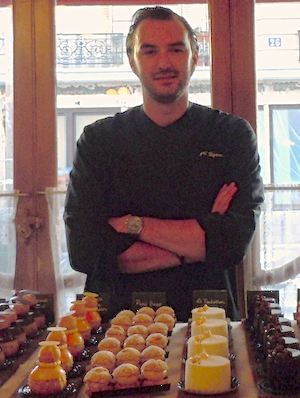 La Pâtisserie by Cyril Lignac, Paris 11th
"La Pâtisserie by Cyril Lignac" is now open. Not just a boulangerie/pâtisserie but also a place to meet all day, over salads or sandwiches, in the achingly chic rue Paul Bert. Pop by for the best baguette and classic French favorites revised by "Nice One" and Benoit Couvrand, his chef pâtissier. See you there—mine's the Baba, please.
24, rue Paul Bert, Paris 11th
Métro: Charonne or Faidherbe-Chaligny
Tél: 01 4372 7188
Open 7am-8pm Tuesday through Sunday
Shut Monday
ERIC FRECHON GOURMET ITEMS AT PARIS AIRPORTS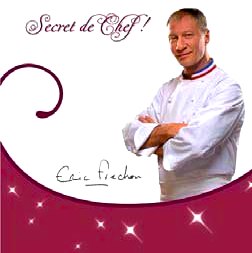 Super chef Eric Frechon, three Michelin stars at Le Bristol, MOF 1993, Chef de l'Année, etc., has put his name to ten quality products available at the 70 BuY Paris Duty Free shops at Charles de Gaulle and Paris-Orly airports.
So, coming or going, look for Champagnes, foie gras, chocolates, designer salt and teas, etc. Each product comes with "Secret du Chef" tips on how to create the perfect menu.
"The table is a journey around which pleasure, authenticity, generosity and conviviality is shared, I want to share my secrets with you," promises Chef Frechon.
OMNIVORE and SATURNE, PARIS 2nd
Luc Dubanchet, editor of Omnivore, the avant-garde magazine and website, invited a few close personals to lunch at Saturne, in the Bourse-Sentier district, where he proudly announced The Omnivore "rock 'n' roll" World Culinary Tour 2012.
"We need to work with all the chefs in the world to ensure the future of cuisine," thinks Dubanchet. If you're of a sensitive nature you may want to skip his following quote: "We need to go global, kick some ass, eat some fuckin' dinners."
Do they know what they're letting themselves in for? Twelve cities are participating, starting with Geneva, then Paris (March 11-13), Brussels, Moscow, Copenhagen, Shanghai, NYC (14-16 July) Montreal, Sao Paulo, San Francisco (20-22 October), Istanbul and Sydney.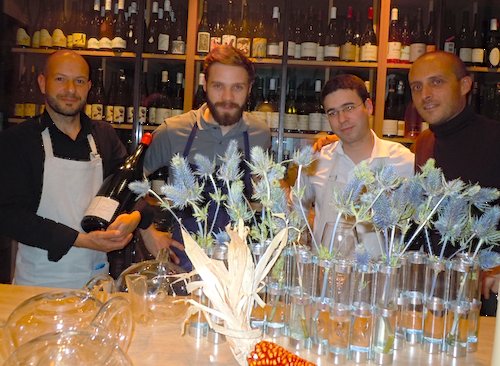 To get a mouthful of Omnivore action, book lunch or dinner at Saturne, where you'll recognize Sven Chartier (ex-Passard, Racines), an "Identikit" Sven: Nordic, tight lipped, and talented. Sven and his intense gang, who look like they just left kindergarten, showcase innovative well-balanced, neo-Nordic cuisine with an accent on the product rather than classical technique. Ewen Lemoigne, the natural wines maven, is up there with the great young sommeliers. Be warned, overseas omnivores: they're setting the bar high.
Was it to honor Thanksgiving that the starter was squash-filled tortellini with a drizzle of mandarin oil, sea urchin, sorrel and the squash jus infused with a dab of mandarin oil?
A midcourse of polenta was steamed in "sang de pigeon," to which was added sautéed black Trompettes de la mort, thinly sliced raw cèpes sprinkled with foie gras rapé on top.

The epic main was tender milk-fed veal prepared two ways, roasted and grilled, matched with a purée of monkfish liver, red chicory leaves, and crushed black olives.
Glace aux céréales dessert with Jerusalem artichoke (topinambour) cream, sprinkled with Sao Tomé chocolate, praline and meringues made with Jerusalem artichokes. For a truly Proustian moment, order coffee or infusions just to get the warm honey madeleines.
No wonder Sven doesn't have time for a website! Watch this space for more Omnivore news.
Saturne [no website]
17, rue Notre-Dame-des-Victoires, Paris 2nd
Métro: Bourse
Tél: 01 42 60 31 90
Lunch 35€ Dinner from 37-59€
Shut Sat-Sun
Video, Saturne on Frenchfood TV
MICHELIN 2012 RED GUIDE BELGIUM AND LUXEMBOURG
Michelin Belgique, België & Luxembourg 2012 (French only) awards three stars to Gert De Mangeleer's Hertog Jan outside Bruges, which brings the total number of Belgium three-stars to three. And you thought Belgium was only lace, Godiva® Chocolatier and great frites!
Two restaurants got their second stars: De Jonkman near Bruges and Le Chalet de la Forêt in Brussels, totalling 16 restaurants at that level. Fourteen restaurants get their first star this year, making 99 Michelin one-star restaurants in the region.
DIARY DATES:
2011 finishes with two pop-up Champagne events:
Krug Champagne has taken over the top floor of a building at 32, rue Blanche, Paris 9th until December 6, 2011. Menus: 150-300€ or formule coupe de champagne and tapas €25.
Tél: 01 5836 6700

Hilton Arc de Triomphe's ephemeral custom-built cocktail bubble, sponsored by Taittinger "Le Bubble in Paris", is inspired by the fantasy Monde de Narnia from €25 until January 15, 2012.
Hilton Arc de Triomphe
51-57, rue de Courcelles, Paris 8th
NEED TO KNOW:
Sign up for a Restopolitan card, accepted in 450 excellent restaurants throughout France. It's a Buy One, Get One free card (not applicable to drinks). Use the card as many times as you want: €9.90 for one week, €19 for one month or €39 for three months unlimited use. Rechargeable, too.
À la semaine prochaine!
Margaret Kemp is a Cordon Bleu graduate who spent a year traveling the world, working and watching in the kitchens of top chefs from Sydney, Australia via Bangkok, Hong Kong, California, New York and France. She reports for BonjourParis on the latest European trends, restaurants and hot spots. Please click on her name to see her weekly stories dating back to 2003 . . . et merci, Margaret.
Merci

, les abonnés

premium

,

nous vous apprécions

.

Thank you for using our direct link to Amazon.com every time you shop the world's largest online retailer.
Click on an image for more information about the brand new Kindle Fire and 2 new books the NYT likes:
Premium members: have you claimed your 15% OpenSkies discount code?

Save 15% on business-class international flights between Paris and New York on OpenSkies, the airline for Smart Flyers.
To request your discount code valid for up to 4 in your travel party, please click here for promotion details.
Hurry! Offer ends soon!

Must book before December 31
, 2011 for travel that ends by March 31, 2012.