Bouchet's Little B, Mauvais Garçons, Grand B, Michelin Petites Tables & Patrick Roger's Titillating Valentine Buzz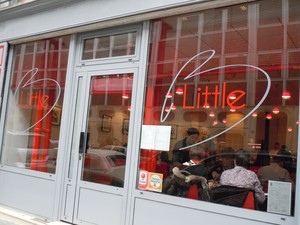 Dominique Bouchet (ex-Le Crillon) launched his eponymous neo-bistro six years ago and has been playing to full houses ever since. His delicious Michelin-star food and the relaxed atmosphere means you have to book well ahead.  What is it about these ex-Crillon chefs? Like Christian Constant and Jean-Francois Piège they seem to get off on taking over the streets where they cook! At No. 9 Bouchet's got his Wa – bi Salon, a beautiful zen space showcasing the alliance of Japanese and French cuisine, flower arranging, wines and sake.
Now, next door, he's created his new concept, a bright contemporary red and grey space, Little B. "It's the premier self-service gastronomique à Paris", he explains. So you grab a silver tray, take cutlery and glass and head for the "self" and the open kitchen. "It's self-service pour les gastronomes pressés", says Bouchet.
On a plexiglass board the daily fare: Soupe, say, Crème de Topinambour, Bavette sauce échalote, Joue de Porc coquillets, Truite de mer, sauce beurre blanc. Or, a black lacquer dish of O Bento made fresh daily by a Japanese chef: omelette japonaise, porc laqué, makis. All to eat in or take away. "At last an authentic O Bento in Paris", says Noriko, from the Japanese embassy. Desserts include Bouchet's epic baba rhum, clafoutis aux pommes, etc.
No wonder the food's so delicious: in the open kitchen you'll find Christophe Luzié (ex-Crillon) and Sébastien Guillot, chef at Dominique Bouchet. Gaelle, the adorable daughter is en salle, discreet and efficient.
11 rue Treilhard, 8th
Metro: Miromesnil
T: 01 45 63 40 47
Formula Starter + Plat 17€
Plat + Dessert 17€
3 courses – 22€
A La carte about 17€ + wine
Open Mon-Fri lunch only
Michelin's 5th Edition of Bonnes Petites Tables 2011 is the perfect gift for anyone who loves France; and who doesn't? 600 best buys at 29€ plus 100 new addresses such as La Régalade, Saint Honoré, Paris. Insensé, the Pourcel brothers contemporary bistro in the Musée Fabre, Montpellier. There's Bruno Oger's Bistrot des Anges, Le Cannet and L'Ecurie de Castellas, Ramatuelle. Just looking at the illustrations makes the mouth water.
A few minutes from Opéra Garnier (where the resto will be by Alain Senderens when it finally opens) Les Frères Blanc have transformed an old brasserie into a hip new address.
The bright open kitchen, created by Jean-Pierre Gonҫalves, features an impressive rôtissoire, the focal point of the restaurant. Travers de porc de la ferme Vallegrain, poulet rôti Label Rouge and gigot d'agneau au thym are roasted to perfection. Begin with fresh cucumber and mint or watermelon and orange juice. Hot soups, râpés (grated) minutes include carrots de Créances, celery rémoulade, Tzatzki. Herring is smoked in-house and served with pommes à l'huile. Big salads for the ladies who do. Tartare de boeuf Charolais their toy-boys. Or maybe they'd like a bit of Boudin Noir à la plancha. Finish with Banane Rôtie, glace vanille, petit baba or Dame Blanche.
And, consider a dark rich Cahors Pourpre de Grèzette by the bottle 22.45€ Carafe 16.05€ or glass
4.85€. Service excellent by a young team who seem delighted to be serving good honest food at decent prices.
24 Boulevard des Italiens, 9th
Metro: Opera/Richelieu Drouot
T: 01 55 33 10 00
Menu L'Esprit Boulevard 16€90
P'tit B Children's Menu 7€90
Average spend 2 courses 28€ + wine
Open 7/7
Riad Fenniche's Les Mauvais Garҫons is not a bad restaurant and he's a good boy.
His Dad's got a restaurant in Lyon. Riad loves Paris and the Marais area where he's showcasing hearty cuisine lyonnaise. Local products come from Lyon almost daily, such as Saint Marcellin cheese from La Mère Richard, quenelles Guttin, cervelle des Canuts. On the menu Quenelle de brochets, a piping-hot mix of pike, crayfish and cream, flashed under the grill, sitting on a rich sauce Nantua. Cholesterol, nah! Not with a nice red. Soothing Onion Soup, just like they serve in Les Halles Market, Lyon. Saucisson brioché, foie de veau, poulet aux écrevisses. Cheeseburger maison avec ou sans foie gras. Andouillette de Troyes. Go for a meal or just pop in for a plate of canailles and cocktail "communard" of vin rouge et crème de cassis, or share a bottle of Rhône Valley La Croisée des Fleuves (17€), a white Muscadet Laurent-Loire (15€). Desserts include an excellent Tarte aux Pralines roses. Pain perdu, tiramisu. The atmosphere's bon enfant, you're at home, away from home. Next stop Lyon.
4 rue des Mauvais Garçons, 4th
Terrace
T: 01 42 72 74 97
Metro: Hôtel de Ville
Average Spend 30€ + wine
Shut Mon-Tues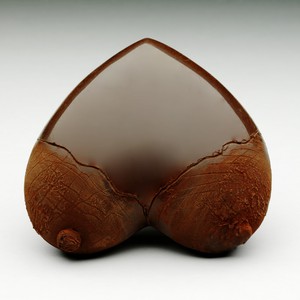 This Valentine's Day, Paris chocolatier Patrick Roger's latest creation is a celebration of the female form: chocolate breasts. He suggest you nibble through the fine layer of dark chocolate encasing these tempting treats, to discover delicate, creamy, salted caramel mousse within… pure decadence and indulgence of the senses.
Price from 20-50€ depending on the cup size I suppose.
Please visit our Amazon affiliate store for your shopping. Bonjour Paris has hand-selected some of our favorite travel gifts and gadgets for our readers… plus many Paris- and France-related books for children, travelers, scholars, and dreamers.
To buy the 2011 Michelin Guide:    click here
And please do not leave home without:
Medjet Assist. As a member of MedjetAssist, if you become hospitalized as an inpatient more than 150 miles from home, you will be transported at your discretion to the hospital of your choice from virtually anywhere in the world – at no additional cost.  Domestic air medical evacuations average $20,000 while international medical evacuations can exceed $100,000 – but not with the protection of MedjetAssist.
Leave a reply
Your email address will not be published. Required fields are marked *