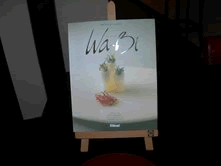 After months of rumour and speculation it's open! Wa-Bi Salon. "Don't call it a restaurant, I even had someone calling to book a table at the sushi-bar", grins Dominique Bouchet. "Baf. the journals, they print anything", he sniffs.
Alert readers know DB is a firm BP favourite, he's trained many chefs, Eric Ripert is one (www.le-bernadin.com).  Some remember DB from his time at Robuchon, others from La Tour d'Argent, or Les Ambassadeurs at Le Hotel de Crillon, where he worked non-stop on "that giant cruise-ship", until he called 'basta' to not having a life, and got one when he bought a pretty little bistro on rue Treilhard. Bouchet said arriverderci to the star system, never looked back.
DB has more ideas before breakfast than you've had bialys. One of them is Wa-Bi Salon: in Japanese Wa is harmony – Bi is Beauty. Japan is his country of adoption, although he never forgets he comes from Cognac, bien sur, how could he? Cognac aside, in Wa-Bi's front of house there's a selection of Fukumitsuya sakés, (www.fukumitsuya.co.jp) fragrant teas from Shimodozono (www.shimo.co.jp) and must have ceramics by Kamachi Toho (www.kamachi.co.jp).
Wa-Bi means a new way of life, a new lifestyle. Read private cookery courses and Izumi Imamura's Ikebana floral art classes with tea and sake tastings.
It all began when the laundry next door to the restaurant became available, DB knew exactly what he'd  do; transform it into a space where he could entertain, cook and showcase floral art, sakis, wines, and hand-made table-ware, for a chosen few. He spent months meticulously planning the handsome rough stone décor, the private kitchen, concealed behind high wenge wood doors, with central island, around which the chosen ones sit and watch DB at play, glean some of his secrets.  
So how can I take part then? Call DB on the special number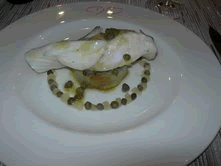 below and discuss what you both expect from the three hours you'll spend with him. He probably won't tell you what he'll prepare, there may be last minute changes if he can't get certain products, but he needs to know if you or the other 7 have allergies or hate certain products (it's only for 8 people, apart from the wealthy Japanese lady who booked the Wa-Bi session for herself, refusing to share with anyone else!)
DB cooks everything sur place, although he preps the boring bits earlier. On arrival, at the front of house, there's a glass of chilled Pommery and warm savoury shortbreads. Then with a great amount of drama and a certain amount of pride DB slides open the doors, to reveal his dream kitchen, for three hours you are Bouchet's dream team.
Last week the first course was a light cream of cauliflower, with caviar topped  ratte potatoes. Mikael Cives, the delightful sommelier, chose Le Chateau Isenberg, Les Troubadours 2004, a fruity wine from the Alsace. Then Tomato and crab charlotte, Granny Smith, avocado and balsamic. Courgette fleur follows, with coriander and marjolaine infusion. It's all do-able because it's so light. From the Mediterranean DB pans red mullet with olives and asparagus, from his own private grower.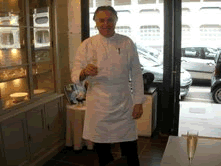 "I wouldn't have Michelin anywhere near here", he mutters prodding his pan of potatoes, low cooked for six hours in clarified butter. "These potatoes make a fabulous meal on their own with a green salad, not fattening because I throw away the butter. I used to make them at La Tour d'Argent, they're from an old recipe called Pommes de terre Guelant and they are paired with the main of perfect pink plump lamb chops.
But hang on not so fast, before the main, there's turbot, steamed in Bouchet's shiny new oven, sealing in flavours. Capers, artichokes and dots of lemon escort this pure taste sensation, and fat macaroni stuffed with lobster. The red wine is La Croix Chevaline Laroche, even goes nicely with the pud, Sablé à la rhubarbe, crème brulée à la vanilla Bourbon, sorbet fruits rouges.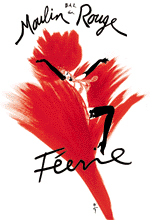 As he chops, stirs, tends to his pots and pans, DB chats. "This is great, I'm in the kitchen but I can communicate with people I really like", he grins. "I'm chez moi here, I can do what I like, eh! And I'm only next door to my main kitchen so I can keep an eye on everything. There's nothing wrong with a chef leaving his kitchen for half an hour, it's when they're absent for days or weeks that problems begin. Cooking is a pleasure, a passion. Even if we use new cooking techniques, discover new concepts we must never forget the star: the product".
Wa-Bi Salon,
9 rue Treilhard, 8th (Metro: Miromesnil)
T:01 42 30 74 65
200€ per person including wine – Booking essential
Read:
La Cuisine Wa-Bi by Dominique Bouchet
With forward by Joel Robuchon
Editions Glenat www.glenatlivres.com 25€