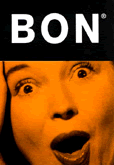 Who'd have thought it, after hanging up his casseroles aged 50, Joel Robuchon just couldn't keep out of the kitchen could he? The first ever Michelin Guide to Las Vegas awards him ***. his eponymous resto is located in the glitzy MGM Grand www.MGMGrand.com  as is his state-of-the-art concept, L' Atelier de Joel Robuchon.  
Guy Savoy gets **.for Guy Savoy, Cesar's Palace (www.caesarspalace.com) as do Alex (www.WynnLasVegas ) and Picasso which wins stars, not only for Julian Serrano's brilliant cuisine, but deserves *** for the drop- dead gorgeous original art-work (www.bellagio.com ). 12 restaurants get their premier *. Michelin Las Vegas 2008 notes 127 restaurants, 30 hotels. Get the Guide early December, see you there. Viva Las Vegas. 
Back in BP-LAND. BON, the Starck designed space with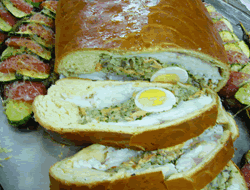 baroque n'roll décor, now serves an excellent brunch. Chef Bruno Brangea, whips up scrambled eggs, bio-sausages, bio-smoked salmon, tartares, salads, tomate-mozza, wicked desserts and cheese, everything you want for brunch. Hot croissants, home-made jams and coffee, perhaps a little roast veal with gratin dauphinoise.  Fresh juices, of course. Brangea actually recognises vegetarians, makes dishes for the nut-cutlet connoisseurs.  
On Sunday BON is the rendezvous for le tout Passy, they bring the kids the grand-kids and you can't tell who's the mother, daughter, they all look so young, chic, and BCBG, read, have great plastic surgeons! There's a BON cave take, say, a dark and handsome Chateau Potensac from the Médoc (55€) goes well with the Sunday papers. 
Brangea's plans a sumptuous 6-course New Year's Eve dinner including Gillardeau Oysters and Caviar d'Aquitaine en gelée, foie-gras sur une fine gelée au porto, scallops and truffles in the shell, Ballotine of bio-Chapon, Brie-Fermier and Marrons glacés with chocolate macaroons for dessert. How much then? 140€ + wine. The atmosphere will be sublime with that roaring fire, low lights and sweet music, book now, because you'll love it. 
And what news of Philippe Starck?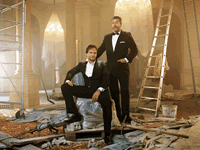 Well he's a bit like Harrod's everything from a pin to an elephant.  The Hotel Royal Monceau, which recently went through well chronicled trials and tribulations, has new owners who have commissioned Starck to re-design the hotel's interior from top to bottom.  And, no it won't be another Starck classic, but a totally new style. Hip young majority owner, entrepreneur, Alexandre Allard has joined with Raffles Hotels and Resorts and Quatari developers, Barwa Real Estate, "They insist Starck change his style for this project", say The Royal Monceau.
Before the grand re-opening, scheduled for Spring 2009, they are planning a "destruction party" and an in-house auction (Cornette de Saint Cyr) June 2008.      
Any other info?
Expect miracles. Rooms, pruned from 158 to 152, will be the most spacious rooms and duplex suites in the city. Allard says Paris is the best  city in the world, but, in his opinion, there's no hotel that has the X-factor. He plans to restore the magnificent Monceau (opened 928) to its' former glory. Read, 5 restaurants/dining/bar areas (The Carpaccio stays), extended landscaped gardens, new spa and fitness centre. Your own private butler, in -house fashion-adviser, personal shopper, children's luxury centre with nannies, so you can shop 'til you drop and not worry about the sprogs. Add hybrid cars, a solar energy heated large pool and…..watch this space for more. www.royalmonceau.com  
Le Guide Lebey 2008, a neat little tome you need, because you do love your bistrot gives Karl & Erick (17th) Alfred (1st) Les Cocottes de Christian Constant (7th) Cristal de Sel (15th), Afaria (15th), L'Epigramme (6th) top rating. This years "best of the best" are Alain Passard's L'Arpege (7th) and Pierre Gagnaire (8th) "the two most creative", says Lebey in his preface. He admires Alain Ducasse's perfection and precision at The Plaza (8th). There's also a neat section which may not seem important now we're all noshing the Thanksgiving Turkey. But , come Spring, you'll be glad of "Les Terrasses" listed by arrondissement, as are the best hotel bars and, very radical for Lebey, "les Brunchs le dimanche"
www.amazon.com 14.25€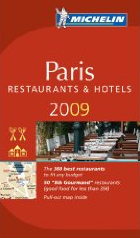 Address Book:
Bon,
25 rue de la Pompe, 16th (Metro: La Muette)
T: 01 40 72 70 00
www.bon.fr (under construction)
Valet Parking (8€)
Brunch 35€ + wine.
Free wifi access!
Happy Thanksgiving darling.