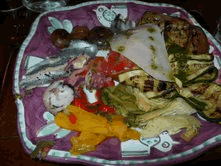 I've said it before, and I'll say it again, Menut is the perfect name for restaurateurs. And Bertrand and George Menut tick all the boxes, they are passionate, hard working and dedicated. They have several great restos in Paris, Grand Cascade, Chez Georges, Porte Maillot, Ballon des Ternes. They recently transformed Bellagio, always a terrific Italian, into a sumptuous palazzo type trattoria, with pizza- bar next door, possibilities to "order out", lovely décor and terrace.
So what's on the menu (t)?
Chef Nicolas Clavier is French. "I took on the challenge to create fabulous Italian dishes when the Menuts asked me to work for them", he admits. "Not difficult because they only use the best and that's important, it's all fresh market produce here, what a joy," he sighs.
So you can eat an excellent Pizza Bellagio (choose from 10) at the cute little bar (14 covers) and have a nice glass of prosecco brut if you're in a hurry. Make time to have a proper Italian lunch with a generous plate of antipasti and a cocktail Bellagio (proseco, nectar de peche-de-vigne. Follow with spaghettis aux coques, l'escalope milanaise, risotto, filet de boeuf au gorgonzola or grilled fish and sea-food of the day (daurade, sea-bass, poulpe, calamari, with vegetables, perfectly prepared and seasoned.
Want a nice red? Bardolino Classico Santepietre from Verona (25€.50), like the two gentlemen sitting at the next table. Finish with home-made ice-creams, Tiramisu, Pannacotta, or Baba au Rhum with Limoncello. Bellisimo!
Didier Spade has a passion for the sea, yachts, definitely plays with boats in his bath.
It's in his blood, his family are boat builders and designers, he's continuing the dynasty with Paris Yacht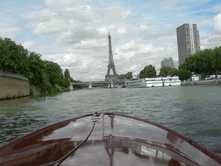 Marina from where you can take either The Clipper, a brand new 54 meter Spade custom-designed (by Spade in Saint Nazaire) superyacht (a first for Paris), launched recently.
"The concept is to give an alternative to traditional restaurants, on board The Clipper you can lunch or dine really well, but not at conventional set tables, in little corners, plump leather designer sofas or on the deck, so you can see what's going on all the time you're cruising the Seine", explains Spade. Think of The Clipper as a chic floating Costes experience.
Expensive? A four hour cruise with champagne and dinner by, say, Potel & Chabot, costs about 6,000€ but you'll obviously come as a group of friends/colleagues sharing the cost and the fun. The Clipper, with hostesses and a Captain, can take up to 200!
Or, Spade's pride and joy, his fleet of five "green machines" little "Riva" tender type yachtettes (think Brigitte Bardot, Saint Tropez) whose double engines run on electricity. 1,200€ gets you a cruise, of about one and a half hours, under the bridges of Paris, six people max. "Couples take this for a bit of eco-romance, and often marriage is proposed", says Spade, who is single, "I'm married to the sea".
Spade says Paris is a beautiful city, and also a port, even more beautiful seen from the Seine in a luxury yacht. If you love boats go and talk to Spade, have a drink with him in his Yacht Club by the river-side. You'll be glad you did, it's a zen experience.
Chris gives good yacht too. He can't say who hires his Chris River Yacht, he's too discreet, but you'd be amazed darling! "I can bring you the ultimate satisfaction", he promises (clue!). He does weddings, barmitzvahs, chic cocktails. Divine decadence, and you'll adore Chris. www.chrisriveryacht.com ww w.parisexclusiveyacht.com
T: 06 66 5218 66 VIP All Inclusive Package 165€ pp.
Carla Bruni Sarkozy's latest album "Comme si de rien n'etait" (As If Nothing Had Happened) is available free on www.carlabruni.com and royalties go to charity. Sales are reported to be slow so far, maybe it's because chefs are the new rock stars! Imagine the chemistry when Bruni meets Barack! Oy vay!
Address Book:
Bellagio,
101 avenue des Ternes, (Metro: Porte Maillot/Ternes)
T: 01 40 55 55 20
Average Spend from 10€ for a pizza –
A La Carte – from 35€ + wine
Open 7/7 & August Valet parking
The Clipper, Seine Limousine,
Paris Yacht Marina,
Port de Grenelle, 15th (Metro: Bir Hakeim)
T: 01 40 58 00 00