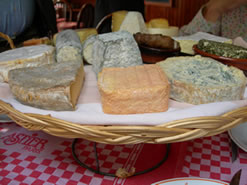 Astier is a gem of a bistro, a picture- postcard of perfection in the ugly/pretty up-and -coming11th arrondissement. Located on an angle which catches the sunlight, the zeitgeist of the area, the locals. Created by Monsieur et Madame Astier over 50 years ago, subsequent owners have all added their touches.
 Recently acquired by Frederic Hubig-Schall (you know him from Le Café Moderne, see below) who fell in love with the charm of the handsome zinc bar, and the  vintage wines in the cellar, to which Frederic is already adding and tasting. Last week from 400 references Fred, together with main- man Robert Henry (ex-Westermann, Grand Vefour, Le Bristol) chose a white Vouvray "Le Haut-Lieu" from Huet (26€) and a bold red Gaillac Peyrouzelles Marine Gaillac (27€) pairing the blackboard dishes of the day to perfection.
Benjamin Bajol is at the pianos (ex-Le Meurice with Yannick Alleno, can't be bad eh!). Last weeks' lunch included trencherman size portions of Tarbais green bean salad followed by Fricassé de ris de veau and foie gras, risotto aux huiles. After that,  you're in heaven darling, dancing cheek to cheek with the best cheese board in town, left on your table with fresh baguette. "Yes, people take lots", smiles Fred. "It's here to be enjoyed".
Pudds include peach and apricot crumble with vanilla ice cream, clafouti, millefeuille. And talking cheek to cheek, if you are partial to pigs' cheeks check out  Astier's "Le Cochon de la Tète aux Pieds". No, not a musical by Andrew Lloyd Webber, a neighbourhood bistro tradition,

which may well become a musical when Sir Andrew reads his BUZZ.  "We buy a whole pig and prepare it different ways each day of the week", explains Frederic. So Monday its' pigs' ears en croquettes, vinaigrette of Meaux mustard, Wednesday's "Cheeks" are slow cooked in a ragout with cider braised apples. Pig out all week until Sunday when it's pigs' feet en carpaccio, vinaigrette ravigote.  "From the beginning of December we'll attack the game and then the lamb". You have been warned.  "Fameux", declared my two companions, wiping their lips with outsize red check napkins.
Across town in the 2nd arrondissement business/Bourse area/ good shopping at nearby Place des Victoires, is Frederic's Café Moderne, launched with partner David Lanher (ex-rue Balzac).
"Does the Affordable Paris Bistro Still Exist?" enquired NYT's food critic Mark Bittman on a recent trip over here. It does, he finds, at Café Moderne and will discover soon when he visits Astier.  Even though the food "has its' highs and lows, it's more contemporary than classic bistro fare ", observed Bittman. 
BUZZ couldn't help noticing the neighbour on the banquette only had one or two asparagus on his starter plate. "Cherchez l'asperge" he sniffed. However, other more generous helpings were to be found, among the choice of 6 starters, an excellent Pressé de foie gras with leeks. Oh! la la,  banned in the USA, bien sur, "What a sad bunch of people", groaned London chef Eric Chavot (Capitol Restaurant). "If you want to eat it, eat it, if you don't want to, don't! I thought America was a land of opportunity – I suppose it is if you're a goose, but not if you're an American who wants to eat foie gras". Langoustine salad with moules à la coriander and curry vinaigrette to avoid confrontation with Eric then, or Snail ravioli with mushrooms and crème mousseuse – but this dish could open a whole can of worms n'est pas Eric?
From 6 mains an excellent pave of Tuna lightly pan-fried with fennel, raisins, almonds, saffron sauce. And an entrecote of free range cochon, with baby vegetables and marjolaine jus. It's serious heads down eating here in a long refectory type room overlooking a bucolic courtyard. Chef Benoit Herault (ex-Guy Savoy) wraps up his meals (he cooks every course himself) with, say, Chocolate Sablé Breton with caramel ice cream: Lemon and Spéculoos cream with cinnamon mousse or Rhubarb Cappuccino with strawberry sorbet.
Careful not to trip over the boxes of wine, they can't get it all into the cellar, so it overflows into the Café . Monday night is "Grand Cru" night at Cafe Moderne, when epic wines are offered at cost price and dinner is 44€. Do reserve, I counted five banks nearby, so it's probably packed with wealthy yuppies who know a good deal. On other days/nights the list goes from 22€ for a Cote de Provence, Domaine de Peirecédes 2005 (white) to 130€ for a fine Gevrey Chambertin Premier Cru Domaine J.Prieur 1999 (Red) or by the glass from about 8€. Nice touch, wines listed by price not region.
Astier.
44 rue Jean Pierre Timbaud, 11th (Metro:Parmentier)
T: 01 43 57 16 35
www.restaurant-astier.com
18€50 – starter and main or main/dessert. + A la carte + menu at 28€
Open 7/7
Le Café Moderne,
40 rue Notre-Dame-des-Victoires, (Metro: Bourse)
T: 01 53 40 84 10
Shut Sat lunch & Sunday
www.cafemoderne.fr
Menu Carte 28€ & 32€