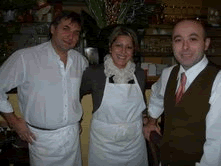 Just off the rue Dominique, on rue Jean Nicot,  Costas and Chrysanthi Stamkopoulos have given their delightful taverna, Apollon, a new look.
Out goes the blue and white and Greek letters, in comes a contemporary façade and sunny terracotta interiors to the restaurant and bar/traiteur next door.
"Everybody's asking why I did it, the blue and white had become a sort of landmark. But I wanted a change, that's all", shrugs Costas, who opened in 1993, and although he and the Ms are very discreet, everyone knows it's packed with celebs, ministers and artists.
"Jean Paul Gaultier is lucky", grins Costas. "I came to Paris, from Kozani, to work for a tailor, and could have become a famous designer". But, luckily for JPG, fate intervened and Costas went to work in a Greek Cabaret Club in Montparnasse, not only did he sing and wait at tables, he became fascinated by the kitchen. He already had sweet souvenirs of his mother and grandmother's cooking and, after he met Chrysanthi, decided to open Apollon to showcase everything those fabulous Greeks cook. 
"Kozani, which is near Thessaloniki, is the inspiration for my dishes, although they are traditional, using oil with olives from the trees near my home, Greek olive oil has a very distinct flavour". In the next-door deli Costas sells his local olive oils, honey, wines and succulent dishes to take home, together with breads and sticky desserts.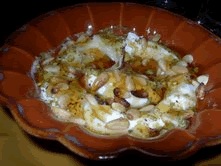 In the restaurant start with Mezzedakia (the only way to translate this to to think "Greek tapas"). Out comes the Ouzo or the aperitif maison, blackcurrent and retsina. The "tapas" rapidly fill all the space at the table. Tzatziki, yogurt with cucumber and garlic purée to dip the warm pitta bread. Taramasalata, Greek salad, Spanakopita spinach wrapped in filo pastry. Apollon is a great place to take a vegetarian. Have I mentioned meat so far? No. And it goes on with warm Tyropita filo wrapped feta cheese, Melitzanossalata, caviar of aubergines, taboule, Ktipaki, yogurt with red peppers, fat black olives. Kolokithokeftedes (not a Greek footballer but croquettes of courgettes) or the goal-keeper Melitzanokeftedes, which is aubergine croquettes cuklama.
A fruity rich red goes well with these dishes, try the spicy Red Grande Reserve Naoussa, made with Xinomauro grapes, aged in oak barrels (22€).
This will certainly match the Souvlaki, Moussaka, Keftedes, Giouvetsi, Imambaildi, Calamari or Papoutsaki. If there's still room left for pudd don't hesitate with the Ravani au Yaourt, a semolina cake with yogurt, Baklava, Loukoumi or the thick Greek Yogurt with honey and roasted pistachios.
"I always knew where my mother was, she had this wonderful aniseed aroma about her", recalls Costas, pouring Tsipouro. "It's a very potent aniseed based digestif, which, in Kozani is used as a universal panacea. If you have a cold, it's rubbed on your chest; drink it and you feel no pain", he laughs. And, no kidding, rubbing a few drops on my hands they immediately become as soft as a Spring day in Greece, the aroma is sensual, and Costas vows it acts as a disinfectant. Note to Nuxe: take a look at this, it could be the next big thing in cosmetics.
In this tiny taverna, Pericles takes your order, Costas and Chrysanthi cook it, and come and make sure you feel at home. They'll cater your wedding, barmitzvah, divorce, or take-away Dolmadakia, Ktipiti, Pikilia, Thonossalata, from next door sware you made it! The Greeks do have a word for it. Fabulous! 
24 rue Jean Nicot, 7th (Metro: Latour Maubourg)
T: 01 45 55 68 47
Shut Saturday lunch. Sunday
Average Spend Lunch formula 15.50 (with drinks)
A La Carte & dinner 25-32€ + wine