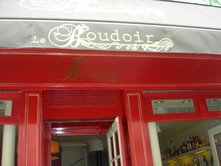 Unlike the Wine Spectator BUZZ only writes about watering holes we've visited. See NY Times August 21st Diner's Journal "Sour Grapes" by Nick Fox. Devastating, especially when all you have to do to win a Wine Spectator award is to send in your menu, wine list and a cheque for $250. More than 4,000 awards were granted this year. So WS made more than $1 million in fees. Go figure and then go cancel your subscription to Wine Spectator!
With the success of Point Bar, in the Marché Saint Honoré, Alice Bardet was refusing people continuously. "So we looked for something bigger, when we found this crumbling old bar on rue Colisee, just off the Champs Elysées, we grabbed it", she explained one damp August day last week.
Alice is the adorable daughter of Jean and Sophie Bardet. If you never tasted the joys of Chateau Belmont, Tours, it's too late baby, Papa Bardet cooked his last supper, last February. The beautiful pile has been acquired by "les hommes de finance" and will be transformed into a "Grand Hotel".
The Touraine region, where Alice grew up and was apprenticed to her father, produces some famous wines including Chinon, Bourgeuil and Vouvray. It's an area of incredible fertility and Papa Bardet was, and still is, a passionate gardener, whose herb and vegetable gardens were admired by all. He was/is a passionate pioneer of "noble products," it was written of him, "he's a man whose feet are planted firmly in the garden, his heart in the farmyard". His daughter says he also loves hunting trips with friends, and cigars!
Alice, born to cook, is a talented and passionate chef, whose vegetable based dishes, soups, stews and grills are putting bums on the seats of her Boudoir. And those buns will keep their pert little shapes with dishes such as chilled lobster Gaspacho and Cocotte de green legumes, to share, because it's sexy to share. "Last time I was here I ate a whole one for myself", admitted the man at the next table. Men!
Dishes change daily, if you take the lunch blackboard menu there's a choice of, say, Gaspacho of Melon,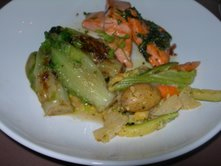 Julienne de Speck: Or Faiselle de Brebis, huile d'olive and fresh basil. Slices of organic sheep's cheese drizzled with olive oil, spiked with fresh basil, home-made warm bread. The cheese is delivered, to Alice, by Monsieur and Mme Froideveaux from their Touraine farm.
"All the products and vegetables come from little suppliers", says Alice. No Picard here, dear. Your main could be plump fillets of roasted trout, with masses of forgotten vegetables, jus de legumes. And you could finish with warm chocolate fondant, vanilla ice-cream. Or, with the bikini, or new lover in mind, chilled soupe de fraises, green tea and mint.
A la carte dishes are equally seductive, as in: Oeuf mayo, the real thing! Grilled Entrecote, chips maison. Classic Baba au rhum rounds it off nicely, weight-watchers can refuse the crème fouetée, just add a drizzle of rum.
The wine list is worth popping in to read. "I had lots of help from top professionals", Alice admits. Each wine has a little summary, did you know Chateau Chasse-Spleen was a favourite of Lord Byron, who enjoyed it for its' anti-depressant virtues? If you want to splash out, there's a nice little Margaux '02 at 900€.
Ludovic Kaminsky's in the shiny new kitchens, alongside Alice, as is Olivier her lovely husband, who spent two years "apprenticed" to Jean Bardet. "Papa comes by every week, keeps an eye on us", winks Alice.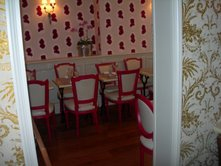 It's a sexy restaurant, you feel it the moment you arrive, lovely looking guys and gals, dressed in black, greet you just as they should (speak English), tuck you in to your table. Either upstairs in the Boudoir, or, at street level, sink into a sofa, or perch at the zinc bar. "I don't want to be in a hairdressing salon when I go to a restaurant, we've worked for five months to decorate our Boudoir, and we've got great ideas for its' future", Alice promises.
Wherever you choose to sit, you'll have fun. And, there's a hidden room upstairs, ready for some fun and games, a bit like prohibition, it's supposed to be a "fumoir" for cigar afficionadoes, but who knows, don't ask. Meet me up there, I'll be the one with the large Cohiba.
Le Boudoir,
Alice et Olivier Loize-Bardet,
25 rue du Colisee, 8th (Metro: Franklin D. Roosevelt)
T: 01 43 59 25 29
Lunch formula:
Dish of the day: 16€
Starter, Main or Main/Dessert 22€
Starter/Main/Dessert 27€ + wine
A La Carte about 45€ midi & soir + wine.
Shut Sunday
Or have a snack + glass of wine at the bar
From 7€