Alain Passard – The Man Who Loves Vegetables Buzz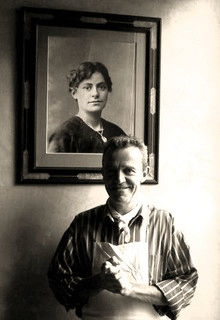 Place of Honour on tables at Alain Passard's L'Arpege last week – outsize pumpkins, courgettes, knobbly Jerusalem artichokes, looking wacky on classic white starched table linen. Passard knows how to make a statement – without making a statement, read minimal. 
Unless they insist, clients are not shown menus. "Do you want to leave it to the chef?" asks Nadia, who is possibly the Maitre d', but no one pulls rank at the rive gauche's only 3***. "You bet", say most. Passard, always innovative, feels written menus are on the way out, the visitor to L'Arpege has the option of leaving it to him and his team.  
Everyone knows Passard loves music as much as he loves his vegetables, but never in the kitchen. "You really need to concentrate, music's out of the question", he insists. "Have you ever seen a musician eat while he's playing?" And, like jazz, there's permanent improvisation in the busy clattering, whisking, space behind the restaurant. So the menu's just a sort of rough guide to L'Arpege, written as minimal as the Art-Deco room. "Ravioli potagères – Oeuf à la coque – Collection légumier 2008. 
Since 2001 Passard has given vegetables the starring role on his menus. Back then he said: "I woke up one morning and didn't want to eat meat, vegetables are so much more exciting, colourful, more perfumed". Fast forward to 2008, there's organic, fish, game, poultry. He slow cooks plump foie gras, four hours, then serves it wafer thin, a few grains of sel de Guerande, purée of turnip, carmelised orange/lemon, a few green leaves. Magic! "Nothing new about this", he admits. Grandmother Louise Passard (who's photo is framed just outside the kitchen) always cooked on top of the stove, over low heat, she was considered really radical in her day", he says. 
"I like cooking too much to forget meat and poultry". Dishes arrive at a fast pace, the server looks as curious as the guests. "It's mostly all new to us, every day", they shrug when asked for an ingredient or description. "Passard has deconstructed his classic roots and created a cuisine unique to him", says philosopher Fabien Negre, a Passard afficionado. "Sometimes we sit talking food here until 2 in the morning. Then Passard leaves to go and visit the potager or to Rungis on his Triumph bike", he reveals. "Heaven knows when he sleeps!" 
In between courses the warm bread is waiting to be spread with 37% salty Brittany butter. You could try making it at home, "water and a starter of wild yeast – voila!" it's Passard's recipe. His kitchen is a showcase of fine French products, many from his native Brittany. "We've got everything there, except wine", he winks. 
The vegetables and fruits are grown in Passard's three organic potagers, some chefs open bistros, have TV programmes, Passard opens potagers! The veg arrive by TGV. On the land, no tractors, just horse-drawn ploughs, lots of back-breaking hard work.  
The co-operation of animals and insects maintains a balanced ecosystem: there are nesting boxes for birds, beehives to ensure effective pollination, the honey from the hives is used in the mile-high crumbly mille-feuille dessert. Waste food from the restaurant is sent back by train, recycled in the potagers as compost. Green or what? 
"A chef can only create cuisine when he has knowledge of the raw ingredients, cannot work blind with a product that remains silent. I think I have come far in the areas of poultry and meat based cuisine, enough to feel free to aspire to another exploration, based on vegetables" he insists. "Simmer your vegetables in water slowly, steaming is too violent", he advises. 
Cheese is from Bernard Antoni but insist on Bouquet de Roses.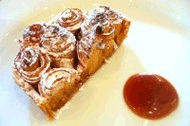 "Tarte aux Pommes, Bouquet de Roses 2008".
Passard says it took six months to perfect, it's his spin on traditional tarte tatin. Slices of apple, grown in his orchard in the Bay of Mont Saint Michel, "because of the extraordinary alluvial soil", are clad in thin pastry, shaped into miniature roses and placed to look like bouquets, on a moist pastry crust. My friend Marie-B asked to go into the kitchen to watch it being made. "Sorry, I'd love to have you, but it's my secret", said Passard, who has patented his creation. So she ordered on (01 47 05 09 06) and took it home, wonder if she swore she'd made it! (see photo) 
It's 22 years since a skinny talented boy from La Guerche, Brittany took over from Alain Senderens' L'Archestrate – re-naming the space L'Arpege, in hommage to his passion for music. It took ten years to win three Michelin stars and he's still wearing the same patched jeans under his Persil chefs whites. 
To define Passard's cuisine, think back to the days when artists abandoned their studios to take their easels outside, on river-banks, in the middle of fields. It's all new, unknown and you can share the adventure with him in his elegant Art-Deco space opposite the Musée Rodin. He's always there, that's the secret, at:  
L'Arpege,
84 rue de Varenne, 7th (Metro: Varenne)
T: 01 45 51 47 33
www.alain-passard.com
Shut Sat-Sun
Lunch 130€ – Dinner 340€
A La Carte 250€
Leave a reply
Your email address will not be published. Required fields are marked *