How to Find a Great Vacation Rental in France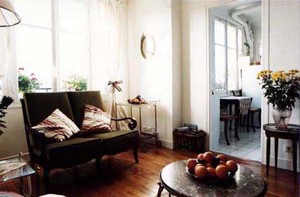 For the past 20 years, I've spent major stretches of my summers staying in vacation rentals in France. If you've never gone this route, I highly recommend it. Not only does having a kitchen help you save on dining expenses, it also allows you to do more than take photos of all those glorious foods the daily markets. You can actually take those beauties home and cook them.
When it comes to scoring a great vacation rental, I've had mostly good luck—out of 12 or so apartments, I'd say it breaks down like this:
• 75% were fantastic—apartments I liked so much I booked another year.
• 20% were so-so—fine but nothing I'd return to again.
• 5% (that is, one out of all of them) was so bad that we simply refused to stay there.
So, how have I been so lucky? Here are four strategies, in order of how successful they were (starting with the strategy that netted me the best spot…).
1. Listen to the Recommendations of Friends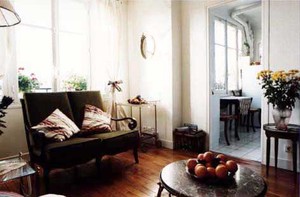 One of my favorite rentals ever was recommended to me by some colleagues. For a while in the late 90s/early 2000s, it seemed that every food writer/editor I worked with had stayed or would be staying in this lovely apartment in the Bastille area.
The bright, spacious apartment was in one of the many neighborhoods in Paris that felt like a little village. We stayed here for two weeks and some days we didn't even leave a five-block radius.
Advantages: Like-minded people that you know and trust can often lead you to amazing finds.
Disadvantages: If you don't like the place, you'll be mad at your friends for a long, long time.
2. Just Show Up (on the Off Season)
After my spouse and I found a lesser-traveled town we loved on the Riviera (Beaulieu-sur-Mer), we just showed up one late May and decided to wing it. We booked a few nights at a hotel so we had place to stay on the ground, then, on our first day there, we walked into an estate agent's window (lured in by his sign that said "Grand Choix de Locations à Partir de 5,000 Francs/Mois" (Many Apartments Available, Starting at 5000 Francs/Month).
We found the cutest little studio apartment for the equivalent of about $1,000 for the month of June. We stayed there two more summers.
Of course, that was in 1995, and I haven't seen such bargains since. But the point is, if you're adventurous and if you go on the off season and to less-traveled places, sometimes you can simply land on the ground (with a few night's hotel booked) and poke in and out of estate agent's offices and tourism bureaus and come up with something.
Advantages: You can see the venues with your own eyes and tell if they're right for you.
Disadvantages: You'll must travel in the off-season, and preferably somewhere off the beaten path (Beaulieu-sur-Mer isn't the most popular town on the sea). Even then there are no guarantees you'll find a place you love.
3. Book Through Online Websites: Homeaway.com, VRBO.com, AtHomeinFrance.com, etc.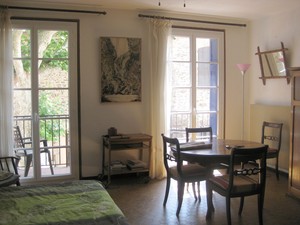 Both the best and the worst rentals have been booked through vacation rental sites. Two favorites include the Maison Frère, where I often stay in Collioure, the Mas Pallarès in Ceret,
In theory, you should be able to find exactly the kind of spot you'll love, because these sites offer maps, photos galore, and reviews.
However, the listings and photos can be misleading. One rental looked great online, but when we arrived, we spent our first 4 hours cleaning the exceedingly grimy spot. The pool that looked so inviting online didn't open until July 1st (we arrived in mid-June).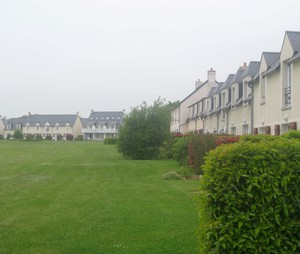 Another apartment we booked showed awesome photos of the Lot Valley and again, a beautiful pool. When we arrived, we found that those views were taken from the top floors (where the owners of the villa lived). Our studio was in a converted garage with a view of…parked cars. The pool? Green with slime and not yet open for the year (again, it was mid-June). We took one look at the place, forfeited our deposit, and left.
Yes, you can rant about it online once home, but that doesn't help you while you're there, does it?
A little advice if you go this route:
• Never, ever, pay the entire amount for the rental before you get there. You'll be surprised how many owners will accept a partial down payment if you simply ask. If they don't, they may be hiding something.
• Ask clarifying questions, such as "Will the pool be open during our stay?"
• Once you arrive and before you hand over the final amount and before the owner or rental rep leaves, make sure everything works (stove, lights, hot water, etc.) and that you know how to operate all appliances. It's hard to get anyone to come back and help you once they have your money in their pockets.
Advantages: I've found the very best and most unique places via these sites.
Disadvantages: I've also found the very worst places via these sites.
4. Consider Pierre et Vacance Vacation Rentals
This chain of vacation apartments operate like a hotel in that you can reserve online, with credit cards. However, they're not hotels—like all vacation rentals, you'll have to rent or bring your own bed linens and towels. (Judging from comments on travel sites, many Americans simply don't understand these basic facts about vacation apartments.)
Advantages: Great for short periods of time (you can book for just a few nights). Generally, these chains are clean, well run, and in well-traveled spots many visitors wish to visit. Most have pools and other pleasant amenities. They're reliable and easy to book.
Disadvantages: It's a chain, so you're not going to have a one-of-a-kind experience of staying in that out-of-the-way cottage or fascinating villa. Unless you love having lots of kids around, avoid the high season—these get overrun by families.
One More Piece of Advice…
On first glance your vacation rental may not quite seem like all you wanted it to be. But unless it's entirely awful, make the best of it and just groove to being in France. Never let a so-so vacation apartment ruin your time. You'll be surprised how it will grow on you once you unpack, buy groceries, flowers and wine—and make it your own.
Wini Moranville is the author of The Bonne Femme Cookbook: Simple, Splendid Food That French Women Cook Every Day, and the co-author of The Braiser Cookbook. Follow Wini on Facebook at Chez Bonne Femme.
---
More in Paris apartments, renting an apartment, travel tips
---
---