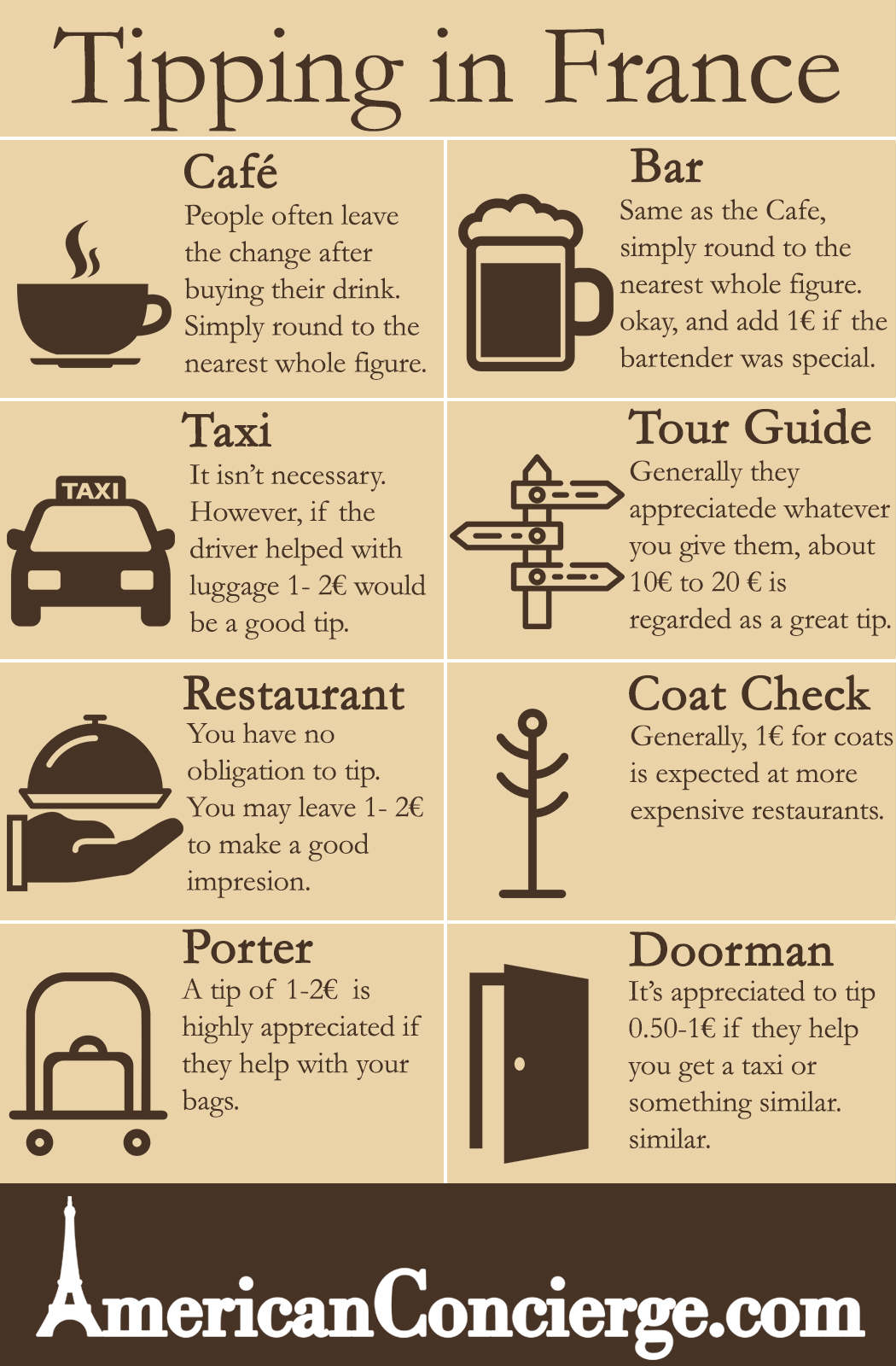 Tips are expected in America, but what about in France?
Given the frequency of this question we thought it would be helpful to breakdown a few scenarios you are likely to encounter while travelling. Contact us if you have any further questions or would like us to help plan your trip. AmericanConcierge.com has helped hundreds of people make the most of their time in Paris and we look forward to helping you as well.
Bon Voyage!
Restaurants
The service charge is included in the price; however, additional 10% should be given for excellent service.
Waiters in France are paid a living wage and this is done in part by having a service charge included on the bill. Even though you have no obligation to leave a tip, it is common for diners to tip 10%+ as a gesture of kindness and also based on service.
Cafés
It is common to leave the change.
After having a drink people often leave the change. A common example might be purchasing a latte and snack for 4.75€ then simply leaving the .25€. If, on the other hand, your bill comes to 2.30€, you can simply leave an extra .10€ -.20€. The rule of thumb is if you can't make the amount whole when you include tip, then just leave an extra and take the change.
Bars
Similar to the US, tip per drink, not by total bill
Just like in the United States, when you're visiting France it's common to tip based on the number of drinks. In the US for example, most people follow the $1 per drink and it's the same in France. Higher end establishments where the drinks are 15€ or 20€ you might consider 2€ tip per drink.
Taxi
Small tips (5%) are common but not expected; tips should be given for great service
Similar to how you will tip at restaurants, taxis expect tips around 10%+ when they give great service. Did the driver help you with your bags? Did they point and described historic sights? Did they share general local knowledge about the city or area where you are staying? These are all questions you can ask to determine where on the 10-15% scale you should tip. If the answer is "no" to all of these questions than 5% is more than enough.
Tour and Private Guides
Tips are not expected but a 5-10% tip is common
Group and private tours are the best way to explore the City of Lights. If you want to take it a step further, companies like AmericanConcierge.com provide a wide range of unique private experiences. For group tours tips are not expected but it is common to give the guide 5-10€ depending on the number of people in your party. For private tours it's more common to give 5-10% which typically works out to 10-20€ per tour. If you're a larger group, consider tipping more.
Coat Check
Coat check tips are customary in nice restaurants
Similar to the United States, a tip of 1€ per coat is generally expected. If there is not a designated coat check and the waiter helps you with your coat a tip isn't necessary but this helpfulness should be considered when tipping at the end of your meal.
Porter
It is not expected but appreciated to tip 1-2€ per bag.
Doorman
It is not expected but appreciated to tip 1-2€ if they help you get a taxi or something similar.
American Concierge creates custom tours that help Americans immerse themselves in a Parisian experience. For more information visit AmericanConcierge.com.