Perfume in Paris: The Debut of the Grand Musée du Parfum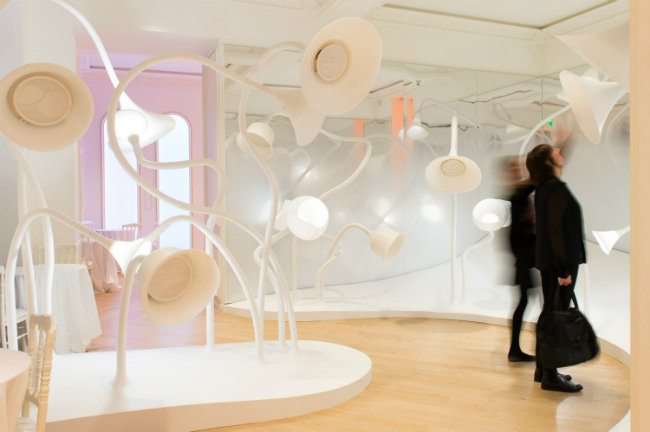 The highly anticipated new perfume museum opens on December 22 in Paris and it's as elegant as its setting on Rue du Faubourg Saint-Honoré. Just across from Le Bristol, the museum occupies the historic mansion that was formerly home to Christian Lacroix's maison de couture. (In the 19th century, it was the Roederer champagne family's residence). There was a palpable buzz at the press preview event on Monday, as a chic crowd oohed and ahhed over the exhibits and the gorgeous concept store. No doubt this exciting venue will become a "must visit" experience for Parisians and tourists alike.
Sniff your way through high-tech sensory exhibits (60 different scents!) to learn about the history of perfume, the creation of scents by master perfumers, and your own sense of smell. What is so unique about this museum is that it's not associated with just one brand; it's supported by the Syndicat Français de la Parfumerie, and overseen by a panel of 16 industry experts including Jean-Claude Ellena, house perfumer at Hermès.
The odorific circuit starts in the museum's historic vaulted cellars, which once housed a priceless stash of ageing champagne. Here, learn about the history of perfume starting in ancient Egypt, and also featuring iconic figures like Cleopatra who supposedly perfumed the sails of her ships to seduce Marc Antony. Under France's Louis XIV– who was so obsessed with fragrance it's said he changed scents every hour at Versailles– perfume first became an industry. Today, of course, France is renowned as a a perfume capital, its savoir-faire celebrated around the world; fragrance serves as the global ambassador of France's luxury and lifestyle enterprises.
Upstairs, exhibits allow visitors to unlock their olfactory sense, learning about smell's emotional power. The exhibits are fun and educational; we particularly liked sniffing different odors in the "Garden of Scents"; watching videos of interviews with "noses" like Mathilde Laurent, Cartier's perfume creator; and the high-tech concept store where a robot retrieves your perfume box from a wall of fragrances.
In the Spring, the garden will provide another sensory playground- filled with aromatic plants and flowers cultivated for perfume-making.
Grand Musée du Parfum, 73 de la rue du Faubourg Saint-Honoré, 75008. Tel: +33 (0)1-42-65-25-44. Open daily 10:30am – 7pm (Last admission 6pm). Late opening Saturday evenings. www.musee-du-parfum.fr
To celebrate perfume in Paris, we're featuring Carol Gillott's beautiful illustrated map "Parfums Paris." She creates a different themed map every month, which you can receive in your mailbox. Learn more: www.etsy.com/shop/ParisBreakfast 
Lead photo credit : Photo: Grand Musée du Parfum
Leave a reply
Your email address will not be published. Required fields are marked *