The Mysterious Paris Pagoda in the 8th Arrondissement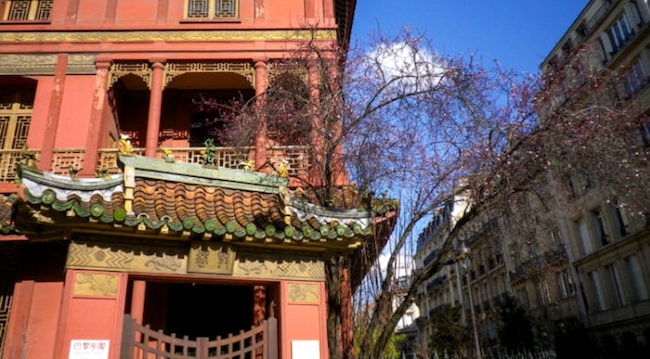 Paris has two remarkable and unusual pagodas. Curiously, neither was built as a sanctuary or shrine. On the outside, one is bold and conspicuous while the other is discreet and hidden in a thick bamboo and gingko garden. A closer look reveals that both have unconventional architecture and sumptuous interior design. Their histories are engrossing, sprinkled with a little mystery.
The first installment of this two-article series explores the history of La Pagode, a delicate, Japanese-style pagoda situated in the prestigious 7th arrondissement. Read it here.
The second installment traces the origins of Pagoda Paris (or the Red Pagoda), an imposing, Chinese-style pagoda located in the upper class 8th arrondissement. It was converted in 1928 from a stately mansion to pagoda as a residence-cum-art-gallery by the internationally renowned and enigmatic Chinese antiquities dealer, C.T. Loo (1880-1957). It is classified as a historic monument. The pagoda was splendidly renovated in 2012.
THE MYSTERIOUS PARIS PAGODA
The striking red pagoda jutting at an angle at 48 rue de Courcelles causes first-time passersby to jolt. It's so out of place. Shocking really.
View this post on Instagram
That's what the neighborhood residents thought too when it was going up.
These days the impressive structure stands a little more proud since its renovation, but still looking like it's waiting for something to happen. Something seems incomplete.
In its early life, this pagoda was a busy place. It was an epicenter for cross-currents in the field of sinology, Asian art research and archeology. It was a home, an office, a gallery and a clearing station for famous art works criss-crossing the globe.
Who built the pagoda? The man known as the greatest asian art dealer of all time: C.T. Loo.
The famed art dealer died leaving two imprints: one as a hero (in the West) and one as a traitorous villain (in China). This controversy has never changed. Although he died more than 60 years ago the debate about him is still very active. His contributions, nonetheless, are invaluable and timeless.
Thousands of art works sourced through C.T. Loo can be found in the world's great museums and personal art collections in the West. At the height of his career C.T. Loo's international private clients included names such as Morgan, Vanderbilt, Rockefeller, Freer, Lilly, Pillsbury, Guimet, Gieseler and many more.
The story of Paris Pagoda is really about this unusual, intriguing man whose story begins in the late 19th century in an obscure, impoverished hamlet in China, where he was orphaned at age ten. At age 22, having little formal education and speaking only his local Wu dialect, C.T. Loo's incredible luck brings him to Paris as a servant. His life ends in Switzerland with the reputation as "the most important Asian art dealer ever," according to Chinese art historian, Géraldine Lenain.
How C.T. Loo reached these heights from such humble beginnings is a fascinating life story which will be examined in a separate article about The Man Who Built Pagoda Paris.
A good place to start this story is in 1928 with the erection of the Pagoda Paris – when Ching Tsai Loo was at the pinnacle of his career.
The Pagoda
Following some highly successful years in New York City, C.T. Loo had returned to Paris. His next step was to implement his dream of building a pagoda in the heart of Paris to house his collections and to serve as an East-West juncture for cultural exchange.
He wanted a palatial building where he could receive his wealthy international clients and found a Louis Philippe mansion with good Feng Shui in the neighborhood near Parc Monceau.
The first mystery about the red pagoda is when you set eyes on the building. Aside from the initial shock, it is complete deception; for behind the bright red walls is the original Louis Philippe mansion.
View this post on Instagram
C.T. Loo hired prominent architect Fernand Bloch to carry out his ideas for the pseudo-Chinese style pagoda.
Instead of tearing down the existing mansion, he wanted to encase it with cement, plus add two more stories and a basement. For Bloch the project was a "caprice."
Once the conversion began to take shape, it caused an uproar in the upper class neighborhood of classical Haussmanian buildings. People wanted it torn down! (Years later, when there was a move to tear down the pagoda for a modern apartment building, the neighbors protested just as vigorously.)
For the ceiling of the top floor he wanted an Art Deco glass ceiling with Chinese characters. This had never been done before and turned out to be difficult to execute. It became the bronze room where the heaviest pieces were exhibited because of its solid flooring. An elevator was built on an exterior wall to move things in and out.
With a minuscule Chinese presence in Paris, C.T. Loo wanted to make a statement about real Chinese culture. He wanted visitors to feel as if they were stepping into a rarified Chinese world so he created highly exotic interiors. These were executed in exquisite taste.
Antique frescos were brought in for the entrance. (One of them is now in the Nelson-Atkins Museum in Kansas City. Two others are in the Musée National des Arts Asiatiques Musée Guimet, Paris).
Descending to the cave level he created the impression of entering an ancient tomb. To show statuary at its best he created niches with sophisticated lighting, and he spent months with a worker developing rotating pedestals so people could see all sides. "C.T. Loo thrived on complexity," explains Ms Lenain in a Hong Kong lecture she gave to the Asia Society about him in 2014.
Since he was also dealing in Indian and Southeast Asian art, he created themed rooms. The Salle Indienne still exists. The Salle Khmer does not. The works in that room were donated to the Musée Guimet in 1948.
The most cherished room for C.T. Loo was the lacquer room. His VIP space. The walls are covered with magnificent 18th century Shangxi wood panels painted in red lacquer, imported from China. The coffered ceiling has Han era animal sculptures in each square. Around the ceiling he installed indirect lighting. Behind the panels were cupboards where he kept his most precious art works that he would bring out for his most valued clients.
Discovery of a Mystery Treasure Trove
For all his fame and prominence in international circles, no one knew anything about C.T. Loo. He was an enigma, always evasive about his past.
Depending on which continent he was on and whether he was with Americans in New York, or with Europeans, or Chinese, or with his family, he displayed a different persona to each, like "a chameleon."
There were so many gaps, contradictions and questions concerning C.T. Loo's life that Ms Lenain, who ended up being his biographer, likened it to "a Gruyère cheese: with lots of holes." (Géraldine Lenain is Christy's International Director in Paris for Chinese Ceramics and Works of Art. She also worked in Beijing, Shanghai and Washington at the Freer and Sackler galleries at the Smithsonian.)
When C.T. Loo died in Switzerland, in 1957, his life was still a mystery and remained so for fifty more years. And then…
An important discovery was made at the pagoda.
One day, in 2006, Ms Lenain received an intriguing phone call in her Paris office – the kind of call every art historian dreams of getting.
The nervous caller identified himself as a grandson of C.T. Loo and asked if Ms Lenain could come quickly to the pagoda. He found something he wanted her to see.
Ms Lenain has been handling C.T. Loo-sourced objects for years. Thinking she was going to be shown a rare object, she rushed over. But when she arrived, she saw nothing but empty rooms.
The grandson, Joël Cardosi, escorted the art historian to his grandfather's former office and pointed to stacks of dusty old boxes containing dusty files and papers. The pagoda had been put on the market for sale and the boxes were found by chance in a cupboard where they had been hibernating for decades.
Ms Lenain is French but spent her childhood in China. She is fluent in the language.
When she began sifting through the documents she understood what was before her. It was the cache of C.T. Loo's personal archives. Fifty years of his life, in detail: letters, business and personal correspondence, contracts, photographs, catalogues, documents – it was all there; thousands of pieces…including his secrets. "A bomb" says Lenain.
It took a while for her to digest this invaluable discovery before finally deciding she needed to document everything in a book. There was also C.T. Loo's youngest daughter, Janine Loo Pierre-Emmanuel, in her 90s at the time and living in Paris, who could provide more valuable information to glue things together even tighter and that should be done before she is gone. When asked for permission, Janine granted it immediately.
That started Géraldine Lenain on a fascinating project lasting several years. It would come to fruition in 2015 with the publication of C.T. Loo's biography, Monsieur Loo: Roman d'un Marchand d'art asiatique (Mr. Loo: Novel of an Asian Art Dealer).
The more Lenain delved into C.T. Loo's life, the more "obsessed" she got about him. Each discovery revealed a new facet of a complex personality. He was a genius, cunning, secretive, daring, charming, elegant, proud, unassuming, old world, unscrupulous, kind, meticulous, generous, and fearless.
She learned that he had three passions: art, horses and women.
View this post on Instagram
When it came to women, the evidence clearly shows an elegant charmeur. It seems that C.T. Loo's ghost may have been trying to cast a seductive spell on her too.
The investigation took Lenain to several continents gathering and corroborating information, interviewing people and spending many long hours debriefing C.T. Loo's last surviving daughter (he had four). She even traveled to the place where C.T. Loo was born.
While Lenain was piecing C.T. Loo's life together, she was caught in the delicate situation of having to reveal a number of inconvenient truths to his daughter – like the fact that Ching Tsai Loo was not her father's real name; his birthplace was not Huzhou, as indicated on his marriage certificate; that he did not come from a scholarly and prosperous family that had all died in the Taiping revolt, which he told anyone who asked; that, in fact, he still had family in his lowly birth village; that he sent money to his relatives throughout his entire life; and then there was the peculiar marital arrangement between her parents.
Janine, who was closest to her father and adored him, was in disbelief as parts of what she thought were her father's life were being unraveled.
Among C.T. Loo's papers Ms Lenain discovered a draft of an autobiography he was writing. At first she thought this would shed light on his past, only to discover that it was a complete fairy tale. He was trying to erase all traces of his early life. But why?
The real C.T. Loo, in fact, is far more interesting than the fictitious biography he was trying to create for himself.
Lead photo credit : Credit: Flickr, Sam Nabi
Leave a reply
Your email address will not be published. Required fields are marked *