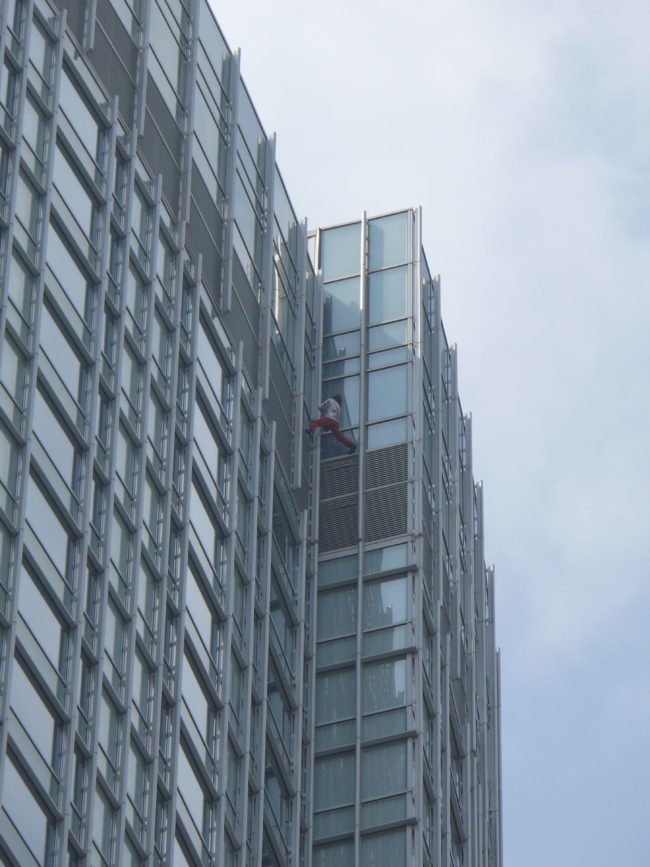 His feats have included climbing Dubai's Burj Khalifa and scaling Salesforce Tower in London without a harness. And then there have been publicity stunts, like climbing the Four Seasons Hong Kong to promote the Skyscraper movie by Universal Studios. (In fact, the website for the "French Spiderman" stresses that you can hire Alain Robert, to call him by his real name, for events to promote corporate brands and businesses.)
And now the French Spiderman is back with the Monday ascension of a skyscraper in Paris to raise funds for the renovation of Notre Dame cathedral. As reported by Reuters, "television images showed the 56-year-old using horizontal struts running up the Engie headquarters' curved facade and a protruding structure going top-to-bottom of the 185-metre (607 feet) glass-fronted building in La Defense business district." But rest assured: "Robert halted regularly to chalk his hands."
View this post on Instagram
He was arrested soon after completing his mission.
Robert's sponsors donated 5,000 euros for the renovations, and Robert hopes that the publicity will inspire corporations and the general public to make donations as well. The Archbishop has stated that 100 million euros are necessary for full restoration of the great landmark that dates from the 12th century.
To watch the French Spiderman in action, check out his dedicated YouTube channel.
Related articles: What You Never Knew About Notre Dame Cathedral
Dame de Coeur 2018: Notre-Dame Cathedral Like You've Never Seen Before