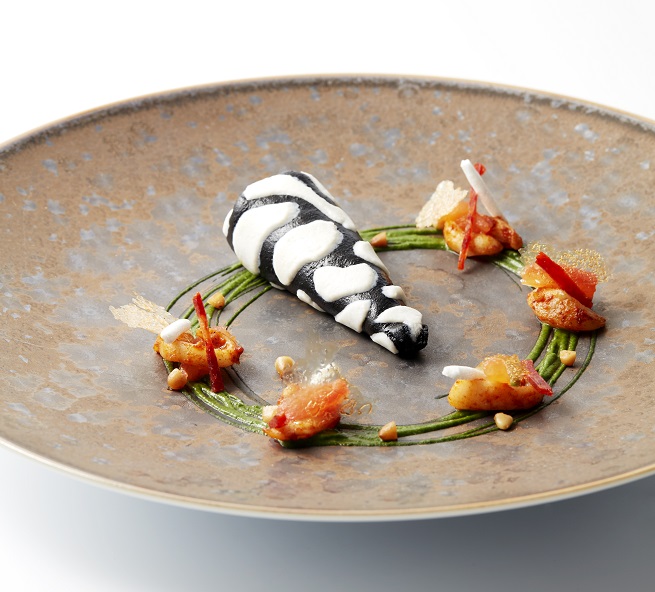 The launch of Christopher Hache's awfully big adventure 
"It's not only the cooking – the arts de la table are very important in a restaurant of this standing", reflects Christopher Hache in the sumptuous space that replaces Les Ambassadeurs the former 'ocean liner' of a restaurant at Le Crillon.
Today after four years of costly transformations, the hotel— now owned by Saudi Prince Miteb bin Abdullah bin Abdulaziz – and run by Rosewood– has successfully evolved L'Hôtel de Crillon's 18th century history with a 21st century spin where crystal chandeliers overlook soon to be released I-phone 8's.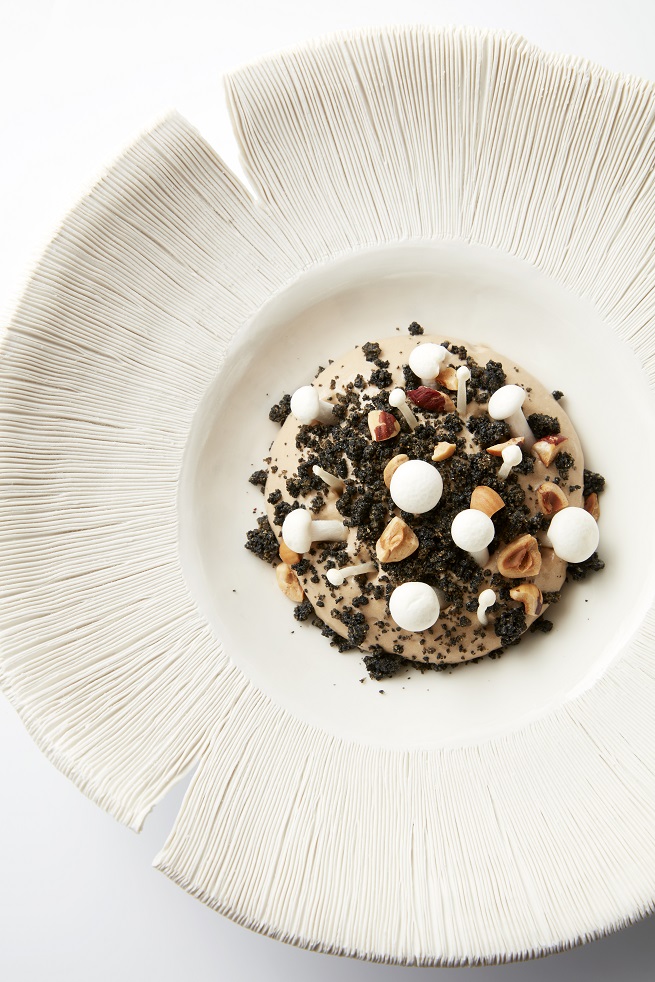 The former Les Ambassadeurs restaurant was a breeding ground of superchefs such as Dominique Bouchet, Christian Constant, Jean-François Piege and Christopher Hache– and it's now a buzzing bar with discreet jazzy entertainment and awesome cocktails by Christophe Davoine. L'Ecrin – headed by Hache – is located further back in the former Salon des Citronniers open for dinner from Wednesday to Monday – so book well ahead.
After completing his last service, before the transformations began, at Les Ambassadeurs, on March 30th, 2013, Christopher Hache traveled extensively – taking up invitations to work with some of the world's most exciting chefs such as Paul Liebrandt in New York, Danish maven Ronny Emborg at Altera, New York; The French Laundry with Thomas Keller and Meadowood by Christopher Kostow in California's Napa Valley. Also popping by D.O.M. and Alex Atala in São Paulo; Astrid y Gastón of Gastón Acurio, Central, by Virgilio Martinez Véliz and Maido by Mitsuharu Tsumura in Lima; then Quintessence with Shuzo Kishida in Tokyo; Kikunoi of Yoshihiro Murata, Kyoto.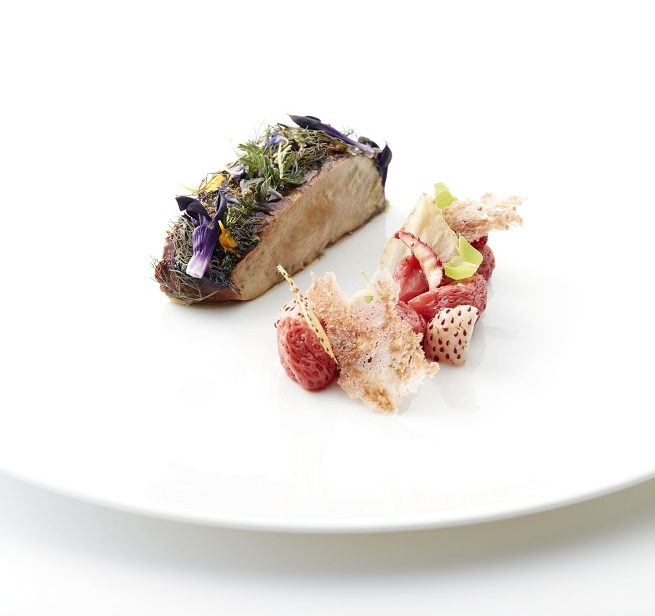 "I'm telling new stories and weaving the discoveries into my cooking to add bold surprises, new flavors and techniques to my repertoire," he promises. "L'Ecrin translates as "jewel box"," he adds. With its dramatic petal decorated central chandelier, trompe-l'œil origami style ceiling, smoked mirrors and appliques in molten Murano glass, L'Ecrin has space for just 26 guests overlooking the Jardin d'Hiver.
The tableware – interesting shapes and motifs – is exclusively made for L'Écrin by Virginie Boudsocq, Elisabeth Monroy and Élodie Meirsman (LO Ceramics). Fish, meat and dessert cutlery by the Rouge-Pullon workshop and marvelous meat knives by Perceval at Thiers. Wine glasses come from Austrian brand Zalto and – with the chef – head sommelier Xavier Thuizat (43,000 bottles in the cellar) has created the most exciting wine pairings in town – not only wine – champagne served in Marie Antoinette Pomponne flutes, plus rare saki, artisan beer, Grand Cru tea: read revolutionary. Wish list water glasses come from Montbron crystal factory. Service is impeccable, directed by the sublime Claire Sonnet formerly chez Alain Ducasse at the Plaza Athénée, Paris.
Choose from two menus 'Liberté' 7-courses (€195 + €95 with wine pairings) or twelve plate 'Signature' €260 + €130 with wine pairings). Last Saturday, following amusing amuses, Hache sent out a stunning summer starter of reconstructed multicolored (four types) tomatoes, stuffed with basil and herb mousse, tomato jelly, white balsamic… then dramatic black and white Paris region sourced mushrooms in different textures (natural, extracted, fried) shimeji, enoki, walnut crumble, shredded black cardamom. Followed by Tourtatouille, Hache's delicious and humorous spin on traditional ratatouille. Fried duck foie gras escalope was paired with blackberry vinegar duck jus, herb farandole, and – daringly – fermented strawberries ! Dover sole came next sprinkled with caviar. These are superb ingredient compositions and for meat he's working with 'Bohemian Butcher' Yves-Marie Le Bourdonnec. Add tender Calf sweetbreads, pastry wrapped (a work of art) spiked with ginger jus and a tangle of celeriac tagliatelle. From several breads, the hay baked rolls were the most original, spread with house made butters.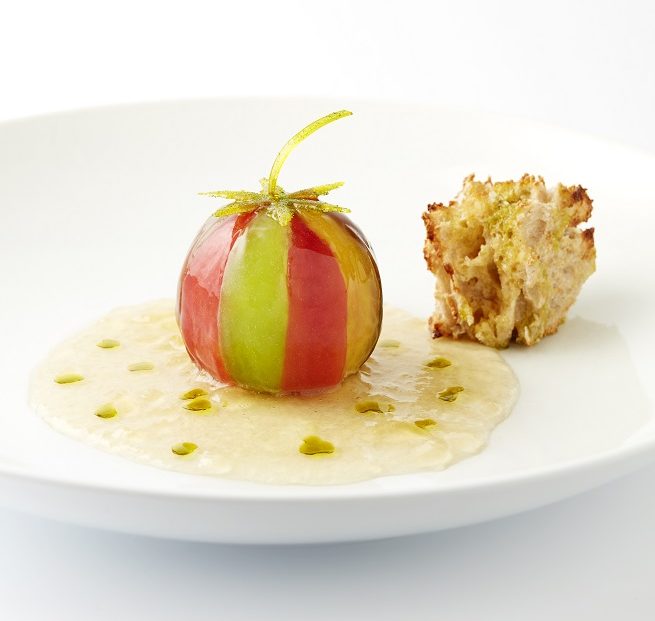 Divine desserts are by MOF Jérôme Chaucesse, a puff of soufflé Grand Marnier that rises in front of us – a vacherin of apricot confit, fresh almond sorbet, meringue.
Hache heads up his menu thusly: "You can never cross the ocean unless you have the courage to lose sight of the shore." –Christopher Columbus
Also eat/drink/chill at :
Les Ambassadeurs Bar cocktails by Christophe Davoine open daily
La Brasserie d'Aumont (named for the Duc d'Aumont) chef Justin Schmitt- Open 7/7
Le Jardin d'Hiver – teatime by Jérôme Chaucesse- 7/7
La Cave –  wine tastings and private dinners – opens daily from late afternoon – 1am
L'Etincelle is the 24-hour cigar lounge with La Cour Gabriel Terrace.
Hôtel de Crillon
A Rosewood Hotel, 10 Place de la Concorde, 8th. Tel: 01 44 71 15 00. Metro: Concorde. Valet Parking. Website: www.rosewoodhotels.com/en/hotel-de-crillon/dining