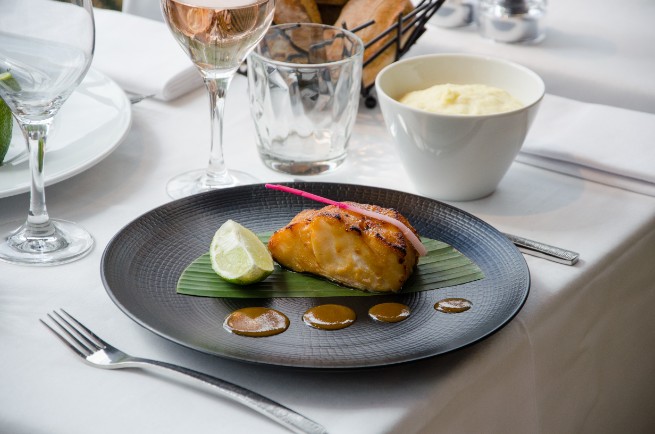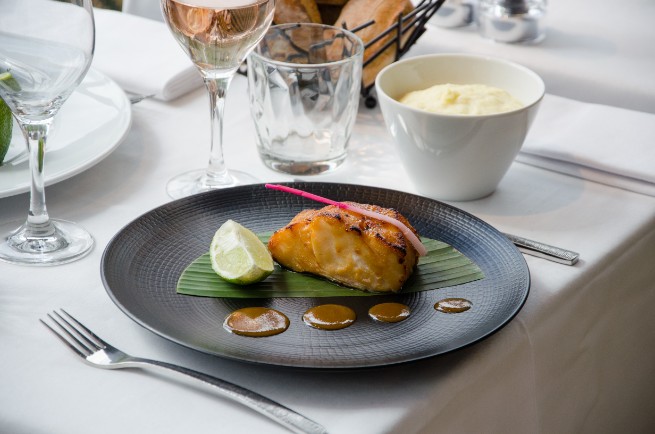 "I have made a lot of mistakes falling in love, and regretted most, but never the potatoes that went with them" – Nora Ephron/Heartburn
Les Belles Plantes – Summer in the City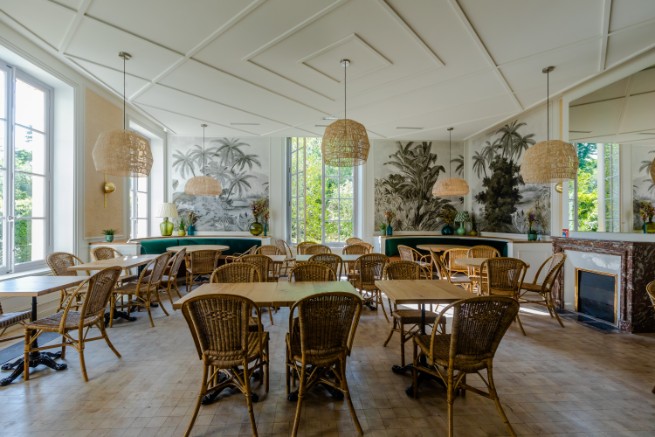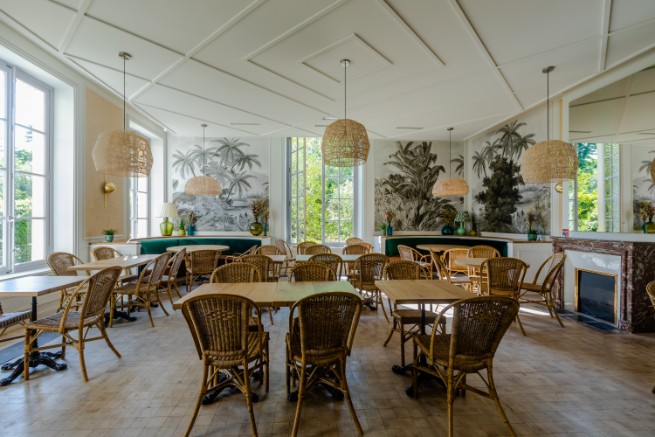 In the bucolic and palatial 17th century Jardin des Plantes  new owners, Groupe Bertrand, have given the charming spaces a contemporary spin. Chef, Marc Lebettre's menu gives pride of place to the freshest possible seasonal products, read, Parisian brasserie classics revisited with delicacy and originality.
Begin with Crispy shrimp or Country terrine (from €7.90), Garden Burger, farm roasted chicken with thyme flower, Dauphiné ravioli (Romans) or Fish & Chips (from €15.50). There's healthy salads and tempting desserts, say, Strawberry and rhubarb pie, and Augustin waffle from €7.50.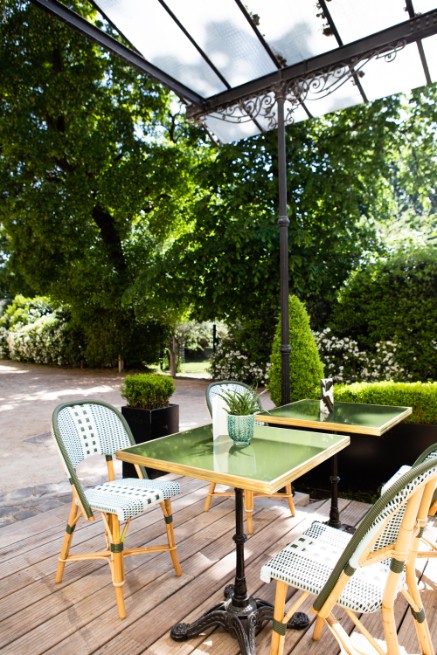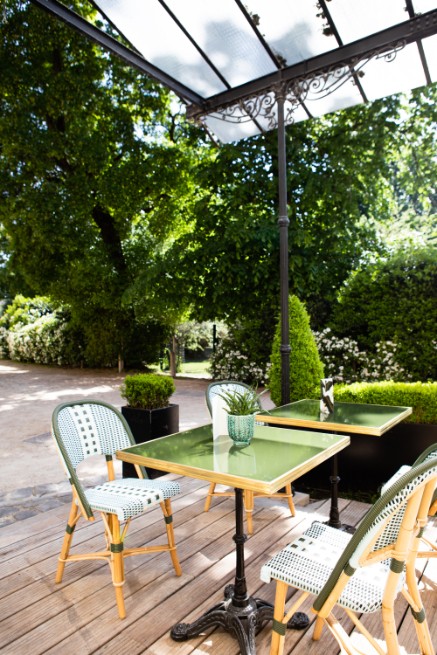 Two menu formulas are available: starter / main course or main course / dessert –  €22.50 and starter / main course / dessert – €28. Children's menu (main / dessert / drink €13)
And, for ze afterwork cool cocktails "Folle Envie" 100% French alcohol with lemon and cardamom: French Archibald tonic & fresh Rosemary. (€9.50) And sharing boards with mixed charcuterie and cheese (€19.50) or 100% surprise summer products (€21).
Open 7/7 – 12h-22h30 until September
47 rue Cuvier, 5th
M : Jussieu
T : 01 40 79 80 72
www.restaurant-lesbellesplantes.com/en/
L'Inconnu – The Unknown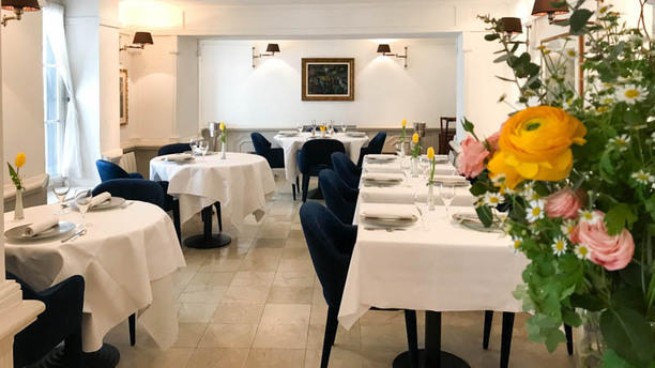 An Italian restaurant with an unknown Japanese chef? Not sure, but, on the advice of my colleague, author and über gastronome, Jean-Louis Galesne I decided to give it a try. Chef Koji Higaki (formerly at Passage 53) took the risk – so why shouldn't I ?
In this minimal no frills left bank restaurant, the chef sends out his innovative spin on Italian cucina and, guess what, it works! A classic in the making.
With Italy as his inspiration each dish is a delightful work of art. This was today's Roman Holiday (€60) tasting menu: Capellini with veal jelly: Mackerel Saltimbocca, turnip, sage, tomato: corn bread focaccia to mop up the juices, warm from the oven. Pan fried cod, and the exquisite stuffed zucchini flower reminds me of Roger Vergé : Roast guinea fowl carbonara, potato noodles, soft boiled egg and black truffles : Tagliolini, scampi, white asparagus and the ancient Roman dessert Savillum, read pannacotta, no sugar, just honey.
Honey, let's book again next week!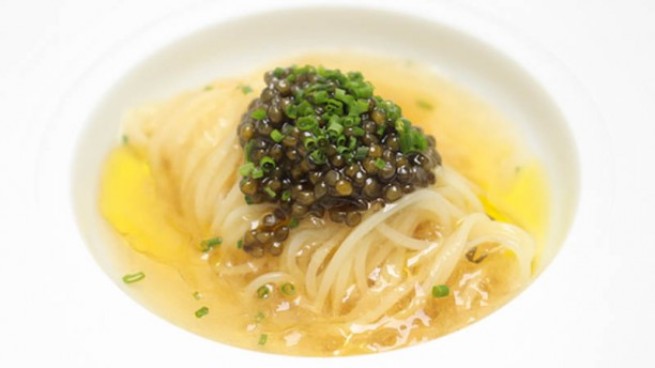 Maybe a glass of Etna Bianco (€10) Sicilian white – the chunky wine list's a tour of Italy and France, from Abruzzo to Venice – feeling flush – 1998 Echezeaux Romanée Conti €1350. Best table? No. 1 – the salle orchestrated by the delightful Hiroko – Madame Higaki.
"How can you know what you're capable of if you don't embrace the unkown?"… reflects the chef.

€30-€60 (lunch) and €60-€80 (dinner)
4 Rue Pierre Leroux, 7th
Closed – 22nd July-opens for dinner 17th August
M: Vanneau
T: 01 53 69 06 03
restaurant-linconnu.fr/en/
River Café -New Orleans-sur-Seine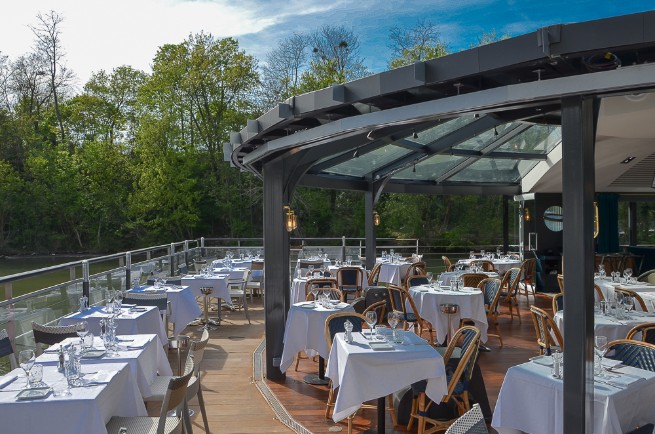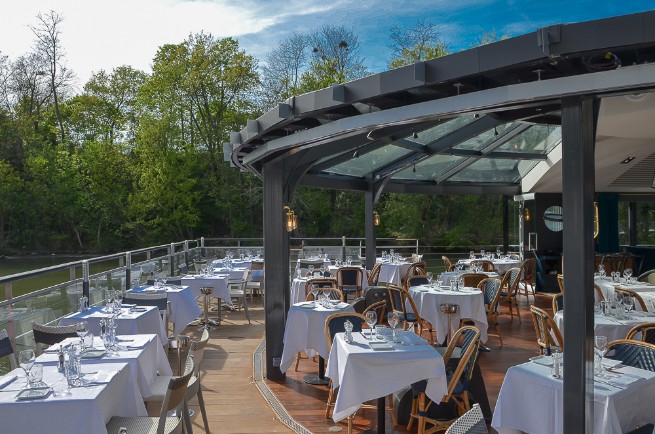 Mathieu Bucher's newly decorated spick and span houseboat/ restaurant is moored opposite Ile Saint-Germain.
Chef David Cournil's menu includes dishes to share/or not: Shrimp cake lightly spiced, cabbage and wakamé: raw tuna and avocado: pan-fried Catalan calamari, sauce tartare: crispy chicken, Cajun condiments: Monkfish plancha and asparagus: Basque black pudding "Ospital" with pan-fried foie gras and mashed potatoes or glazed black cod, ginger mash. For dessert, pastry chef Sandro Recchia sends out fresh fruit salad, lemon meringue pie, passionately chocolate, "crazy about the baba", fresh raspberry cheesecake, ice cream and sorbets.
Lunch formula €29, includes café gourmand and glass of wine from Monday –  Friday.
And lunch and dinner formula – €35 – starter main or main and dessert, and menu at €40 – starter – main – dessert.
A la carte average spend €36 – €53
Children's menu €18 entertainment for children on Saturday and Sunday at lunchtime. Dinner and concert Wednesday and Friday at €51.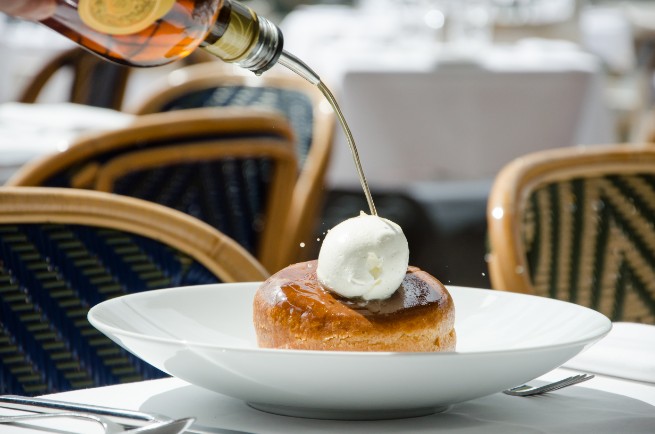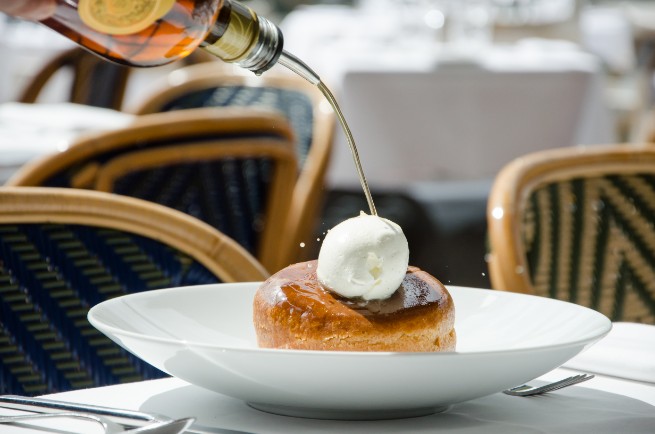 Need to Know:
That awesome sculpture is "Tour aux Figures" by Jean Dubuffet (1901-1985) who visited and approved the site months before his death.
Address: Parc Départmental de L'Ile Saint-Germain, 92130 Issy-les-Moulineaux (RER C and tram Val-de-Seine, station Issy-Val-de-Seine; Bus: 39-126-189-323).
To visit the interior of the tower contact:
Office du Tourisme : 01 40 95 65 43.
River Café
146 Quai de Stalingrad, 92130 Issy-les-Moulineaux
Access by RER C Invalides – Issey-Val-de-Seine,
Or 10 minutes by taxi from Porte de Saint Cloud (about €8)
Open 7/7 and August
T: 01 40 93 50 20
www.rivercafe.fr
Connaissez vous Les Cocottes de Christian Constant?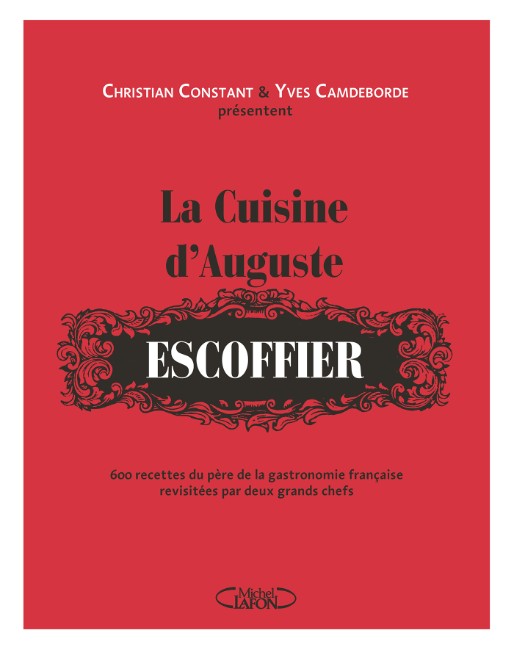 France's national treasure, Christian Constant aka "the man from Montaubon" has influenced a generation of top chefs.
Les Cocottes, rue Saint Dominique, is decorated with books and memorabilia. Recently l spotted La Cuisine d'August Escoffier by Yves Camdeborde and Christian Constant (Editions Michel Lafon) with preface by Michel Escoffier, the chef's grandson.
"Escoffier (1846-1935) has always been my influence – and that of every chef I've ever worked with", observed CC. "For most chefs not a day goes by without looking at his recipes, so we decided to write a book in hommage, not changing the recipes but bringing them up to date."
There are 500 beautifully photographed recipes – including six for scrambled eggs – twelve omelettes – vol-au-vent of sole à la marinière and the secrets of making the perfect soufflé Rothschild or Pêche Melba. In the meantime Les Cocottes is open every day, no reservations, look for César salad : salade Niçoise : Choice of Cocottes, say, Landes free range chicken, olives and confit of lemon : Basque cheeses : excellent wine and creamy Madagascar vanilla rice pudding.
"It's so good we've come twice this week" admitted the family on the next table.
Lunch formula €23-€28 – A La Carte about €46 + wine
And now – on the right bank – at Sofitel Arc de Triomphe
Last bite…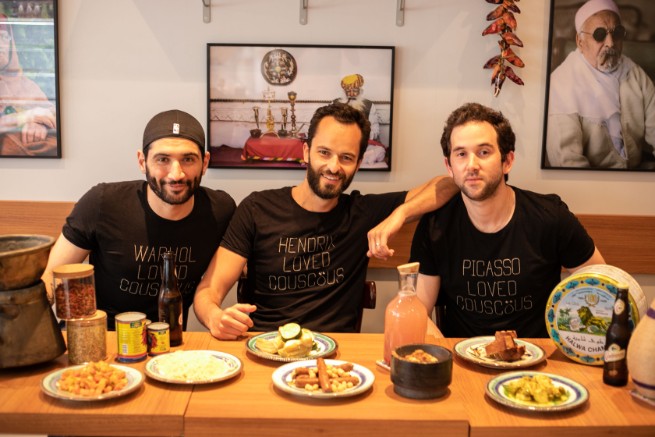 Just off the Champs Elysées, Graine founders have combined with one of our favorite chefs Yoni Saada to cook up a new summer street food style menu incorporating couscous recipes, healthy Mediterranean style salads and daily hot dishes.  Discover sensational Shakshuka – based on Algerian/Israeli/ Tunisian cuisine – eggs, tomatoes, peppers, zucchini, a sprinkle of cumin. Wash down with housemade lemonade and sweet desserts – Eat in – take away – or Deliveroo.
Graine
40 rue de Berri, 8th
M: Miromesnil
Open Monday-Friday from 12 noon – 3pm
And at:
7 place Saint-Augustin, 8th
M: Saint-Augustin
Open Monday-Friday from 12 noon to 3pm and 7pm – 9.30pm
Terrace. Both closed from 11-19th August.
www.grainebaracouscous.fr