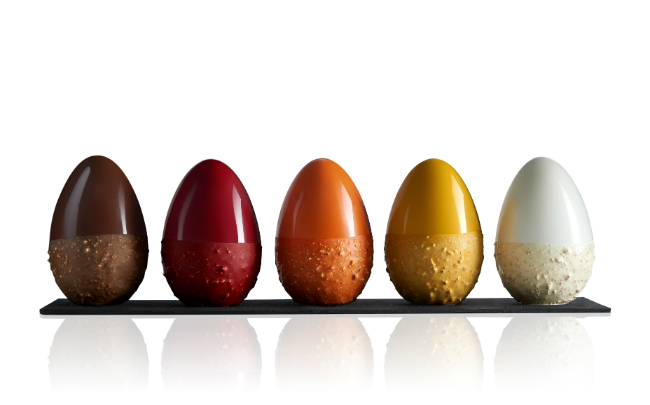 In your Easter bonnet with all the frills upon it……
Pastry World Champion Angelo Musa, Meilleur Ouvrier de France 2007 and Plaza A's  Executive Pastry Chef, presents five different colored eggs, made with chocolate from Le Manufacture d'Alain Ducasse, on a chocolate platter. Mr. "Milk Chocolate" has a heart of caramelized hazelnuts, Mrs. "Plaza Red" is a wild raspberry / pistachio duo. The flashy "Orange" combines cashew nuts with candied grapefruit and "Poussin" reveals walnuts decorated with candied lemons, while "Egg White" delivers sweet almonds. "Here's 5 eggs you'll happily put in the same basket: yours!" jokes Musa.
Easter Eggs – Limited Edition – €80. To order, tel: +33 (0)1 53 67 65 97 (collect from the hotel Gallery on March 20, 2018).
25, Avenue Montaigne, 8th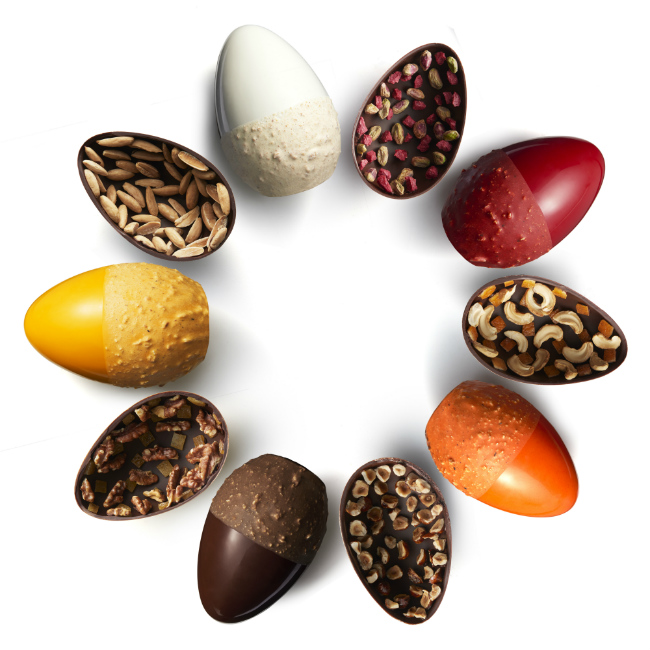 The rooftop is now open to the public and, to celebrate the first ever Easter "on top of the world," the space, with awesome city views, becomes a bucolic farm! So plan a trip – with an Easter Egg Hunt – there's something for the whole family going on here.
1 Parvis de la Defense, 92800 Puteaux
On the rue des Martyrs, the former Pâtisserie Seurre, one of Paris's most historic pastry shops, was acquired by Sebastian Gaudard in 2011 — and his eponymous brand never ceases to amaze. Gaudard (dubbed the "Tom Ford of pastry" by Le Figaro) says that at Easter the lamb symbolizes the virtues of innocence, gentleness and kindness, which he has beautifully reproduced. His cuddly choco flock is available in 4 different intensities, with spicy notes, intense cocoa aromas, or milky toffee tips of subtle cocoa notes with a delicate bitterness. An incredible selection from €7.50-€97.50
22, rue des Martyrs, 9th, Tel: +33 (0)1 71 18 24 70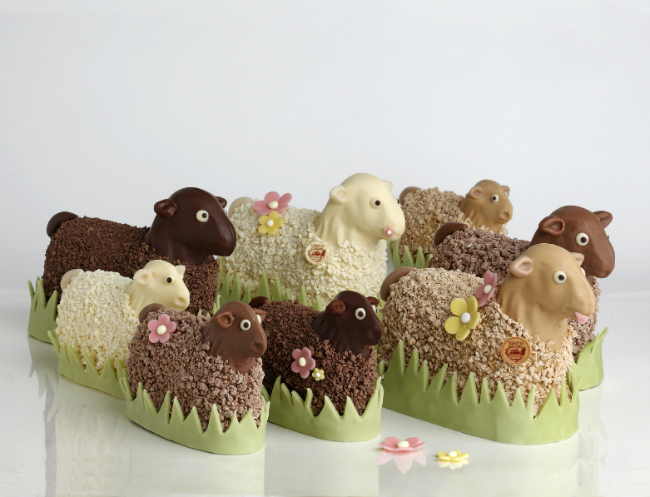 "I'm still a child at heart," admits talented pastry chef Michaël Bartocetti. It's ground control to Major Tom attitude with Galaxio Captain Spacio in a limited edition of 80 (€78) and in collaboration with the Grand Palais' "Artists and Robots" exhibition (5th April-9 July) and, cherry on the spaceship, each order comes with a "skip the queue" ticket for two.
10, avenue d'Iena, 16th, Tel: +33 (0)1 53 67 19 91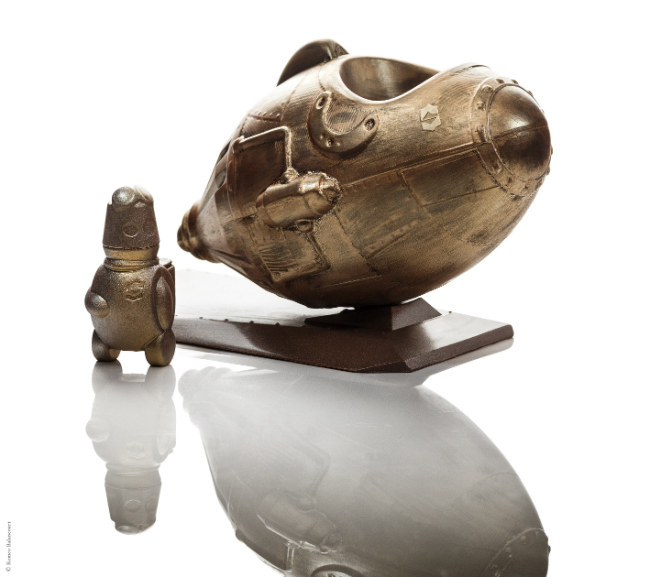 Andrei Dellos' recently opened Chekhovian-style dacha-cum-restaurant, bar and tearoom is the place to be for Russian comfort food, hot chocolate, champagne, caviar and sublime pâtisserie. For Pouchkine's first Easter in Paris, inspiration comes from iconic objects by Fabergé the famous Russian jeweler. Available in grand cru dark chocolate (67% cocoa, with notes of hazelnuts and tonka beans) or milk chocolate (40% cocoa, with vanilla notes) filled with tiny nougatine eggs, caramel ganache and hazelnut praline (€32).
16, place Madeleine, 8th, Tel: +33 (0)1 53 43 81 60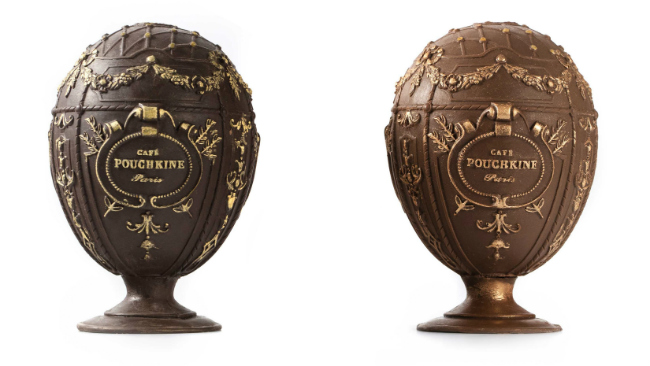 Pierre Marcolini
Easter by Pierre Marcolini is a surrealistic world filled with trompe l'oeil delights. "There are games of magic and enchantment in the land of chocolate," promises Belgian haute couture choco-king Marcolini.
80, rue de Seine, 6th, Tel: +33 (0)1 53 67 19 19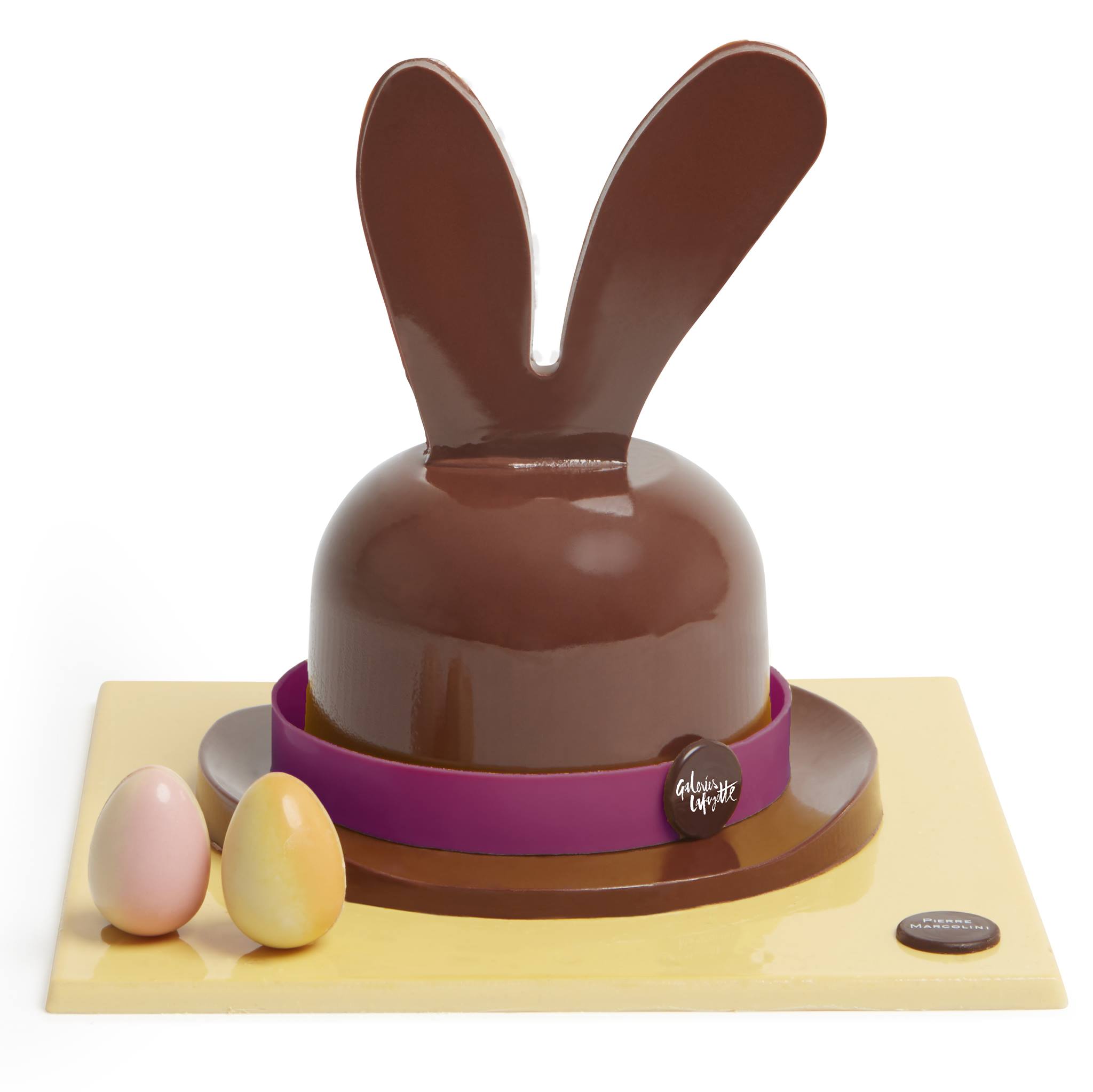 On Easter Sunday make a date to go "down to the urban rue Saint Honoré farm" with real live goats, kids, rabbits and chickens, installed in the hotel's pretty garden. Adrien Bozzolo's sculptural deliciously dark Guanaja 70% chocolate globe, filled with dried fruits, is available on order (€71) at the hotel's Cake Shop to inspire ideas for future world travels. Thierry Marx's Easter Brunch is served at MO's Brasserie Camélia on Sunday 1st April (€128 for adults and €58 for children). A decoration workshop and egg hunt animates the brunch – and the farm – from 11am to 6pm
Information and reservations on 01 70 98 74 00 or [email protected]
251, rue Saint Honoré, 1st, Tel: +33 (0)1 70 98 78 88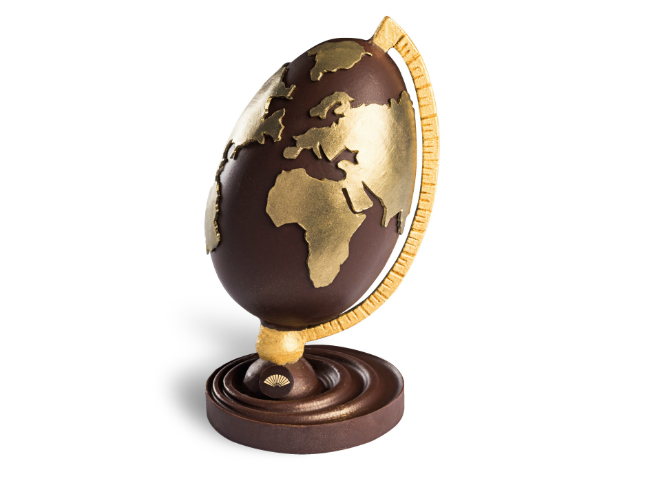 This Easter, Cyril Lignac and Benoît Couvrand swapped their usual rabbits for red, orange or yellow choco-fish (€25)– a humorous nod and wink to the French traditional April Fool's "poisson d'Avril." The collection is completed with delicious signature eggs and perfect pâtisserie. Nice one Cyril !
From 6th March – 8th April. 24 rue Paul Bert, 11th (and branches). Tel: +33 (0)1 55 87 21 40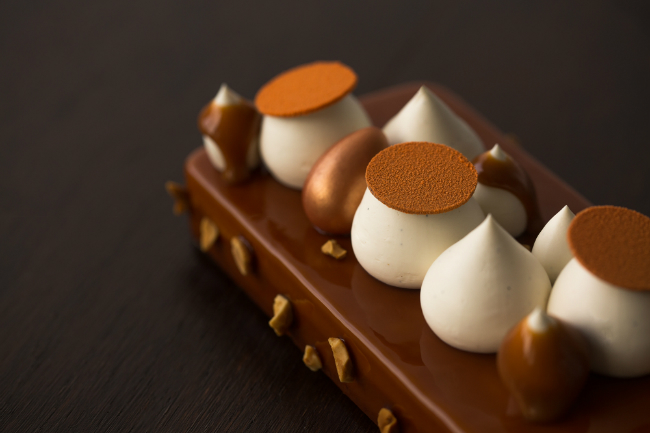 Guy Krenzer and his team built their collection around the chef's recent trip to the Easter Islands – discovered on Easter Sunday 1722 by Dutch navigator Jacob Roggeveen. Krenzer & Co's choco-imagination creates Calice (the swimmer), Chléa (the diver), and Crush (the surfer) in milk or dark chocolate.
€52 each or triple sea turtles €195. Awesome! Available in-store from 15th March-5th April.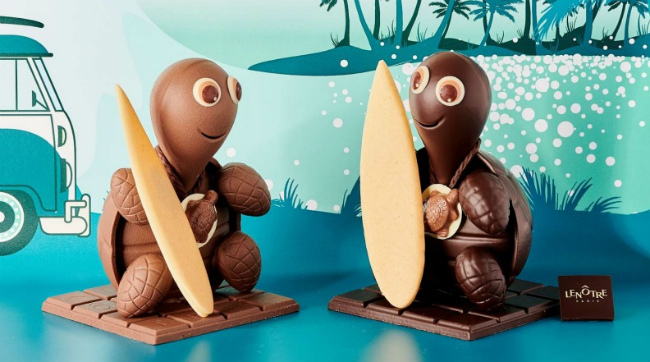 Le Chocolat des Français, a quirky 100% pure cocoa butter – no palm oil – organic brand by Matthew and Paul, two choco passionate young start-ups, continues its gourmet collaborations. Their duo of eggs are designed by two Californian illustrators: Josh Cochran and Robin Einseberg. Peel off the colorful grafitti style wrapping to reveal eggs filled with melty milk chocolate hazelnut praline.
€15 Available at Lafayette Gourmet – La Grande Epicerie and online.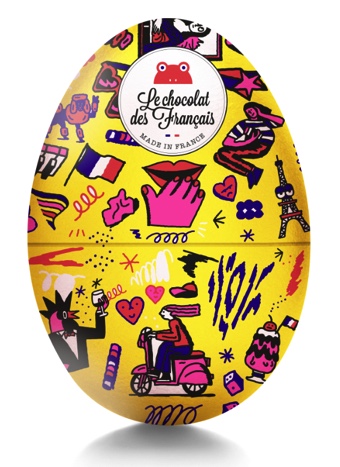 Fourth generation chocolate maker Thierry Lalet heads the Bordeaux-based chocolaterie (order online) founded in 1893. For Easter 2018 the House of Saunion highlights traditional eggs, chickens, bells and, because Easter falls on 1 April – Lalet's sense of humor presents poisson d'avril (April Fool's) chocolate fish n'chips! (Prices from €7.50 – €125 euros.) This rocks !
56, Cours Georges Clemenceau, 33000 Bordeaux, Tel: +33 (0)5 56 48 05 75