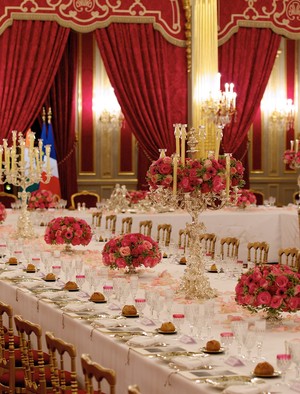 Véronique André, "chroniquer gastronomique" at Figaro and the weekly magazine Valeurs Actuelle, is on the cutting of edge of every new foodie trend, there's also a traditional side to this talented women.
"I had the idea to write a book about the Cusine of the Elysée Palace, the chefs, the recipes, the receptions, how each President brought/brings his culinary taste and ideas to what, for a short time, is his table, The Table of Presidents", explained Mme André one day last week.
Not an easy ask. Bernard Vaussion, the Elysée Palace chef, had his doubts. "Not very discreet", he thought. Finally Mme André convinced the uniforms and the suits at the Elysée Palace that the book would be not only be an hommage, but a unique historical reference of gastronomy and patrimoine franҫaise patriotique.
So, daily for six months, Mme André cycled to the Elysée Palace, entered by the back door, rolled up her sleeves and got down to work.
The result is a fascinating peep into the receptions and "below stairs", beautifully photographed by Donald Van der Putten. From Georges Pompidou to Franҫois Hollande, the favourite recipes, the likes and dislikes of heads of state.
Franҫois Mitterand adored les ortolans (delicate wild birds). Chirac, la tête de veau. Sarkozy, light dishes and lots of chocolate and Franҫois Hollande has restored the "white glove" service.
"Politics divide, a good table unites", says Mme André. Her book a glimpse of protocol, of another world where you'll meet the six Maîtres d'hôtel, the teams who polish the silver, light the candles, arrange the flowers etc. And, as for setting the table for an official banquet, just look at the photo above!
The wine cellars are headed by Virginie Routis, the oldest bottle in the cave a 1906 Beaujolais.  Charles de Gaulle liked Laurent Perrier champagne. President Pompidou Château Mouton-Rothschild.  Mitterand preferred Burgundy, Chablis, Meursault or Puligny-Montrachet and Jacques Chirac appreciated fine wines, but also loved a pint of beer! Nicolas Sarkozy was not a great wine lover, but did enjoy a drop of old Calvados eau-de-vie and always raised his glass to visitors with a sip of champagne. Franҫois Hollande likes white, red, and a flute of champagne for toasts.
Look at the menus, and recipes, for the state banquets, probably best not to try these at home. From Her Majesty Queen Elizabeth 11 to Gerald Ford viaGorbachev, Angela Merkel, Albert 11 of Monaco, etc.
Magnificent!
Cuisine de l'Elysée [1]
À la table des Presidents,
Veronique Andre – Bernard Vaussion,
Photos by Donald Van der Putten for Hysteric Studios
Hachette Cuisine – 22€
La Maison Blanche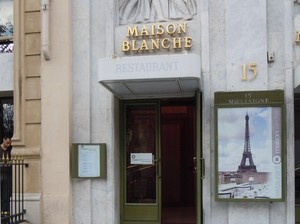 Obama's staying on at the White House, so, with no time to visit him in Washington, what better place to celebrate than La Maison Blanche, Paris?
Hervé Nepple, the new chef, comes via Pierre Gagnaire, Music Hall and, believe it or not, Palace Elysée [2].
The contemporary glass and steel structure is perched above the handsome Théâtre des Champs Elysées, decor's by Imaad Rahmouni a disciple of Starck, the theatre, by architect Auguste Perret, celebrates its' centenary in 2013.
In case you missed the memo you know that the Pourcel twins, Jacques and Laurent, head the kitchen and chef Nepple is Executive Chef working with the brothers and restaurant director Bruno Franck.  Monsieur Franck created "The White Room [3]" for hip soirées, where the Obama girls will no doubt chill when they come to Paris. Schhh don't tell dad!
In the duplex dining room or, in summer, on the two terraces, eyewatering views over le tout Paris make La Maison Blanche a must visit.
Nepple's dishes are clean and bright, served by immaculate staff. This week the room was packed with familiar faces, but, "please, no names", implores the beautifully suited and booted Monsieur Franck.
Sommelier David Desplanches arrives the minute you're seated with a panier of the weeks' wine suggestions.. "The basket is the sommelier's choice of wines by the glass that I propose to our customers, to discover new domains each month. I suggest whites or reds by the glasse (10 and 12 euros) and champagne Laurent Perrier, Vintage, for lunch and, at dinner, Grand Siécle 2002", he explains.
Any gossip? Bruno Franck's not listening! Quick ! "Robert de Niro and his wife at lunch! Monsieur De Niro ordered a Condrieu Domain de Cheze, he loved it. So much that he took six bottles home with him!"
La Maison Blanche [4],
15 avenue Montaigne, 8th
T: 01 47 23 55 99
M: Alma-Marceau : Franklin D. Roosevelt,
Club Lunch Formula 39-49€ + A La Carte
Shut Sat-lunch & Sunday
2 Terraces – Valet Parking
Au Gourmand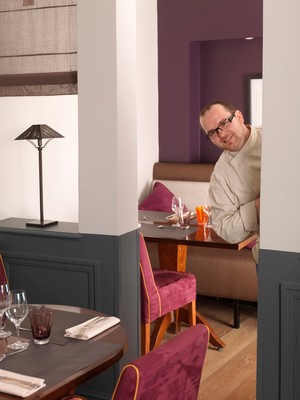 A delightful neo-bistro on rue Moliére, close to the "House of Molière".now La Comédie Franҫaise. The playwright (1622-1673) was considered the patron of French actors. He died seven years before "La Maison de Molière" was rechristened "Comédie-Française," but the company continued to be known by the former name long after the official change.
Palais Royal, you're walking in history. The owners of Au Gourmande were formerly on the left bank, decided to change, the atmosphere's left-bank bistro: on the right bank.
Sensuously romatic by night, more "business lunch" by day. Lovers book the banquettes and spoon over Sebastien Ginestet's classic with a modern twist plats. The signature verrines of Crème légere de Ratte and Truffes and Comme une fondue savoyarde…mais aérienne! With toast and proscuitto are generous freebie starters.
Foie gras de Canard du Sud Ouest is creamy and light served with Solliès figs and brioche. Bread is by Poujauran, butter by Monsieur Bordier and vegetables from Joël Thiebault. Only the best.
Mains include Wild Duck (be careful of the shot!) with pumpkin à la reglisse, pears, chestnuts and baby leeks. Bordeaux red, Graves, Château Maderot 2009 (35€) is a nice match.
Dishes change, according to market and season, with an accent on fish and, for the ladies who do, calories are marked on the menu. Saveurs sweet-sour et "teintes fraîches" for les Noix de Saint-Jacques "En Carpaccio, poivre de Sichuan, mangue, coriandre" ambiance pink for l'Epaule d'agneau "Braisée", gnocchi de Rattes du Touquet potatoes, concassé de tomates, basilic frit, chou romanesco, jus d'agneau coco/curry". Yum !
Chef loves legumes, mixing textures and temperatures, adds them to desserts, beetroot merangue, or, as in "dessert légumier".La Pomme de terre Charlotte, "en craquelin à la mousseline vanillée, confiture de persil, des mûres et un sorbet au fromage blanc. How to resist "Soufflé rhubarbe, spoon chocolat blanc, hibiscus?" or "Chocolat bio du Pérou 65%, mousseline chocolat Alto del Sol/marmelade d'abricot.
Hervé de Libouton's lovely wine card is listed by glass or bottle, apertifs, digestifs, really makes you want to celebrate. And here's the good news, order a bottle of wine and, in the unlikely event of you not finishing every last drop, feel free to take it home. Genial n'est ce pas?
Au Gourmand [5],
17 rue Moliére, 1st
T: 01 42 96 22 19
M: Palais Royal
Menu Club Déjeuner :
24-29 euros
Carte déjeuner :
4 entrées (16 euros), 4 plats (29,50 euros),
fromages et desserts (12,50 euros).
Carte dîner :
4 entrées (22 euros), 4 plats (33,50 euros), des
fromages et des desserts (12,50 euros).
Bûche Haute Couture Hôtel Vendôme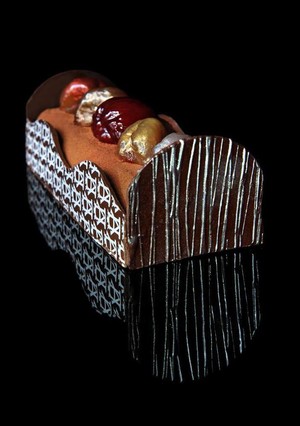 Talented pâtissier Mourad Rachidi says that his Christmas bûche is inspired by the luxury brands surrounding the chic and discreet Hôtel Vendôme [6]. Read Louis Vuitton, Dior, Hublot etc. "It's edible haute couture", he says of his log that is a superposition of, "saveurs et sensations". Molten textures, melting mousse and ganache blend with the crisp biscuit base. To taste without moderation.
La Bûche "Esprit de Fêtes"
est disponible du 1st au 25th Décembre;
FromThe Restaurant;
1 Place Vendôme,
Order 5 days ahead
Bûche pour 6 à 9 personnes – 35 euros pour 6 and 55 euros pour une version familiale de 9 personnes
Tastings in the restaurant are 15 €
Order on line [6]

Subscribe [7] for
FREE

weekly newsletters.
BonjourParis has been a leading France travel and French lifestyle site since 1995.
Readers' Favorites: [7]Top 100 Books, imports & more at our Amazon store
We update our daily selections, including the newest available with an Amazon.com pre-release discount of 30% or more. Find them by starting here at the back of the Travel section [8], then work backwards page by page in sections that interest you.
Current favorites, including bestselling Roger&Gallet unisex fragrance Extra Vieielle Jean-Marie Farina….please click on an image for details.
Click on this banner to link to Amazon.com & your purchases support our site….merci!