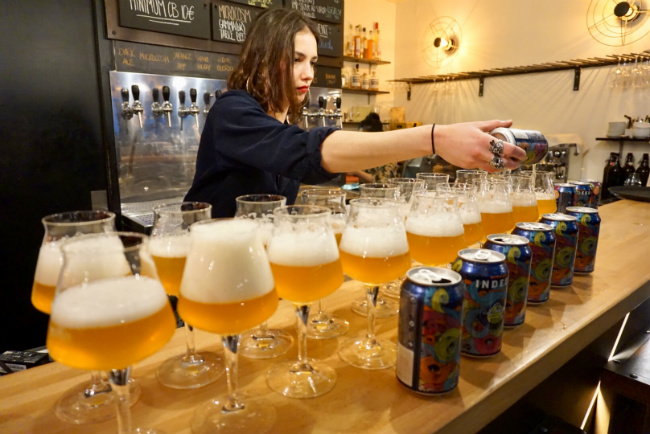 The booming craft beer movement is touching all corners of the globe and Paris itself is now home to approximately 50 breweries. In a city of not only fine wine but now also quality craft beer [1], it takes a boldness of spirit and an unswerving confidence to take on the capital's tastebuds and demonstrate how Parisian gastronomy can pair well with beer… but not just any beer, American craft beer at that!
For that is exactly what the Brewers Association set out to achieve in collaboration with Planète Bière [2], the premier French beer festival held at the Paris Event Center, 7-8 April 2019, firstly through a seasonally curated craft beer and food pairing five course extravaganza at craft beer haunt, La Fine Mousse, and secondly through specialist tastings of American craft beer paired with artisanal, high quality cheese or charcuterie at Planète Bière itself.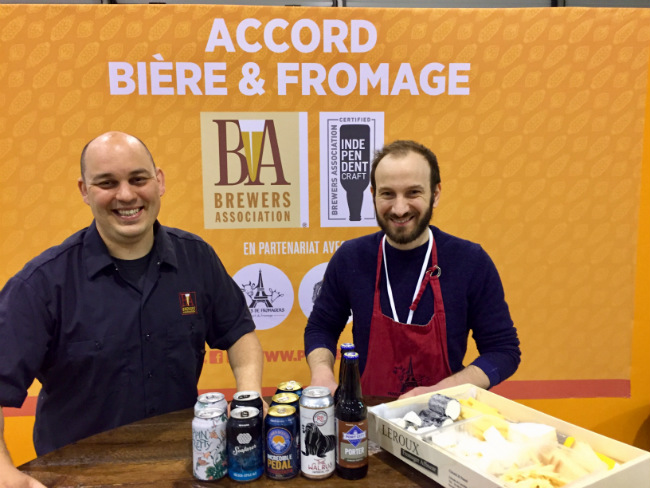 The Brewers Association [3] is a trade association representing small and independent American craft breweries. They were in town to spread the word about the quality, diversity and innovation of American craft beer and open Parisians' eyes to the complementary flavor profiles between food and beer.
And the harmonies between the bold and distinctive flavors of American craft beer and fine, fresh French cuisine were a beautiful thing. The tone was set by the first mouthful of velouté of cauliflower with coriander oil paired with a crisp, clean lager from Wormtown Brewery, Massachusetts, called, wittily, 'Mass Hole Lager'. The delicate flavors of the apèritif married perfectly with the light, floral, straw notes of the lager while the effervescence and high carbonation scrubbed the palate clean after every mouthful.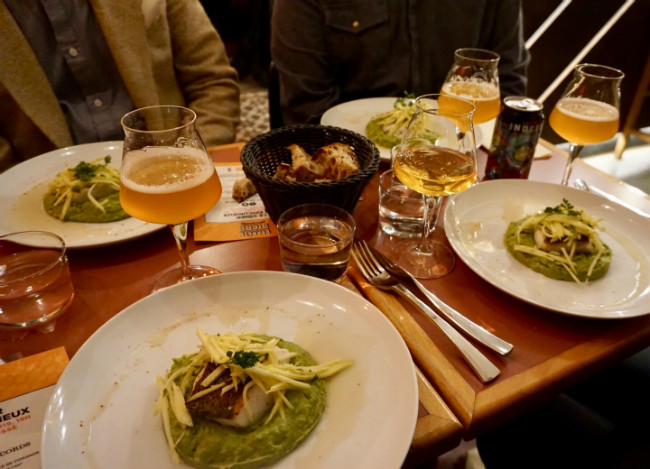 Taking place on the eve of Planète Bière, the menu was devised by La Fine Mousse chef Victor LeClerc and Brewers Association Executive Chef Adam Dulye, a world-renowned expert on beer and food pairings, who together excelled themselves in culinary precision.
The next course was a poached egg, puree of carrot with galanga (from the same family as ginger), julienned mange tout and crunchy zucchini grains paired with Sierra Nevada Brut IPA, from Chico, California. Brut IPA is a bone dry, pale, highly effervescent style of IPA that's low in bitterness due to the high level of attenuation. It is intended to mimic champagne, hence the name, and pairs sublimely with foods that are light and on the palate in both flavor and texture.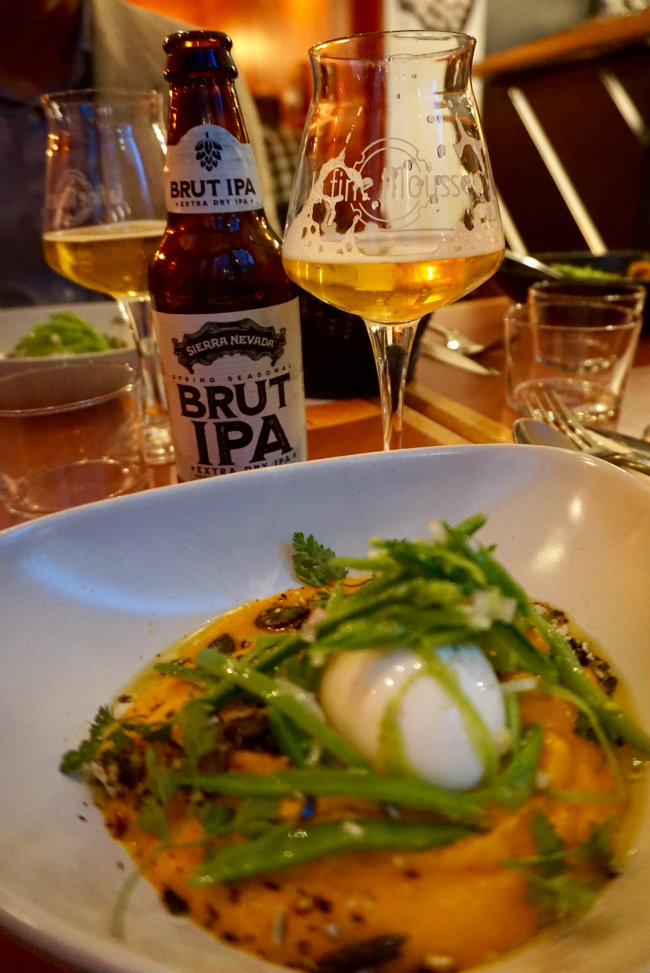 In the States, innovation is the hallmark of the American craft brewer and the main course was a heavenly marriage of tropical flavors underpinned by a tart, citrusy kick for the chefs had paired hake, a mouth-watering combination of avocado, mange tout, coriander, coconut and lemon grass and green mango slivers with Indeed Brewing Co Lucy Session Sour from Minneapolis. Brewed with lemon grass, orange peel and passion fruit, the beer had a tart, citrus finish and a light, effervescence which elevated the hake dish to a whole new level.
Assembled guests were rendered speechless as all elements of the dish and beer came together in perfect unison, but the best was yet to come as dessert took the proverbial biscuit! A crème chocolate, flambéed caramelized banana, almond crumbles and caramelized almonds paired with Denver Beer Co (Denver, Colorado) Graham Cracker Porter. While well-known in America, Graham Crackers are non-existent this side of the pond and took some explaining! They are a honey and cinnamon sweet biscuit which helped give the porter its rich, chocolatey, sweet, malty smoothness that echoed the chocolate and nutty flavors of the dessert.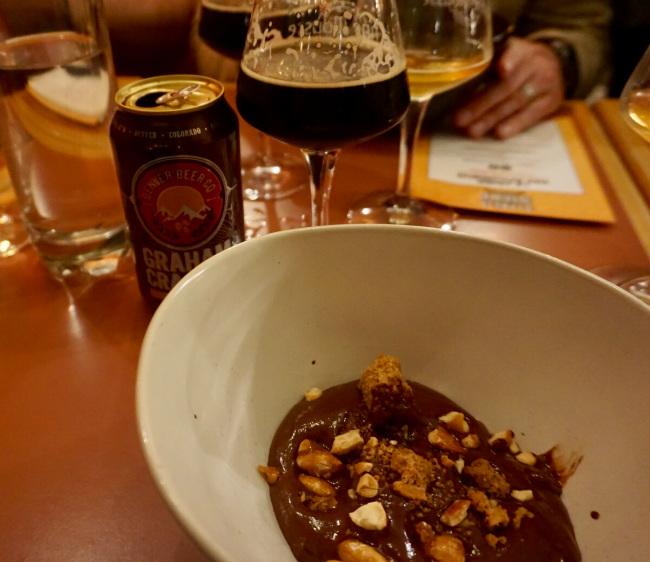 A simplified American craft beer and food pairing experience took place at Planète Bière where small scale tastings were held throughout the Festival comprising American craft beer paired with fine French cheeses [4] from Paroles de Fromagers [5] and charcuterie from El Tast [6], both based in Paris. Beers styles were changed regularly to explore the best matches between a goats cheese with ash, ossau iraty, brillat savarin, comté aged for 17 months and gouda aged for 36 months. Winners were a honey-infused lager with the goats cheese, hoppy IPAs with the savarin (the bitterness helped lift the high fat content from the palate and leave it cleansed and refreshed), and a Belgian-style Trappist Ale with the comté where the fruity esters and light hop bitterness in the beer played perfectly with creamy richness of the cheese.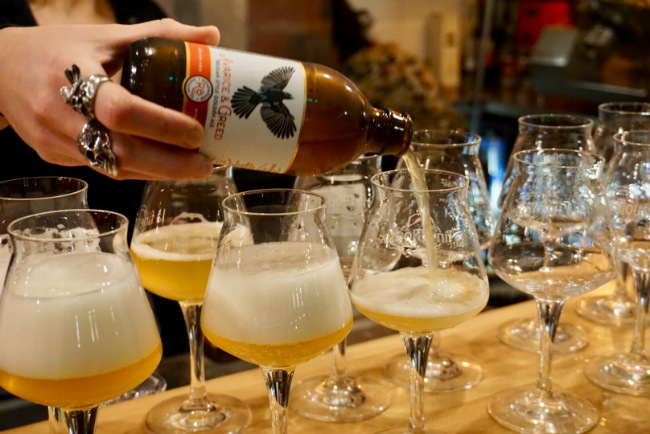 On the charcuterie station ham, chorizo, saucisson, dried beef and lomo were matched with 40 different American craft beers from 17 independent American craft breweries ranging in style from gose, lagers and amber ales, IPAs and DIPAs through to Bourbon Barrel-Aged imperial stouts and Belgian quadrupels.
The weekend truly proved that American craft beer and food is a winning combination and the flavor combinations are endless.
Lotte Peplow is a Certified Cicerone, Beer Sommelier, beer judge, beer writer and a beer and food champion. She is based in London and attended La Fine Mousse as a guest of the Brewers Association.