Paris Fashion Week Up-and-Coming Designers Spotlight: J by Jordy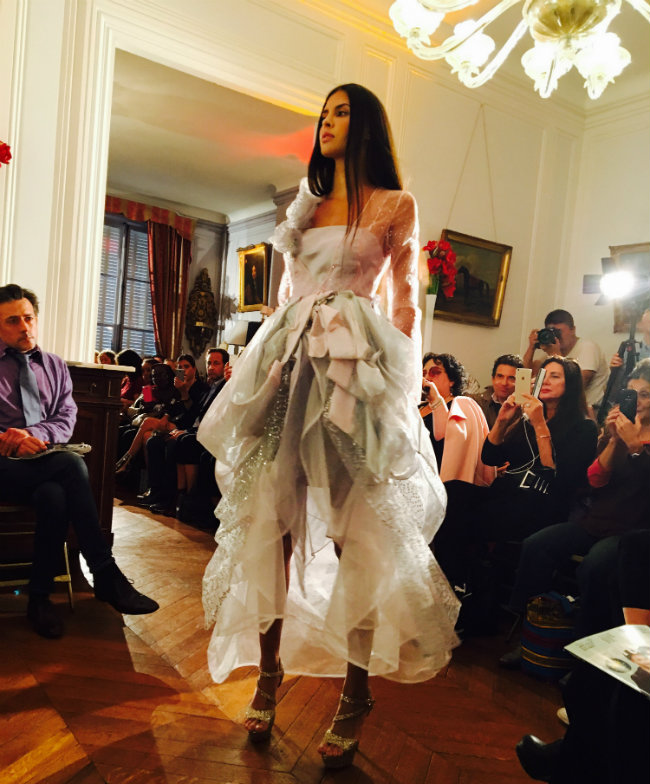 There's an old chestnut of the fashion world regarding what to wear: Look not at the designer's collection, but rather what the designer is wearing.
Meaning, fashion designers wear clothes that "work," clothes that are chic, and clothes that not only look good, but also ­– and important in its own right – are comfortable.
The same might be said of fashion writers (present company excluded) and fashion influencers – look not solely to the runway for inspiration, but also to those observing the runway.
For instance, at the J by Jordy show, held during Paris Fashion Week, the salle where the collection was showcased buzzed with energy from attendees who stood out with their style: long, pleated skirts, bright red platform boots (evocative of a swingin' '60s London), giant big-as-your-face sunglasses (a look that never seems to go out of style), platform Mary Jane shoes, belted plaid dresses, Chanel and YSL chain purses, long trench coats in tan and black, gold sneakers, blunt bangs, gold Bowie-esque boots, and evergreen looks of leather and denim jackets.
One of the most eye-catching looks was sported by one admirably bold fashion writer. He wore a long fur coat, a black tunic, and white tube socks with stripes paired with black sandals.
When the J by Jordy models marched through the salle, it was a cacophony of clacking heels and effervescent colors. Each model wore a dress in bright colors or toothpaste-white white. Hair styles were mostly lengthy and va-va-voom, save for a few models with shorter cropped cuts.
The general feel of the collection was 21st century princess; ballgowns with tiers of ruffles in girly colors swayed to and fro as the models marched past. Looks befitting of Cinderella, Belle, Rapunzel, and Sleeping Beauty swept past, with fabric-upon-fabric decorating each dress.
Although these looks may appeal more to the Oscars- or Golden Globe-attending crowds, a few of the more understated looks presented some wearability potential for day-to-day life. It's easy to imagine a J by Jordy dress being the perfect look for a cocktail party, birthday shindig, or ball in a kingdom far, far away.
This article was co-written by Anne McCarthy and Becca Pfeifauf. For more Paris Fashion Week coverage, click here.
Photo credit : J by Jordy show at Paris Fashion Week. Photo: Anne McCarthy
Leave a reply
Your email address will not be published. Required fields are marked *