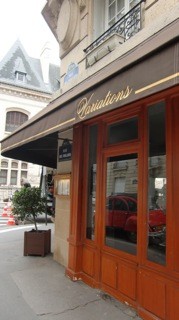 There is nothing quite like dining in cafés, bistros or brasseries in France. Arguably, the French have everyone else beat and every neighborhood in Paris has a plethora of choices. However, even with the many choices, locals tend to gravitate to the same restaurants. One in particular, Variations, is fondly referred to as "ma cantine".  This term is used if one tends to go to a favorite spot so often that it feels like your own kitchen.
The ambiance is simple, clean and inviting with a welcoming staff. It is without a doubt an easy spot to gravitate to for an aperitif and to read a book. However, knowing that one will eat very well is the real draw. Chef Philippe Tondetta focuses on premium quality and freshness in the ingredients that he uses. He then has the master's touch for combining those ingredients into a memorable dining experience. Many will remember Tondetta from Le Petit Pontoise in the 5th and now Chef Tondetta is delighting his followers at Variations in the 13th.
Many of the restaurants in France offer seasonal dishes; so too, at Variations. For example, here are two favorites that will be included in their menu choices depending upon the season. Between the months of June and November, wonderful funnel shaped mushrooms called girolles are available. They range in color from a golden yellow to an orange and their large caps are often folded with the edges crimped. They are marvelous on their own or as an addition to nearly any dish. Another seasonal favorite are truffles. They don't need any introduction and the taste of fresh truffles with your meal is truly a gourmet treat.
A favorite dish at Variations is the "Ris de veau aux chamignons de saison". These are sweetbreads which are most often the thymus or pancreas gland of a calf or lamb that disappears as the animal matures. The taste is sweeter as opposed to the more savory taste of beef and thereby the name, "sweet". Chef Tondetta serves them in a light cream sauce during the warmer months and during the winter, he prepares a much richer sauce served with the creamiest of mashed potatoes.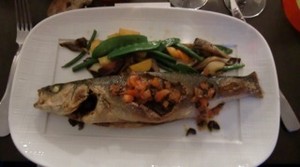 Another favorite dish is the "Bar rôti entier au thym, légumes sautés". The whole fish is presented, beautifully grilled and perfectly seasoned. By preparing the bar in its entirety, the chef enhances the flavors of the fish. Certainly for those who would rather not have their meal with the head and eyes intact, the waiter will gladly and expertly fillet and prepare the fish for you.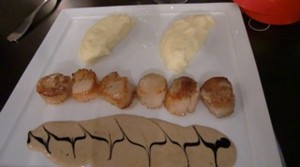 There is a nice mix of entrées (starters) and plats (main dishes) with several fish and meat choices. There are even several pasta dishes that are tossed in a giant cheese wheel. This is the first time that I had experienced this technique and we can thank Chef Tondetta's Italian heritage for bringing this tasty specialty to Paris.
When it comes to dessert, Variations has a remarkable selection. Most french restaurants offer 4 to 6 choices but Variations offers 13 marvelous creations. The "Panna cota à l'orange amère" and "Tartelette à la rhubarbe" are particular highlights.
For the weekday lunch, the restaurant offers a price fixed menu at 17 euros (or about $23.00). This price includes not only an entrée and a plat, but also dessert, coffee and, of course, the tip. A truly great value for a meal of superb quality.
Whether you are there for lunch or dinner you can opt for their "gourmand" menu. This is a price fixed, 3 course menu offering multiple choices and ranges in price from 35 euros to 48 euros. If you opt for this gourmet treat come very hungry!
Variations opened in 2008 on a very calm street in the 13th arrondissement. The interior design is both simple and elegant with large open windows offering a naturally lit interior. The restaurant has received one star in the Guide Michelin first in 2010, then 2011, and again this year in 2012. It has also been selected during this same time frame by Gault Millau.
I sincerely hope that I have motivated you to give "my cantine" a try and when you go, please tell them that their American friend sent you. And, better yet, tell me when you are going and I'll be sure to drop by. Bon Appetit.
NOTES: Variations is located at 18 rue des Wallons. It is a small street off of Boulevard de l'hopital and very near to metro stop Saint Marcel on ligne 5. It can also be accessed by ligne 10 at Gare d'Austerlitz or ligne 7 at Les Gobbelins. The phone number is 01 43 31 36 04.
Loui Franke is author of Parisian Postcards: Snapshots of Life in Paris.

Subscribe for
FREE

weekly newsletters.
BonjourParis has been a leading France travel and French lifestyle site since 1995.
Readers' Favorites: Top 100 Books, imports & more at our Amazon store
We update our daily selections, including the newest available with an Amazon.com pre-release discount of 30% or more. Find them by starting here at the back of the Travel section, then work backwards page by page in sections that interest you.
Current favorites, including bestselling Roger&Gallet unisex fragrance Extra Vieielle Jean-Marie Farina….please click on an image for details.
Click on this banner to link to Amazon.com & your purchases support our site….merci!