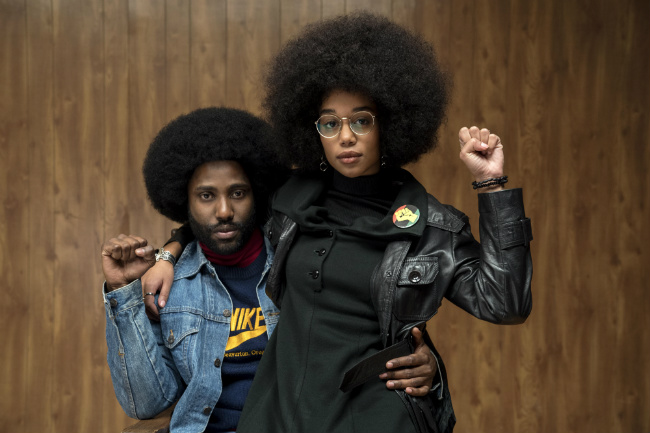 Spike Lee first came to Cannes in 1989 with his film Do the Right Thing, which was in competition for the Palm d'Or, but lost out to Steven Soderbergh's Sex, Lies, and Videotape.
Since then, he's made many groundbreaking films like Malcolm X, She's Gotta Have It, Jungle Fever, and more. Now, he's back, with a film as stirring – if not more so – than his first Cannes picture.
BlacKkKlansman is the true story (based on the book of the same name) of Ron Stallworth, an African-American man who infiltrated – and became a member of – the Klu Klux Klan in 1979 in Colorado Springs. Stallworth was an undercover police detective.
The film comes at an interesting (and, well, embarrassing) time in American history, one in which, sadly, racial bigotry is still a stain on the current culture. Spike aims to draw attention to the ongoing issues. He told journalists at a press conference in the Grand Palais after a screening of the film:
"This film, to me, is a wake-up call. Because stuff is happening, and it's topsy-turvy. And 'fake news' has been trumpeted as the truth. That's what this film is about. I don't care what the critics say, or anybody else, we were on the right side of history with this film…"
Stallworth (John David Washington, son of Denzel Washington) is convincing to David Duke (Topher Grace), KKK "Grand Wizard" (a ridiculous title if ever there were one). In a phone call with Duke, Stallworth spews hatred, matching Duke's own hatred and prejudices. "I just want them to be with their own," he says to Duke. Stallworth ends the call saying: "God bless White America," then erupts into laughter after he hangs up.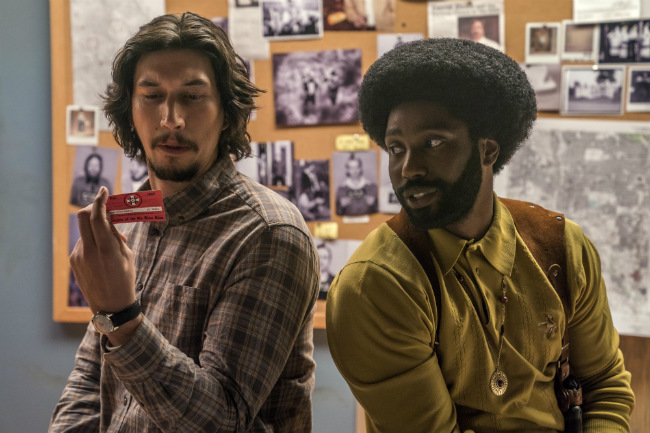 To prepare for his role as Duke, Grace told the press: "I read My Awakening, which is David Duke's autobiography… And I watched a lot of Donahue. He was a kind of pre-Jerry Springer and liked to have a lot of controversial figures on. I listened to a lot of his radio show, which is on now." Grace talked about the difficulty in shooting one "White Power"-chanting scene: "Spike came over to me and assured me that this was in service to a message I agree with." The actor said: "There are zero other directors besides Spike that I would do this role for."
Spike is a brilliant director, and takes the job seriously, too. "Our job as filmmakers, as storytellers, was to connect this period piece to present-day. What's happening now did not just pop up out of thin air; we have to connect to what happened in the early 70s."
Of the future in today's uncertain world: "Even though my friends call me Negrodamus, I don't know what's gonna happen. I believe in hope, but I'm not blind or deaf. I think that you could be hopeful but still be aware of what's happening. Too many people walking around in a daze."
Adam Driver played fellow cop Flip Zimmerman, who assisted Stallworth in pulling off the identity concealment. He told press about preparing for the role: "You can do as much research as you can but you have to be willing to let it go a bit when you first do it. A lot of it is following first impulses. Spike creates an atmosphere [where] the best idea wins. It's an ego-free set. [It's an] easy set. 'Easy' in that you feel free to fail."
"All I hope is that this film shakes people from their slumber," said Spike. "We know the difference between right and wrong, and when you see wrong staring you in the face and you say mum's the word, you're part of the problem."
The film's six-minute standing ovation at Cannes proved the movie has some serious legs, and the world will be watching as it runs – nay, sprints! – blazing up the globe with its message.
Bonjour Paris correspondent Anne McCarthy is on location in Cannes. Read her dispatches here. [1]