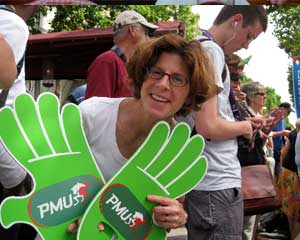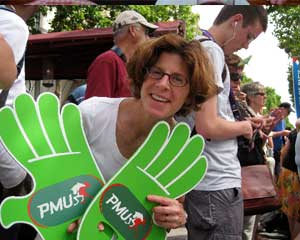 Some of my favorite memories of the Tour de France are of watching it from afar… on TV.  Mornings, while the rest of Vermont went to work, I sat on my living room floor, sipping raspberry smoothies as American Lance Armstrong, French rider Christophe Moreau, and 160 other men swept up and down the Alps in 90º heat.
For years, surrounded by Vermont verdure, I watched the French countryside go by:  the incredible Pyrenees, beautiful, green Burgundy, the dramatic gorges of the Jura. I watched en direct – live – following the French TV5 commentators.  I loved their digressions into the lives of French riders, family-owned chateaux, remarkable Roman churches, and natural wonders.
Immersed in the language, culture and countryside, I felt almost … there.  An avid cyclist and lover of all things French, I longed to see the Tour in person.  Ironically, my work – helping people plan travel to France – prevented me from going. But this year, work landed me in Paris for the end of the Tour.  At 10:15 on Sunday, July 26, I floated up the escalator at the Georges V Metro station, to watch the final stage on the Champs-Elysées.  The riders would arrive at Place de la Concorde at the end of the afternoon, and make their way to the top of the Champs and down again.  I would watch them ride the loop eight times.
The avenue was majestic, as always.  Blue, red and white flags fluttered at the edges of the street, the clipped tops of plane trees resembled green boxes beneath a cloudless blue sky.  But there was an additional air of almost campy celebration.  Men in horned Viking hats wandered to and fro, chanting and beating a hand-held drum.  "Don't Stop Believin'," and "Dancing Queen," blared from speakers in front of the Louis Vuitton store.
A young woman in a yellow wig and short shorts danced in front of a Tour de France Boutique, presumably to attract interest.  It worked:  one out of every dozen passersby wore yellow; the street sparkled with t-shirts, caps, musettes, string back packs, Livestrong bracelets, banners and umbrellas.
Light gray barricades separated the cobbled street from the sidewalk.  By 11:00, fans lined the barricade. I stood in the front row.  My neighbors, a German couple who had claimed their spots with folding camp chairs hours earlier, took turns strolling the avenue.  Each offered me an empty chair in their absence and returned with green foam hands that PMU, a Tour sponsor, gave away.
By 2:00, we were joined by French cycling enthusiasts, including a middle aged woman from Lyon, and a Swiss family whose son raced on two cycling teams.  Eventually fans would stand eight deep.
The first riders on the street – fifteen Junior Riders, thin young men in purple shorts, shirts and helmets – set a serious tone.  As they approached I saw young faces, gloved hands, and thin tires riding the waves of pavement.  They passed, and I glimpsed flat backs, bent elbows, and smooth, round pedal strokes.  Then they were gone.
By contrast, the caravan, the parade of official Tour sponsors, was a pep rally.  Brightly painted cars, buses, and trucks wove back and forth across the avenue.  Drivers tossed candy to kids, blasted air horns, sprayed water into the crowd.
Then the street emptied, and expectation hung in the air.
Finally the lead group of 7 or 8 riders appeared, ushered in by shouts, "Allez!  Allez!"  I heard hard, thin tires rip across cobblestone.  I never saw the riders' faces, only the French uniforms – Bbox (blue), and Cofidis (red) – as they passed. Then back tires, helmet vents, tails, and they were gone.
Another roar and the peleton emerged.  A hundred and fifty riders passed in a dense, five second wave.  Fans pressed the barricades.  Cameras aimed blindly.  Tires ripped stone.
Then came a split second of silence – as if the riders had taken our collective breaths away. I thought I would jump up and down, slap my two foam hands together, wave to my husband at home.  But I froze – partly held in place by the crush of fans.  But more than that, I was moved to stillness as I tried to take it all in.
I heard chains spinning, saw spokes and cranks, top tubes, gloved hands on drops.  I marveled at narrow shoulders and motionless torsos.  Thighs powered pistons, and heels dropped to the pavement.  Tapered helmets tucked into the slipstream.  I recognized the white shirts of Team Columbia at the front, and Astana, in turquoise, protecting the maillot jaune – worn by Contador – about a third of the way back.  I scanned for number 22 – Armstrong – and found it.
Then they were gone, and I imagined what I couldn't see:  the struggle at the top of the Champs, the hard left across bumpy pavement, the roar of each new wave of fans.
The groups came back into my field of vision, accelerating downhill toward Place de la Concorde.  I looked for specific riders, but I only saw blocks of color, churning legs, and whirling chains.  They would come seven more times, and each passage would be as exhilarating as the last.  How I reveled in this stretch of road.
Leave a reply
Your email address will not be published. Required fields are marked *