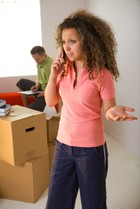 Moving to Paris! Whether you plan to move or relocate to Paris, or you have just moved to Paris, you'll have to deal with many practical things that may be overwhelming.
Renting a home in Paris involves moving fast in a market swamped with jargon and paperwork, and being quickly available to visit potential apartments (a strenuous task to say the least). French classified ads differ from American and British ones in that they say the number of rooms an apartment has altogether, rather than just how many bedrooms. For Americans, the second floor is actually the first floor (première étage or 1ét) and the first, or ground floor, is called the rez-de-chaussée.
If you haven't arrived yet in Paris or are here but don't have the time, relocation services can help you to find your home (please note, some are definitely better than others). Whether you have hired a real estate agent to help you, or you have searched through classified ads, you can hire someone privately to preview an apartment for you, giving you a complete description and providing you with photos.
Coming to Paris to live involves essential things to quickly sort out before you end up with needless hassle. Once you have your home, and even before moving in, one of the first tasks is to get electricity and gas turned on. The same is true for your phone, internet, and TV/cable. The question is, how will you arrange your schedule in order to meet the different appointments with the utility companies? Besides, often you'll be given a large time frame, i.e., "sometime in the morning" or "between 2 pm and 6 pm". In reality, you're going to need a relocation specialist to help you.
Payment in Paris is easy by credit card, but as a resident you will soon need a French bank account and a check book, otherwise you won't be able to pay or receive many essential services which require your bank details as a guarantee of payment.
Native English speakers who have been living here for a number of years and have acquired a fairly good command of the French language still think twice before attending an annual condominium meeting without a French person to translate. Going there can be a frustrating experience, and sometimes a complete fiasco! Some relocation specialists can represent you at these meetings and also assist you in any contact with the syndic, in addition to translating the key points of the annual meeting report.
While living in France, you are legally required to insure your home, before you move in, against all risks. However, before signing, will you understand the small print of any policy regarding which risk is covered, for how much, the deductible coverage, and so on? Also, if a claim occurs, you'll want somebody local to report it and handle the long and weary process of dealing with the claims adjusters. Meeting the experts of the various parties is also important, before responsibility is established and any compensation can be received.
Renting a home in France submits you to the Residential Tax (Taxe d'habitation). If you are the occupant of a home on the first day of January you are responsible for paying the tax for that year. Included in the taxe d'habitation is the redevance audiovisuelle, a media/audiovisual royalties tax paid by every household with a television.
It's important that you find a relocation specialist who has connections with, for example, a contractor who can help with any renovations or repairs that are required. Whether you live in Paris or visit often and your schedule requires a bilingual personal assistant to organize things around your busy life (mail, dealing with administration, translation, interpretation, lifestyle management, shopping, event and dinner planning, massage, diet advice, etc.).
Do you own an apartment in Paris but live in a foreign country? If you want to rent it out, you should look to hire a highly responsible bilingual manager to help you, greet your guests, give them the keys and a tour, and leave you trouble-free. It's important to remember that there are many apartment managing services in Paris, but some supply more comprehensive services than others.
Philippe Corfa
Since 2002 Philippe Corfa of AMS (Apartment Managing Service) provides the highest quality and most efficient services for your relocation and/or personal assistance needs and will make your life in Paris easier and more enjoyable. I can assist you with apartment previews, banking, utilities, taxes, building syndic, renovation, and home repair, just to name a few.
Tel : + 33 (0) 680 598 466
E-Mail: Click here [1]
Once you're settled, sign up for some  Classic Walks of Paris [2] to get acquainted with your new home!
Please post your comments or questions and let them flow. Register HERE [3] to do so if you need a free Bonjour Paris user name and password.