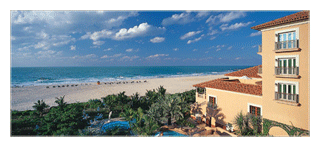 It's gone past the stage of looking like carelessness. The Prince of Wales lost yet another flunky, with the departure of his talented head chef, Gary Robinson, off to work at a hotel in Dubai, the new hot destination.

So, when Elegant Resorts invited Buzz to visit Dubai for the Ritz-Carlton's 1st Festival of Fine Dining, we were intrigued. Flying in with Emirates, where all the staff seemed to be having a bad harem day, we were definitely ready for some fine dining. Not a lot of people know that Dubai's history stretches back to the 3rd century BC when it was a hub on the ancient trading route between Mesopotamia and India. Today, as its oil reserves run out, Dubai, the size of Luxembourg, is re-inventing itself as a high-rise haven. Think Las Vegas-on-sea meets Hong Kong. Everywhere you look, another glass-fronted edifice is rising high. The building goes on 24/7, so don't expect too much P & Q; they're even going underwater with Hydropolis. Oy vay, what a mess! Even the Beckhams are building on Palm Island.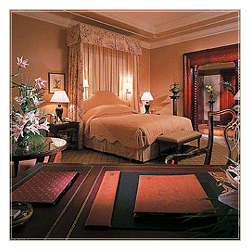 Ah! then we reach the Ritz Carlton, away from the four-lane highways and shimmering towers, a truly Elegant Resort. An oasis in the dessert, the Moorish/Islamic low-slung building overlooks white sands, with two in-beach camels. The 138 rooms and suites punctuate the pool and lush gardens, read three pools, one with a tempting water slide. Great setting for a Festival of Fine Dining. Everything was zoned into food; they are even following it up with the Perfect Date, a package that includes spa treatments with dates, honey and oats—reduce muscle tension, moisturise skin and increase blood circulation, they guarantee.

Day One. Nicholas Jaboulet of Paul Jaboulet Ainé came from France with fine wines from the Rhone region, sipped at sunset on The Sandpiper Lawn. Dinner at La Baie was created by the delightful and talented Brit chef Simon Barber and 2-** Henri Bach from Essen. "Cooking is a connection between art and sport," they agreed. Day two dawned with a caviar seminar followed by the fascinating story of afternoon tea demonstrated by the ever-so-elegant tail-coated Michael Bentley, ex-Claridges, now at The Ritz, London. "One must warm the pot, and do try to use large leaf Darjeeling whenever possible," he advised. After that came Dr. Weidmann's vinegar seminar. "Vinegar means sour wine in French," he began! Don't fancy that? OK, the Valrohna chocolate session was a great turn on, all the women making eyes at the delicious Yann Duytsche, who was cool about the super-star attention, more interested in promoting his new book "Caprices de Chocolat". But he did offer to sign copies. Culinary masters came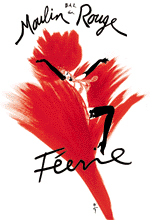 from the four corners to work-out with resident chefs Viktor Stampfer (Executive) and Simon Barber. The fabulous finale, a sprawling Moët & Chandon champagne buffet, showcased everybody's talent. "We emphasised light healthy dishes using fresh ingredients subtly enhanced with fragrant herbs and spices," explained Stampfer.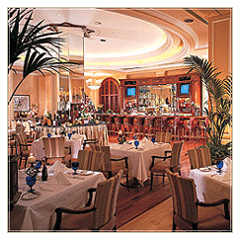 After three days of non-stop festivities, the spa was buzzing with people eager to firm up and chill out. The menu of treatments reflects a Balinese influence with exotic stuff like Balinese Boreh massage, Nirwana Herbal Body Wrap and Indonesian cream baths. Buzz took the Ritz-Carlton signature, the Luxury Facial, and could have happily stayed until the 2nd Festival of Fine Dining next year. Ritz-Carlton's manager Peter Mainguy is spot-on when he says, "Holistic in design, the spa enhances the synergy between mind and body, encourages pure escape, a sense of peace and inner calm, first we make the world revolve around you, then we slow it down." And then they start on the cellulite!

Meanwhile back in the real world: "Dubai has managed to re-invent itself as the new California, a culture-free zone of climate-controlled opportunity for expatriate pleasure-seekers, tourists and carpetbaggers, the like of which has not been seen since America's Gold Rush of the 1890's," observes journalist Leonard Doyle. "It's a great place to live, I never lock my car, and I've forgotten where the front-door key to my villa is," adds graphic designer Carole Hyland, resident in Dubai for 24 years. Hyland thinks it's all credit to Crown Prince Muhammad bin Rashid al-Maktoum, a "benign autocrat" whose family owns almost anything of any worth, and for some reason there's no corruption. "Or if there is, it's very well disguised," she smiles.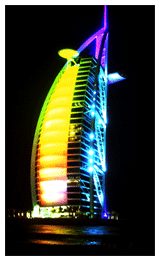 More or less wherever you are in Dubai you'll be fascinated by the Burj al Arab towering skyward from its own artificial island. The problem is each time you meet a new best friend they'll ask, "Have you been to the Burj/The One & Only/Madinat Jumeriah" and you feel a fool. Most of the palace/hotels you can con your way in, but not the Burj, especially the day Buzz went and Bill Clinton was arriving. The Burj was crawling with gorillas in Raybans talking into their sleeves, bits of plastic sticking out of their ears. But don't worry, we got in; we booked tea on the 27th floor (about 40€). Apparently they used to do tours (45€) but that fell by the wayside. Instead you get a few dried up sarnies, dubious cakes and irritating over-trained ninja gastro-immigration officers making a big deal of the whole ritual. Lady Bedford, who invented afternoon tea, would not be amused.

Looking around the vast lobby, you'll love or hate the in-your-face decor, multicoloured carpets, computerised fountains, gold mosaic floors and escalators flanked with tropical fish. Am I in Las Vegas? This is a building you could do best to gawp at from the outside where it's stunning; inside the feeling is "the lights are on but there's nobody home". But you should know the following, so you don't have to bother: Each two-story suite comes complete with butler (white gloves must be worn, five-to-one- staff ratio), private bar, 89 plasma TV channels, electronic blinds, gold taps galore, in fact even the bath plugs are gold; you get the picture. If you're staying you get to ride the Jumeriah Sceirah ride at the Wild Wadi Water Park www.wildwadi.com (don't ask, nothing makes sense here).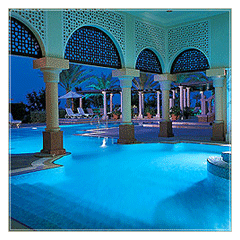 If you want to burn the plastic, do the malls. Pick the one closest to your hotel, you choose, they're all exhausting. And, by the way, there is the dessert for light relief. 45 minutes away is the Al Maha desert resort, where, with a backdrop of opulent pavilion suites there's some rare Arabian wildlife (not Sheiks on a bender; animals, dear) and the Givenchy spa mixes sand, clay, date oil treatments, slapped on in tented rooms. That's local products, n'est pas?

Coming soon: an indoor ski slope, space-themed amusement park, and higher and higher high-rises. "Dubai does not believe in half-baked ideas," sniffed a spokesman for Dubai's Department of Tourism. Hmmm. Anyone seen The Prince of Wales, searching for his lost chef?

Address Book:
The Ritz-Carlton
PO Box 26525, Dubai
United Arab Emirates
http://www.ritzcarlton.com/resorts/dubai/

Elegant Resorts
PO Box 504525, Dubai
T: 04 3374465
http://www.elegantresorts.co.uk

Burj al Arab
PO Box 74147, Dubai
www.burj-al-arab.com

Dubai Department of Tourism
www.dubaitourism.ae

Desert Tours
www.arabian-adventures.com

Ahlan wa sahlan! (Happy New Year 2005!)
---
Born in Britain and now based in Paris, Margaret Kemp graduated from The Cordon Bleu and spent a year working and watching in the kitchens of top chefs from Sydney, Australia via Bangkok, Hong Kong, California, New York and France. Realising she would never win the coveted 3-Michelin stars, she decided to write about the people who do, the "disciples of Escoffier."
More on Dubai…