Creperie des Canettes: Delicious Crepes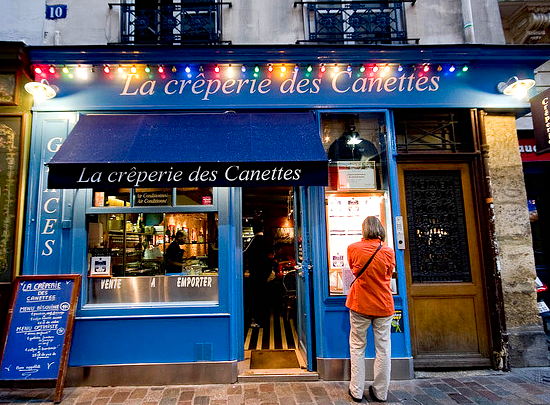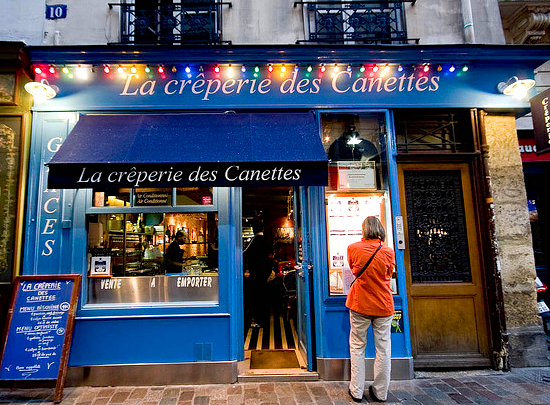 La crêperie des Canettes, Paris 6th. Photo by patrianova.
It's easy to get blasé about crêpes in Paris. If you're anything like me, after a brief but intense crêpe frenzy upon arriving in France, you're now rather nonplussed by the plethora of run-of-the-mill crêpe stands, and now only indulge in the occasional jambon-au-fromage or crêpe au nutella while touring the Eiffel Tower with visiting friends and relatives.
Therefore, when my trustworthy sources for les bonnes addresses told me that I simply must visit La Crêperie des Canettes, I was skeptical: just how special could a flat pancake be? However, when I passed by La Crêperie while on an outing in Saint-Germain-des-Prés, my curiosity was piqued and I stepped inside.
Painted a cheery sailor blue on the outside, the inside of the Crêperie is a narrow (and almost perpetually packed) room decorated to look like the inside of a ship's cabin.
The restaurant serves 47 varieties of crêpes sucrées and salées served sur place or à emporter. I opted for the caramel au beurre salé.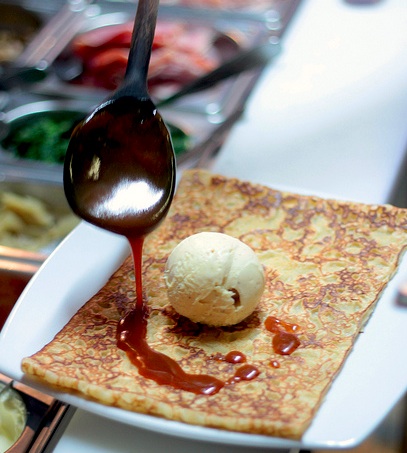 Caramel au beurre salé at la Crêperie des Canettes. Publicity photo.
Perhaps it was the fact that I was coming off a period of crêpe deprivation, but it was certainly the best crêpe I can ever remember having: the dough was light and sweet and perfectly cooked, the caramel buttery and certainly fait maison, and the whole thing melted in my mouth and was over far too quickly.
Highly recommended to anyone else who needs their faith in crêpes restored. I'm certainly reconverted.
PRACTICAL DETAILS
10, rue des Canettes, Paris 6th
Métro: Mabillon, Saint-Sulpice or Saint-Germain-des-Prés
Try their Madeleine location in the Paris 8th:
La Crêperie Pancake Square Madeleine
4, rue de Suréne, Paris 8th
Métro: Madeleine
Online route maps for Paris Métro, RER, bus, SNCF (Transilien)
Vélib' bike rental station maps
Arrondissement-by-arrondissement guide to Paris
PHOTO CREDITS: Photo(s) published per Creative Commons 3.0 license with photographer credit in caption(s).
Sadie Nachtigal is a former assistant editor at Bonjour Paris.

Subscribe for
FREE

weekly newsletters with subscriber-only content.

BonjourParis has been a leading France travel and French lifestyle site since 1995.
Readers' Favorites: Top 100 Books, imports & more at our Amazon store
We daily update our selections, including the newest available with an Amazon.com pre-release discount of 30% or more. Find them by starting at the back of the Restaurants & Chefs section, then work backwards page by page in sections that interest you.
Alec Lobrano's "Hungry for Paris" (updated in 2010) & these books steer you to sites worth crossing an ocean to visit.
Please support our site by clicking on this banner for all your Amazon.com browsing. Merci!
Leave a reply
Your email address will not be published. Required fields are marked *